As of today, we are approaching the end of another great week heading into the weekend. While weekday enjoyment popular, we all know that the is looked forward to the most. If you think about it, just about anything can be done during the weekend. It's all about making plans, and we still have a couple of days to do so. In fact, you have to take a moment and ask yourself, "What is there to do this weekend whether you are with friends or family?" There will always be something to do, and you don't always have to leave the house either. I can name so many things that can be done at home.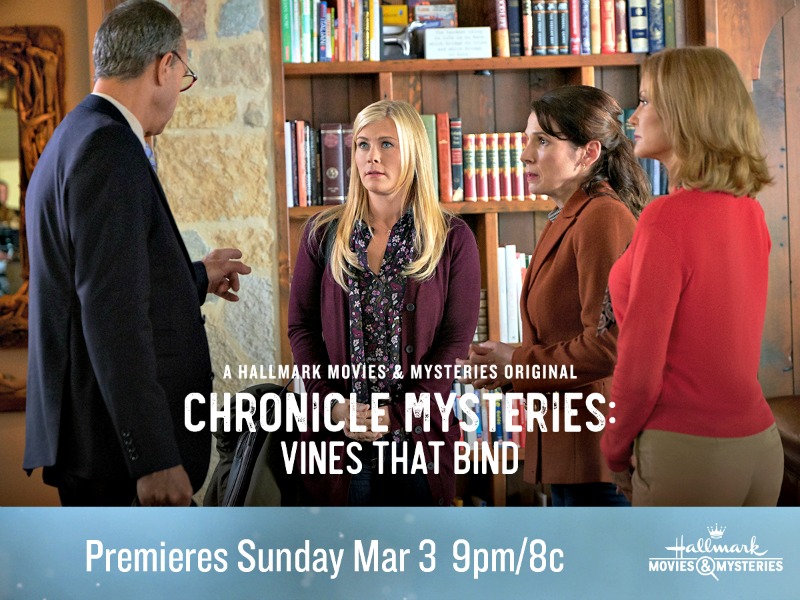 It could be an idea, but how about considering gathering everyone together for a movie. This past Sunday, Hallmark Movies & Mysteries continued with the second movie of the "Chronicle Mysteries" series. Fans have absolutely loved how this series has kicked off, and we are all excited about the next showing. Speaking of which, that's exactly what we are going to be seeing this weekend! Last Sunday we saw the premiere of "ChronicleMysteries: The Wrong Man," which was incredible. Now, it's time to keep your Sunday night clear so you can catch the next movie of the series. So, if you are going to need snacks and drinks, now would be a great time to stock up. Not to mention you may even want to invite a few people over.
Everyone is going to be eager for this picture to hit the big screen come Sunday night. On Sunday, March 3rd at 9pm/8c, you'll be able to catch the premiere of "Chronicle Mysteries: Vines That Bind!" Remember that date and mark it on your calendar so you won't miss out on this showing. Here is a bit of information regarding the movie you'll be watching.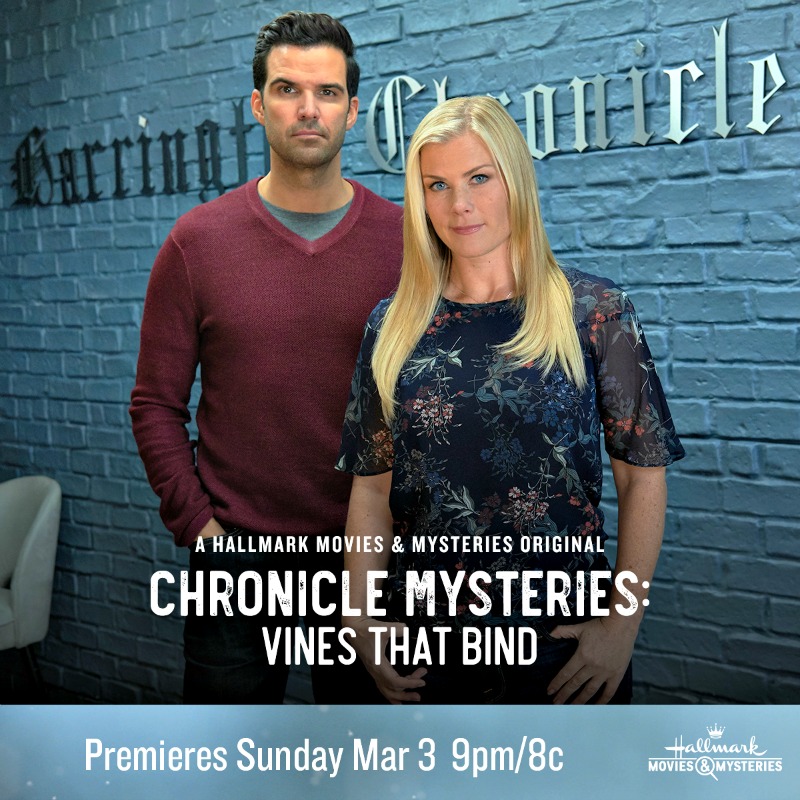 Stars: Alison Sweeney and Benjamin Ayres
The latest edition of Alex McPherson's true crime podcast leads her and the Chronicle staff to nearby Macklin, where they investigate a death ruled as an accident by the local police. Before Alex can get to the bottom of what she feels was a murder, another member of the family is felled by a bullet. She and her colleagues soon amass a formidable roster of suspects, all of whom had the motive and opportunity to commit the crimes.
Quick Giveaway Opportunity
Along with watching a great movie, you can also take part in a nice giveaway opportunity as well. It's simple; all you have to do is tweet during the movie using the hashtags #ChronicleMysteries and #Sleuthers. At the end of the movie, a winner will be chosen and receive a $25 visa gift card! So don't forget to tweet during the movie for a chance to win.
Even if you have plans to do something, you can come home and catch an awesome movie! Trust me; you don't want to miss a chance to see both Alison Sweeney and Benjamin Ayres in action. Not to mention that Hallmark Movies & Mysteries always comes through with incredible premieres for fans all over. I think that Sunday night is going to be pretty interesting if you ask me.