Stocking up on Back to School items, means making sure you have healthy food and snack options for your children. Whether you're packing their lunch, or just sending them with a snack you want to give them something to fuel their bodies. That's where Organic Slammers by Go Gourmet come in.
Give Them Healthy Fuel for Back to School
Go Gourmet wants to help fuel your kids fun with their pureed superfood snacks. Organic Slammers are full of fruits, vegetables, and vitamins. They've packed them with the good, and have left out the bad. That means there's no refined sugar, artificial flavors, or colors.
Food allergies? No worries!
Organic Slammers are Gluten and Nut Free. So if your child has those allergies, then these are safe for them to eat. Good thing, because they're really tasty! My youngest son has major food aversions, and he loves the Epic flavor. He can't taste the veggies, and I don't tell him they're in there.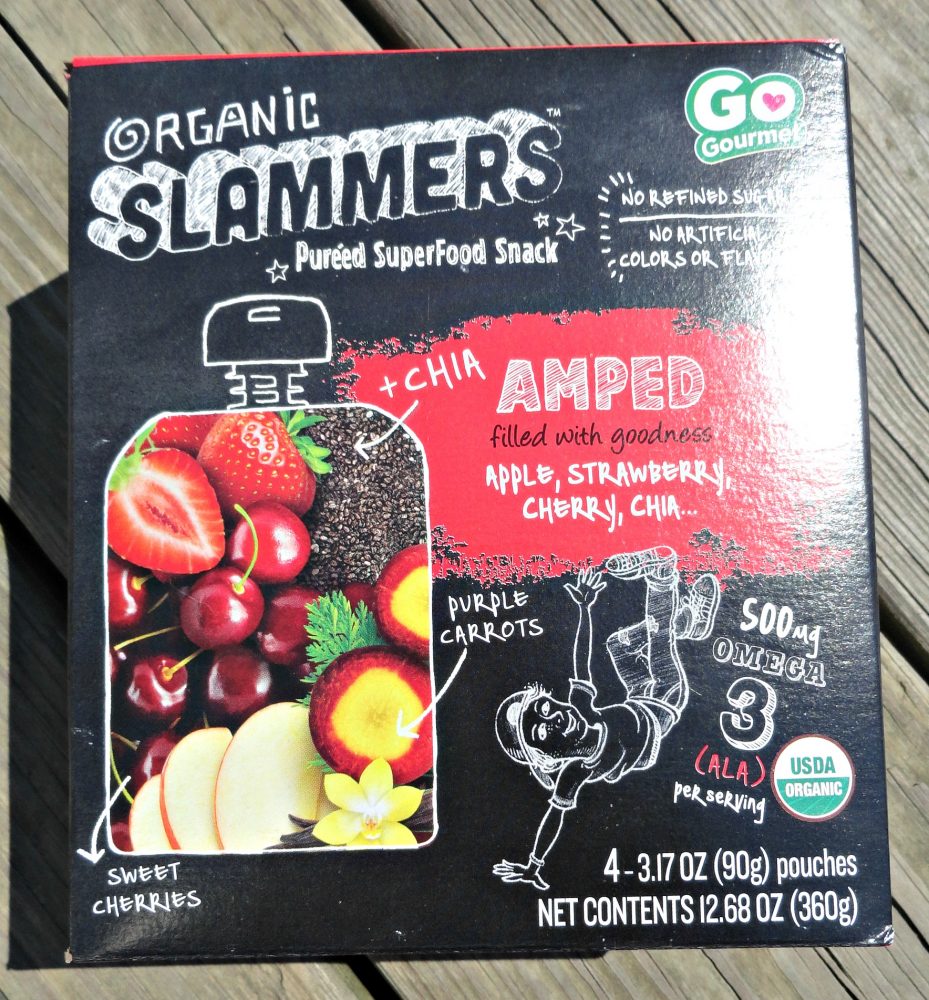 Flavors
Organic Slammers comes in many flavors. Amped is strawberry, and filled apples, strawberries, cherries, and chia. Awesome is bananas, blueberries, strawberries, beets, acai, and amaranth. Epic (Liam's personal favorite) is oranges, mangoes, bananas, carrots, greek yogurt, and real vanilla. Chill'n is full of bananas, blueberries, butternut squash, greek yogurt, and yumberry.
Protein Flavors
If you're looking to add some protein to your child's diet, Go Gourmet has you covered. Their Slammers Protein + Organics is a yummy, convenient way to add to your kids diet. They have Creamy Banana Chocolate which is full of bananas, coconut cream, grape, sweet potato, and cocoa powder. Pomegranate Grape Crush is Grape, pomegranate, coconut, apple, banana, and purple carrots. Last but not least is Watermelon Kiwi Burst. This one is full of strawberries, kiwi, watermelon, apples, bananas, and beets.
What we think
Liam loves the Epic Organic Slammers. My eldest son happens to love them all. As a parent, I like that my kids are eating a tasty snack, that's actually good for them. They're perfect for lunches, picnics, sport snacks, and more.
Find a store near you HERE.
Get Social!
I received this product to facilitate my post. All opinions are my own!