It's summer, but we still need to hydrate and restore dry skin. Make sure you are incorporating hydrating products into your regimen. There are so many body products on the market, it can be hard to figure exactly which products and ingredients are best for you and your family to use. I've always liked Softsoap products as they are reliable and smell really nice. The new Limited Edition Softsoap Body Washes contain moisture rich formulas that help keep skin hydrated, smooth and smelling like summer.
It's been really fun to see the Softsoap brand evolve and the introduction of Softsoap body washes and their new scents has been great over the years. I love the formula of their body wash. I always feel like I'm getting clean without my skin feeling stripped of its natural moisture. The Softsoap body washes always come in great, lasting scents. The new limited edition ones definitely evoke the ultimate spa experience. With scents like lily, bergamot and citrus — get ready to be taken away to a five star-rated spa experience.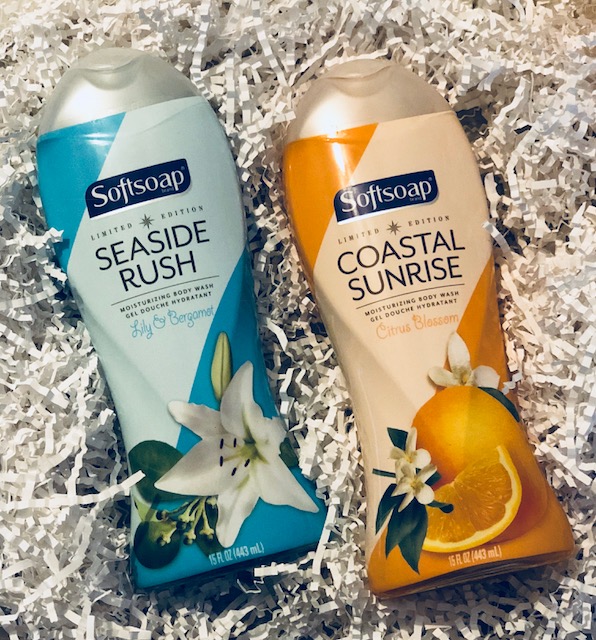 Softsoap Limited Edition Coastal Sunrise™ Moisturizing Body Wash
Awaken your senses with the new limited edition Coastal Sunrise™ moisturizing body wash. Watch the summer season bloom before your eyes, as the invigorated scent of Citrus Blossom surrounds you and the moisturizing formula leaves skin feeling soft and smooth.
Softsoap Limited Edition Seaside Rush™ Moisturizing Body Wash
This summer, set sail with the new limited edition Seaside Rush™ moisturizing body wash. Celebrate the warmer weather with the refreshing scents of Lily & Bergamot, which will captivate your senses and leave skin feeling soft and radiant.
The body washes smell so good and build a lovely foam; super important to me when choosing a body wash. The packaging is an added bonus too as it's fresh, clean and makes we want to use these body washes all the time. They leave my skin silky smooth and soft with a suggested retail price of $2.97. You just can't beat that. Also, Softsoap body washes are at mass retail, drug and grocery stores nationwide, so you know you'll be able to find them wherever you are. The limited edition body washes are available until September at Walmart. Get them while they last!
CONNECT WITH SOFTSOAP: Site | Facebook | Twitter