This week I will show you another beautiful place to visit here in South Carolina. Charleston Tea Plantation is the only tea plantation in the United States! Growing over 320 varieties of the Camellia Sinensis plant (originally brought over from China in the 1700′s), the tea garden produces both black and green teas. Its grounds include 127 acres of Camellia Sinensis tea plants, a working Tea Factory and a charming Plantation Gift Shoppe. Also available to guests is an adventurous and educational Trolley Tour that explores the scenic grounds that produce American Classic Tea.
The tea plantation is set in such a quiet and relaxing environment. The Charleston Tea Plantation is located on historic Wadmalaw Island in the heart of the Lowcountry of South Carolina. Wadmalaw is considered to be one of Charleston's most unspoiled islands. It is approximately 10 miles long and 6 miles wide. The Island's only connection to the mainland is a bridge that crosses over Church Creek.
During a visit to this Charleston plantation, make sure to take a trolley tour of the plantation. The ride is narrated by William Barclay Hall, founder of American Classic Tea. He will narrate the plantation's history and point out different varieties of the Camellia Sinensis plant. This tour focuses more on the horticultural aspect of the Plantation. It will allow you to see the more than 320 varieties of tea plants in their various stages of growth. It will also illustrate why the geographical location is ideal for propagating tea. During harvesting season, you may even witness the Green Giant, their custom designed harvester in action.
After taking one of their tours. Make sure to stop by the Gift Shoppe and taste some free samples of their tea.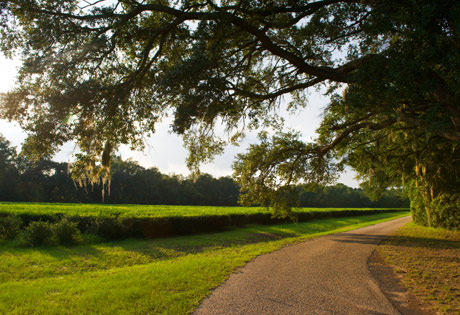 For more information about Charleston Plantation visit them HERE
Disclousure – Charleston Plantation are the owners of the pictures.