We all know that if you do not use what you have learned, you have a tendency of forgetting what you learned. This is especially true for children. Highlights, the global family media brand that is devoted to "Fun with a Purpose," surveyed 300 parents to gain insight on how they feel about "summer slide,". It turns it is a concern for 64% of parents. 96% of parents feel it is important to supplement childrens' skills development at home during the summer. Parents want to prepare their children to advance to the next grade level. Parents revealed that the most important factors they consider when choosing summer learning products for their children, an overwhelming 95% of parents surveyed said it is most important that the product be fun.
How can you make learning fun this Summer? Highlights has a couple of products to help you jumpstart your Summer the right way!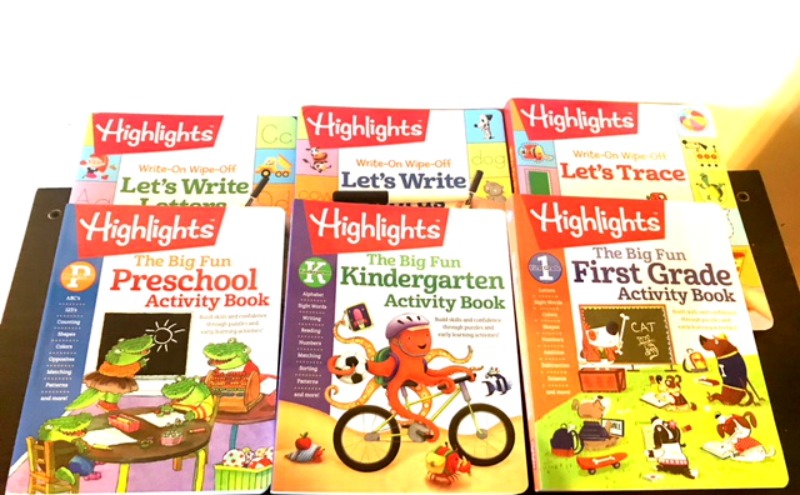 Big, Fun Activity Books
Highlights™ Big Fun Activity Books include over 250 pages of imaginative puzzling, humor, and whimsical illustrations that will engage children and help them to build confidence. There are three categories that parents can choose from including: preschool, kindergarten, and first grade. Each of these books contain a variety of educational activities to help your child practice different skills.
Reusable And Engaging Children Products
Highlights Learning are the Write-On Wipe-Off Fun to Learn Activity Books which feature reusable pages and a Highlights-branded marker (with a wipe-clean eraser) in a hidden wire-o spiral binding that lays flat. Kids love that they can write, draw, and puzzle all over these books. Parents love that kids can keep practicing essential skills—again and again!
What Will Your Children Learn
Highlights cover some of the same the information your child has learned or will learn in school. The topics range from:
ABC's
Numbers
Shapes
Colors
Addition
Subtraction
Patterns
Sorting
Opposites
Sequencing and more!
Each of the Highlights products are wonderful no matter if you stay home this Summer or travel. They are great for keeping your children busy learning something new or refreshing while in the car, on the plane, or in the backyard.
Highlights products can be purchased on Amazon.com.
Connect with Highlights: Site | Facebook | Pinterest | Instagram | Twitter