This is a sponsored post written by me on behalf of Food Lion for IZEA. All opinions are 100% mine.
What You Should Have On Hand During The Summer!
Summer is HERE and are you prepared? What I mean is, do you have what it takes to get rid of that headache when your cousin comes over with her five kids, the allergies that are going to hit you when flowers are everywhere, or the upset tummy when you overate at the BBQ over the weekend?
As a busy mom, I don't have time to run to different stores for all my healthcare and personal care products; I want to be able to get it all at one place and be done. Thank goodness Food Lion has CareOne products that I can buy over-the-counter and are very affordable for this family of mine.
What You Need To Have On Hand
My husband deals with severe acid reflux, so I need to keep Calcium Antacid and Acid Relief on hand all the time. Sometimes I think he chews them up like they are candy. So I make sure I grab two boxes at a time and that way he will always have the comfort he needs. If he doesn't have them, he gets, a bit cranky, and I don't do well with a grumpy husband.
My daughter, she has allergies, so yes, I keep the Non-Drowsy Allergy Relief for her, this way she can take them and still function in her college classes, no sleeping through class is going to happen. Plus she is not a happy camper when she has her allergy symptoms. As her mom, I try to help her out as much as I can and having CareOne products in our house is a comfort.
There there is me who fights a migraine headache almost every week. I run a house full of animals (over 15), five adults, and a mom to autistic adult son so my plate is full and I have no time for a headache. As soon as I feel a headache coming on, I grab my CareOne Ibuprofen and a big glass a water and hope it goes away fast.
I get my CareOne products at Food Lion and here is a list of all the products you can get that are affordable plus same active ingredients as national brands- learn more
Oral Care

Foot Care

Cough, Cold, & Allergy

Trial Travel

Laxatives, Antacids

Suncare

Analgesics

Smoking Deterrent

Mouthwash

Hair Care

Feminine Care

Family Planning

Eye, Ear Care

Vitamins

Cotton Swab/Ball

Cosmetics

Shave & Grooming

Incontinence
I feel confident giving my family the CareOne products because it is endorsed by pharmacists and is the one brand to provide clinical solutions for all the everyday healthcare needs of my family—and I can find it conveniently at my grocery store. Available exclusively at Food Lion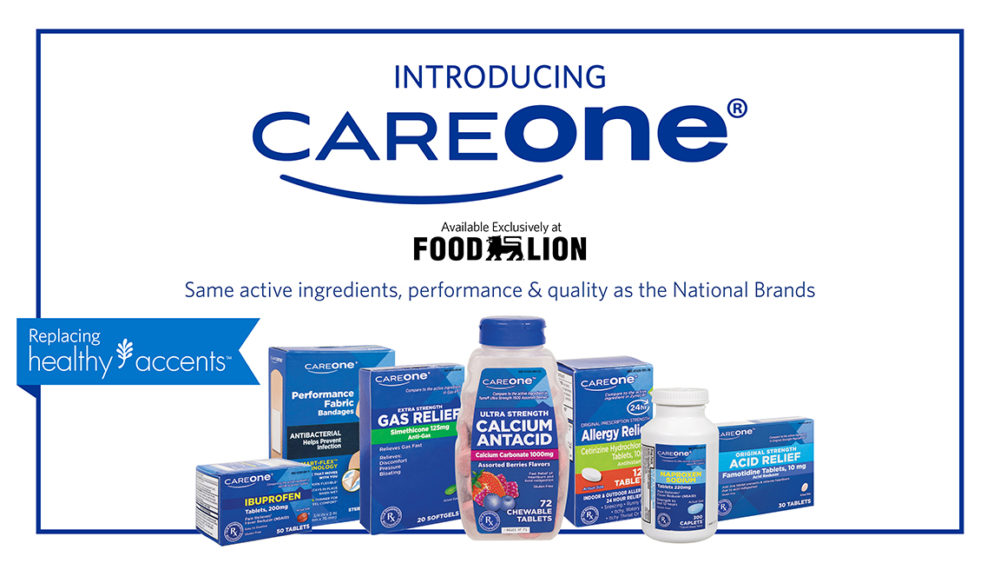 For More Information about Food Lion's Private Brand labels click here
​