Suckling is soothing for infants and newborns and helps keep them calm and happy.
But with so many BIBS dummies options available in babies online stores, it could be tedious for mothers to find the best BIBS pacifier for their little ones.
Your little one will likely have strong opinions about which particular dummy or soother he admires the most.
So, don't get too attached to any specific type before he arrives.
We suggest you let your baby experience a few options first to see which BIBS soother he prefers.
In this article, we'll have a quick look at the types of dummies available on the market and what things you must consider before you buy a pacifier for your baby.
Also, we'll review our favorite BIBS dummies that are readily available on babies online store.
Types of BIBS Dummies Available on the Market
Pacifiers are available in a wide range of options.
Broadly, they're categorized in two types – orthodontic pacifiers and conventional pacifiers.
No, you don't have to visit the orthodontic to buy the first type.
The name simply means that this type of dummy comes with a nipple having a square shape and flat bottom.
Conventional pacifiers, on the other hand, come with a traditional round-shaped nipple.
Needless to say, the orthodontic pacifiers are more soothing as they're designed keeping in view the natural shape of the nipple on the mother's breast.
While both orthodontic and conventional pacifiers are safe options, the type you choose might have an impact on your baby's bite.
According to one of the studies published in the International Journal of Pediatric Dentistry, the use of both conventional and orthodontic dummies contributed to an elevated chance of misaligned teeth.
Choosing the Best Pacifier for Your Baby
Make sure you get in touch with your baby's pediatrician before you choose any particular type of BIBS pacifier for your baby.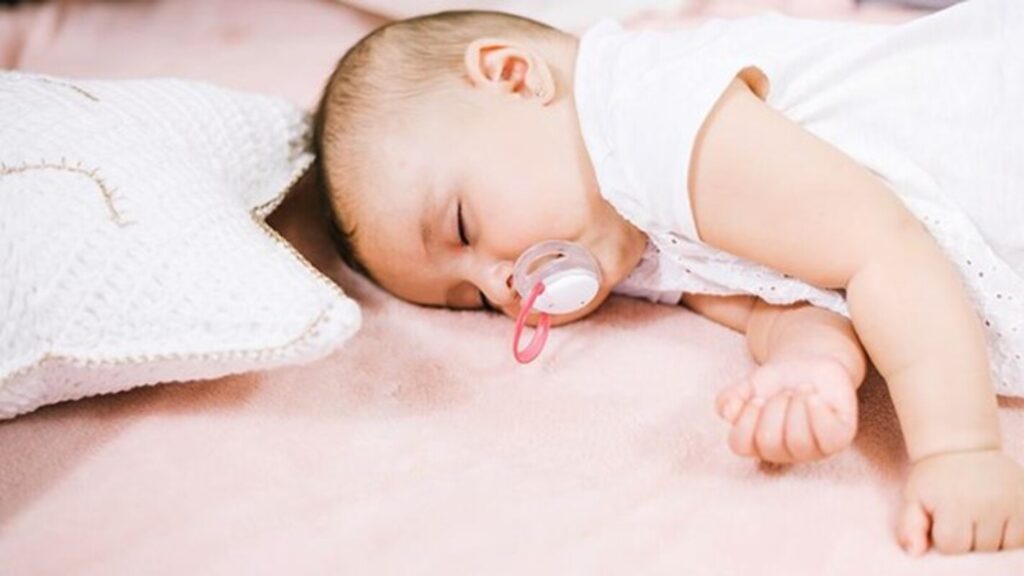 Here are a few things you should pay attention to before you purchase a pacifier for your newborn.
Pacifier's Construction & Material
The pacifier you choose for your baby must not come in removable or moving parts.
Fancy pacifiers with removable parts can cause choking and must be avoided at any cost.
Apart from that, it is also important to choose a pacifier that is crafted from natural materials.
BIBS natural rubber pacifiers could be a safe choice as they're crafted from all-natural materials that are non-toxic and safe for your baby.
Dummies Sizes
The size of the pacifier is another crucial factor that needs your consideration.
Ideally, you should choose a size that is suitable for your baby's age.
BIBS dummies sizes are clearly mentioned with each product on their website, so you won't have any difficulty choosing the right product.
Pacifier's Design
Never choose a dummy that requires you to attach it around your baby's neck or hands as it can be dangerous for the child.
8 Best Bibs Dummies For Breastfeeding Babies & Newborns 2020
1. BIBS Color
BIBS Colors is a cute series of round-shaped pacifiers that are designed to soothe the baby while supporting its suckling needs.
The cherry-shaped round nipple looks like a natural breast shape that offers optimal support for a natural sucking reflex.
The nipple is crafted from latex, which is 100% natural and safe for babies.
The nipple also includes a vent that makes it easier for the baby to squeeze the air out of the pacifier.
The shield is made up of Polypropylene, which is a light-weight yet powerful plastic material.
2. BIBS Supreme
BIBS Supreme is another exclusive safe BIBS dummies category that is stylish and super functional.
The shield comes with a vent that ensures the baby's skin around the mouth remains dry. The Supreme range features a symmetric-shape.
This pacifier is made up of robust and light-weight PP that is completely free from BPA and PVC.
The nipple comes with a flat-bottom design that imitates the natural breast shape.
The flat design also supports optimal jaw development and reduces pressure on the teeth.
The symmetrical-shaped nipple is available in both natural latex and silicone.
BIBS natural rubber pacifiers (Supreme) are available in more than 15 magnificent colors.
3. BIBS BPA-Free Natural Rubber Baby Pacifier
BIBS natural rubber pacifier is BPA-free, making it an ideal choice for parents who don't want to compromise on the health of their baby.
These pacifiers are easily available in different babies' shops online.
There are plenty of colors available. Also, you can purchase them according to your baby's age.
4. BIBS De Lux
BIBS De Lux is the new BIBS dummies collection that flaunts beautiful Danish design.
These pacifiers come with a classic matte finish that looks absolutely elegant and classy.
The BIBS Deluxe dummies collection features two nipple types, including latex and silicone.
The round-shaped shield looks like a natural mother's breast and is therefore admired by the majority of babies.
The collection includes more than 25 eye-catching colors.
Some pacifiers also include a white knob over which you can write your baby's name or the initial.
5. BIBS SUPREME SILICONE SZ. 2 SYMMETRICAL PACIFIERS
BIBS silicone pacifiers from the Supreme collection are absolutely beautiful and customizable.
These pacifiers come with a white knob, allowing you to personalize it by writing your baby's name on the top.
These pacifiers come with a symmetrical design. The butterfly-shaped shield includes air holes.
The product complies with the European Standard, and it is 100% BPA-free, PVC-free, and phthalate-free.
6. BIBS Classic Round Pacifiers
BIBS Classic Round pacifiers are another safe BIBS dummies category that is a favorite for both moms and babies for more than 40-years.
BIBS natural rubber pacifiers enable your baby to self-soothe using its natural sucking ability.
Available in a wide range of different colors and sizes, classic BIBS pacifiers imitate the shape of the mother's breast.
All BIBS dummies are 100% free from BPA, PVC, and phthalates.
7. Bibs Twin Dummy Pack Size 2 – Woodchuck/Blush
BIBS Twin Dummy pack size 2 is an economy pack that includes two high-quality BIBS round-shaped pacifiers.
These pacifiers are available in different color options, including Woodchuck/blush (which is our personal favorite combo).
8. Bibs Dummy Size 1 – Baby Blue NIGHT (glow in the dark)
BIBS Night edition includes a luminous ring that glows in the dark. Because of this glowing feature, both the child and parent can immediately find the pacifier if it's lost.
This collection is not only stylish, but it also comes with the same benefits that exemplify all other BIBS products.
Safety Guidelines
Size & Shape Matters
Not all pacifiers are created equal. BIBS dummies are sold by size and age.
Each brand's sizing differs, so make sure you carefully check the labeling before you buy a pacifier for your little one.
Similarly, always check the shape of the nipple before you buy a pacifier for your baby.
Both round-shaped and flat-bottom shapes are safe for the babies.
Test the Nipple Every Time
Always check that the nipple is intact before you put a pacifier in your baby's mouth.
Pacifiers Should be BPA-Free
Never invest in a pacifier that is not BPA-free. Also, carefully go through the labeling printed on the product packaging to verify if it qualifies for the set standards.
Always Sterilize Before Using
Before giving it to your baby, make sure you wash a dummy with mild soap and water.
Also, sterilize it by boiling a pacifier for 5-minutes.
Always go through the cleaning instructions to know the right method of cleaning/maintaining your child's pacifiers.
Know When to Replace the Pacifier
Just like any other thing in the world, pacifiers also come with a dedicated lifespan.
If you observe a hole or a crack on the nipple, immediately throw your BIBS pacifier.
Similarly, if the nipple is sticky, throw the dummy away. The discoloration is also a clear indication that you should replace your baby's pacifier right away.
Don't DIY
Never try to create the DIY version of a pacifier. Hand-made pacifiers can cause a choking hazard.
Never Use Pacifiers Once Your Child Starts Developing Teeth
Pacifiers are not suitable for children over 2-years of age. Continuous use of dummies may inhibit their oral health development and may also impact their teeth and palate.
Also, if your baby is prone to ear infections, you may want to wean him off the dummy at the age of 6-months.
Wrap Up
With more than 40-years of extensive industry experience, BIBS products are now a name that doesn't need any formal introduction.
All of their product categories are extremely user-friendly and safe to use.
We have listed all of our favorite BIBS pacifiers in this post.
Have you used a BIBS dummy for your breastfeeding baby yet? Share your experience in the comments section below as we'd love to hear back.