Perfect for Cross-Stitch Beginners – Zombie Cross-Stitch Kit
I have always wanted to learn to cross-stitch but I never took the time to do it. Well, now is the time! I am excited to start with the Zombie Cross-Stitch Kit (by Kristy Kizzee and Erika Kern) because it is great for beginners. It has a 64-page book and everything you will need to finish 2 different projects. One of my favorites is the little sign that says "Zombies Unwelcome". However, I will take off the "un" because they are welcomed at my house on Halloween!
So, if you are unfamiliar with cross-stitching, it is exactly what it says. It's a small stitch that creates a cross. Seriously, it's that simple! I don't know why I waited so long to learn this. The book explains everything you need to know in detail. Included in this kit are two needles, cross-stitch fabric, 10 sets of different colored floss, the step-by-step book, and the wooden embroidery hoop. Every step is described so easily that I believe my 6-year-old granddaughter could probably do it. I won't let her because of the needles, but you understand what I mean (or I hope you do!).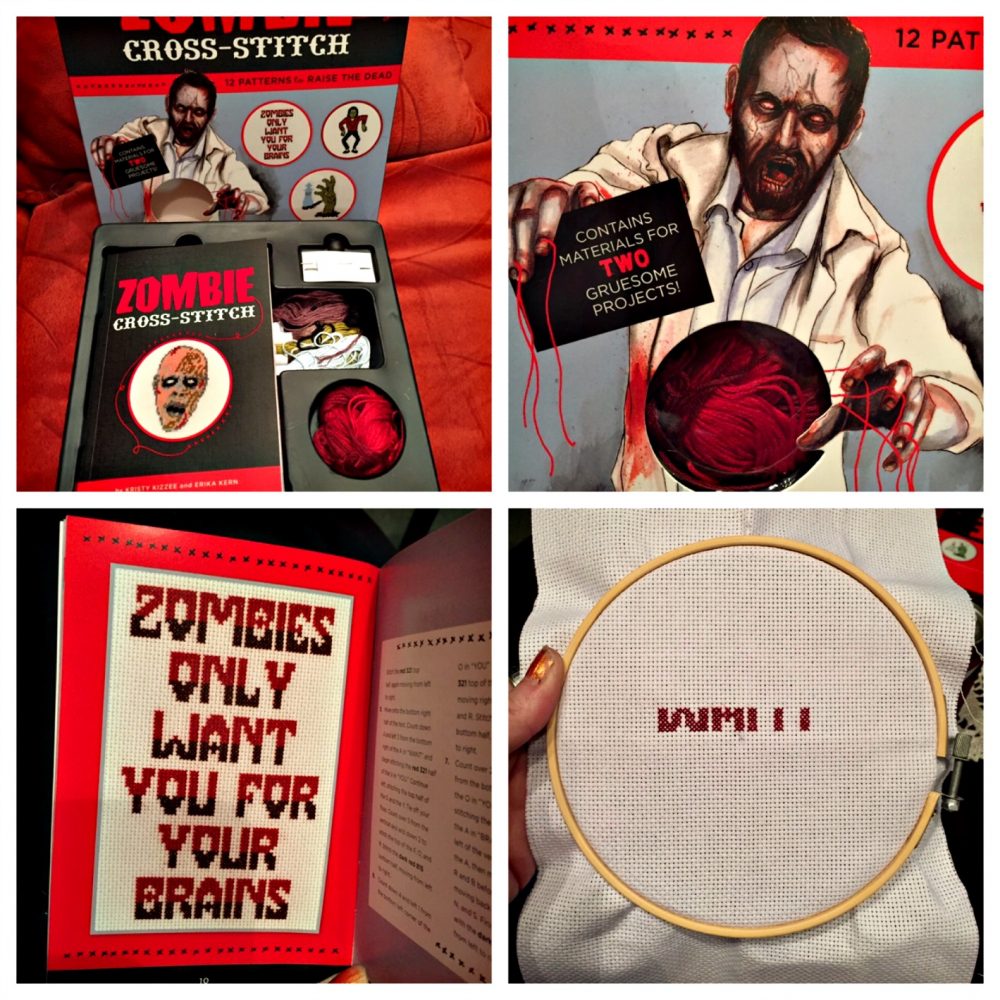 Scary Projects
So, as I mentioned above, you get enough materials to make two projects. The book gives you 12 "undeadly" patterns to choose from and they are so cute and funny! Patterns such as; "Zombies Only Want You For Your Brains", "It's Close To Midnight" (a Michael Jackson zombie want-to-be), "Rest in Peace" (scary hand coming out of the ground), "Zombies Unwelcome", "Drop Dead Gorgeous" (Miss Zombie USA), "Un-Armed and Dangerous" and so much more!
Halloween is creeping up on us and this kit would make a cute teacher gift.
Are you having a child's' Halloween party? You could get a couple of these kits and help them to finish their very own projects. Obviously, you wouldn't want to let children very small try it because of the needles, but with your supervision, I believe 8-year-olds should be able to get it done. I hope you have a very scary, fun, and safe Halloween! You can find your own Zombie Cross-Stitch Kit on Amazon, or you can click on the links provided.
Connect with Zombie Cross Stitch/ Media Masters Publicity (Facebook)/