Being low-maintenance for your hair means it's easy to manage and you don't have to spend a fortune on it.
During these uncertain times when another lockdown might prevent you from going to a hairstylist, you also need to ensure your tresses won't turn into a crazy mop without a cut.
If another lockdown starts, you need to know how to make your hair look great and keep it this way.
So, here's your guide to making your hair low-maintenance and looking gorgeous while doing it.
Choose the Right Low-Maintenance Cut for You
When it comes to low-maintenance hair, the key is choosing the right cut.
There are specific cuts that work well even if they grow out without regular trims.
The majority of them are different variations of a layered cut. You also can't go wrong with a bob.
One thing you can go wrong with is very long hair.
Contrary to a popular belief this isn't really a low-maintenance style.
Of course, you can forego trimming for a while.
But keeping extra-long tresses healthy requires a large investment in haircare products and a lot of time.
Therefore, if low maintenance in everything is your goal, keep your hair at least medium length.
And if you really want the extra-long hair look, use 24-inch clip-in extensions to become a princess for a while.
Clip-ins are rather affordable and require no specialized care or skill to put in.
Therefore, they easily fit the low-maintenance requirements.
Keep Your Hair Healthy
Healthy hair is low maintenance by default because it doesn't require the use of expensive and time-consuming treatments.
All it needs is simple support in the form of regular (but not too frequent) washing and a weekly deep conditioning mask.
Damaged hair, on the other hand, will need trims, treatments, and the use of expensive serums and other solutions to restore.
If your tresses are damaged, there is no getting around it. You need to use all those things to repair them.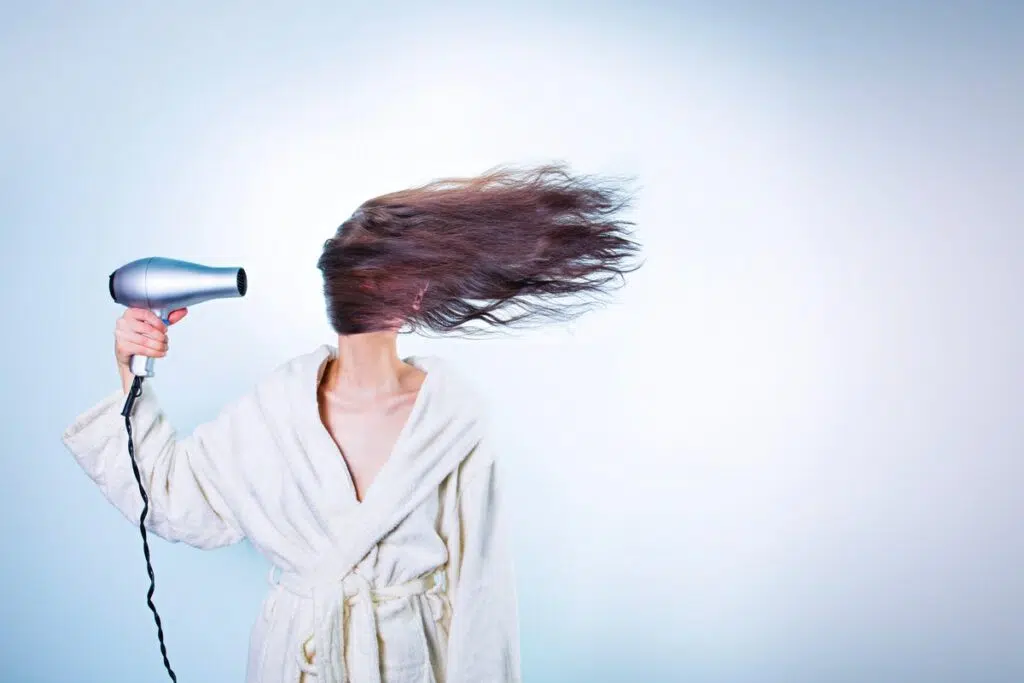 That's why it's so important to maintain hair and scalp health once you have it.
Remember that while your haircare products matter, your diet matters even more.
To keep your locks healthy you need to eat a well-balanced diet that gives you enough calcium and vitamins E, A, and D.
Avocados, nuts, and whole grains are your best friends.
Moreover, you need to cut down the use of hair styling products.
This is another time when a low-maintenance haircut will be useful.
These styles do not require much actual styling. One of their requirements is that they have to look good "as is".
You should use the bare minimum of products and skip them completely if you don't plan to go out.
Learn Easy Styling Techniques
You can save time and money as well as reduce damage to your hair by mastering some simple styling techniques.
The easiest of them is making curls or waves by braiding your hair and sleeping on it.
The result will be different depending on your hair texture as well as the type of braid you make.
If you go for multiple tight braids, you can get fantastic tiny ringlets. But this type of braiding takes a very long time.
Another easy curling trick is to split your hair in two parts and twist each tightly making two small buns.
Think Princess Leia from Star Wars hairstyle. Fix the buns with bobby pins and get on with your day.
When it's time to go out, let your hair loose and tease it a bit with your fingers.
Apply a little bit of hairspray to set those lovely loose waves.
Braiding, overall, is a fantastic way to style your hair beautifully without spending too much time on it.
This technique requires little to no product and you can make even a simple French braid look fit for a wedding with some beautiful accessories.
Therefore, your low-maintenance hair should be long enough to enjoy the many benefits of braids.
And if you are lucky to have naturally wavy hair, you can style it fast with a simple mixture of seltzer water (About 20 ounces) and a teaspoon of sea salt.
Mix it up and sprinkle your hair with the salty liquid while it's still damp after washing.
Let air dry and you'll get the gorgeous natural beach look during any season.