Leading up to Christmas use this 12 Days of Christmas Stories Cards to easily pick which Christmas story to read with your children. This 12 Days of Christmas Stories Printable is filled with colorful pages, twelve large cards, easy to read font, with the title of the book and author that kids will love.
Twelve Christmas themed stories will spark fun each day leading up to Christmas.
It's the perfect way to keep your children entertained and teach them lessons from each book.
Children will have so much fun holding the cards and seeing what story they will be reading tonight.
They can practice counting their numbers by counting the days on each card.
Each holiday storybook is targeted at young children and they will learn lessons from the books and make storytime fun.
Have fun turning this activity into an annual tradition that will bring excitement to your children leading up to Christmas.
HOW TO MAKE 12 DAYS OF CHRISTMAS STORIES CARDS PRINTABLE
Twelve colorful cards are printed on cardstock and cut out. The cards are organized into a little deck the whole family will enjoy! Are you ready to get started?
You'll find the printable Christmas Stories Cards PDF at the bottom of this post.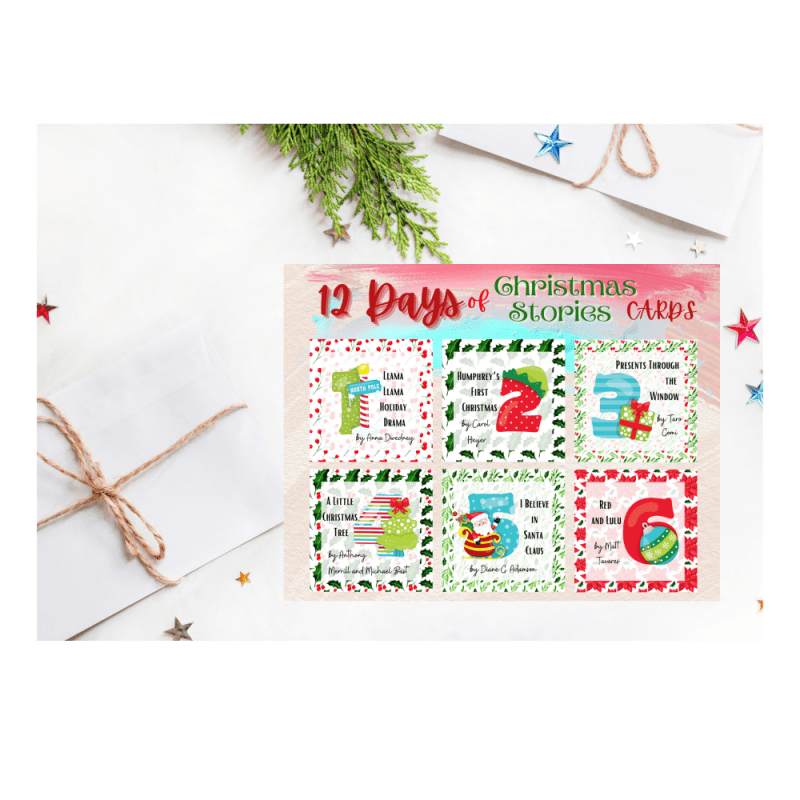 TOOLS YOU MAY NEED
Disclosure: This blog post contains affiliate links for products or services we think you'll like. This means if you make a purchase from one of these links, Kelly's Thoughts On Things may make a small commission at no additional cost to you. We only recommend items we use and love.
12 DAYS OF CHRISTMAS STORIES CARD PDF PRINTABLE INSTRUCTIONS
Download the PDF from the link. Locate the file in your computer, it should be in the download file.
Place two sheets of cardstock or paper in your printer.
Click to open the file and select the print option.
Select to print pages in color.
You can either leave the cards on the paper or using scissors, carefully cut out each card.
Take all of the cards and organize them into a deck until ready to use.
This is an activity that's sure to become a new favorite every Christmas!
12 DAYS OF CHRISTMAS STORIES CARD PRINTABLE TIPS AND QUESTIONS
If you've never done 12 Days of Christmas Stories, don't worry! Below are some common questions and helpful tips.
Hopefully, this will answer any questions you may have.
If not, feel free to ask in the comments and I'll answer the best I can.
WHAT KIND OF PAPER SHOULD I USE TO PRINT THIS CHRISTMAS STORIES CARDS?
You can print the Christmas Stories Cards PDF using regular paper or cardstock paper with color ink.
In my opinion, cardstock paper is the best because it's a heavier paper that makes the cards last longer.
You can leave the cards on the paper or use scissors to cut them up.
Children will have fun holding the cards, practicing counting them, and reading the books.
HOW DO YOU USE THE 12 DAYS OF CHRISTMAS STORIES CARDS?
Print off the cards and post them on your fridge for your children to see or cut them up and use them as a deck.
Start this holiday activity twelve nights before Christmas. Each day or night have fun reading the book recommended on the card.
This activity can also be turned into a way to give your children small presents leading up to Christmas by wrapping each book as a present.
CAN I REUSE THESE CARDS EACH YEAR?
Yes, you can reuse these Christmas stories cards each year. I recommend printing them on cardstock so they last longer.
The cards are beautiful and colorful so you can print them once and reuse them each year.
It will be a great annual activity the children can look forward to each holiday season.
WHAT STORIES ARE INCLUDED IN THIS 12 DAYS OF CHRISTMAS STORIES ACTIVITY?
There are twelve Christmas themed stories included that are all targeted at young children.
Cozy up with a blanket and enjoy reading each story leading up to Christmas.
You can find these books on Amazon or your preferred book retailer.
You can also wrap each of these books as a present that you open each night.
Below is the list of books included:
Llama Llama Holiday Drama by Anna Dewdney
Humphrey's First Christmas by Carol Heyer
Presents Through the Window by Tara Comi
A Little Christmas Tree by Anthony Merrill and Michael Bast
I Believe in Santa Claus by Diane G Adamson
Red and Lulu by Matt Tavares
The Little Reindeer by Nicole Killen
There was no Snow on Christmas Eve by Pam Munoz Ryan
Pick a Pine Tree by Patricia Toht
Santa Rex by Molly Idle
Bunny Slopes by Claudia Rueda
The Twelve Days of Christmas by Alison Jay
WHAT OTHER ACTIVITIES GO WELL WITH 12 DAYS OF CHRISTMAS STORIES CARDS?
The activity, 12 Days of Christmas Stories, goes well with a wide variety of children's Christmas activities.
All of these activities are family-friendly and can be played with a few people or large groups.
Some of my personal favorites include:
Christmas Charades
Christmas Scavenger Hunt
Christmas Scattergories
Spot the Difference Christmas Game
WHAT ELSE CAN I ADD TO THIS 12 DAYS OF CHRISTMAS STORIES CARD PRINTABLE?
This simple 12 Days of Christmas Stories Card Printable is so versatile.
You can try adding a little gift to open each night that matches the theme of the book.
12 DAYS OF CHRISTMAS STORIES CARDS PRINTABLE DOWNLOAD
WHAT'S NEXT
I hope you enjoy this printable Christmas activity as much as my family does!
If you get a chance to try it, let us know! Leave us a comment below, or share it with a picture on Instagram or Facebook! Don't forget to tag us @kelly_reci_ and use the hashtag #Kellysthoughtsonthings so we can see what amazing meals you are cooking up!