Vacation is supposed to be that time of the year when you're solely focusing on yourself, forget all your troubles, and just relax and enjoy.
But is it something that can easily be accomplished?
Not every time. Have you ever returned from a vacation feeling even more stressed out and tired than you did before you even left?
If the answer is yes, then it means that you should seriously do something about it.
Even if you're not the type of person who is able to relax one hundred percent, it's of huge importance to refresh your body and mind during vacation.
If you're not sure how this can be done, then follow these tips below!
Great Tips To Disconnect While On Holiday
Focus On Having A Relaxing Schedule
The only to-do list that is allowed on your vacation is the one that revolves around relaxation and having a great time.
Sure, you can plan various interesting activities with people who are traveling with you, however, the list shouldn't be too long, otherwise, you're going to overexert yourself.
Furthermore, it's crucial to have a lot of free time on your hands while on holiday for these reasons:
It will enable you to improvise and uncover some activities that you want to pursue.
It creates lots of room for potential delays. This way your whole itinerary will not be ruined completely.
Downtime can sometimes be very precious, so use it to just relax, watch a movie, read a book, or just sleep. These activities will definitely rejuvenate you.
Another thing that's worth mentioning refers to an organization before and after the trip. For instance, it would be smart if you just took some time off at least one or two days before leaving town and once you return.
This will allow you to arrange everything before you leave and unpack once you return home and go back to work.
Find A Cozy Accommodation
This is a must if you want to make sure both your body and mind are relaxed. If you just need a place where you'll be able to isolate yourself from the world and everyday worries and just disconnect, then maybe you should consider renting a nice and spacious lodge.
If you're traveling to Wales, consider yourself lucky because there are lots of cozy lodges with hot tubs in Wales with breathtaking sceneries, where you can enjoy peace and quiet.
What more could you wish for?
More Suggestions Coming Your Way!
Say No To Technology!
The ugly truth is, most people utilize technology constantly for various aspects of their lives and that's completely acceptable, however, when you're on vacation you should make sure all your devices are turned off for a majority of the time.
Your brain must understand that you're no longer at work and that you're here to disconnect yourself from all the messages, posts, and tasks you're dealing with on a daily basis.
Only then you'll be able to fully relax.
Replace your mobile phone, tablets, and laptops with a good book, magazine, or any other alternative.
Do Nothing!
This may be hard for you at first, especially if you're a workaholic but that's something that has to be done if you want to just switch your brain off. Yes, this is for sure an art that must be mastered, but it's definitely doable.
Just ask yourself, when was the last time you just sat outside and just did nothing? God knows when.
That's precisely why you should have a couple of days when you'll be doing absolutely nothing. You will quickly realize how beneficial this can be.
Spend A Lot Of Time Outside
It is widely known that nature has a great ability to heal and relax us, especially if you're generally spending a lot of time in the office. Many studies have shown that nature can positively affect our mood.
Besides that, it can also decrease anxiety and stress and impact your overall mental well-being in a positive way.
Have A Realistic Budget
This may seem like an easy task, but at times, it can be tricky, especially if you do not plan some things ahead.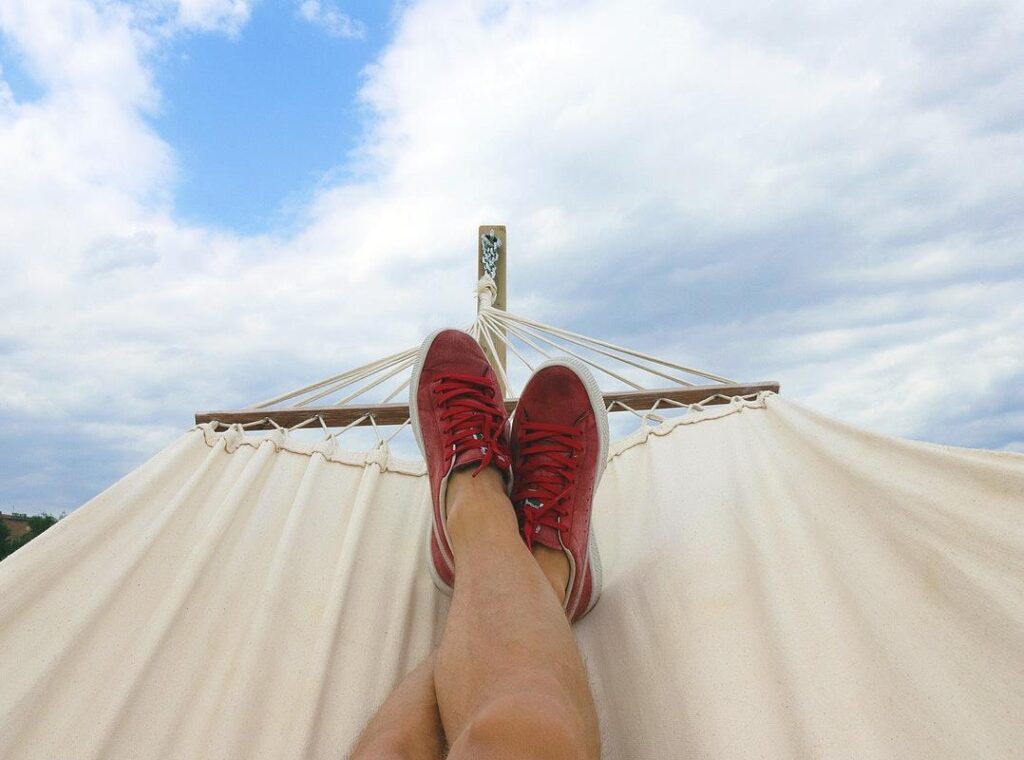 Yes, you have probably considered all the costs related to accommodation and transport, but what about the rest?
Therefore, it would be smart if you did your homework when it comes to things like meals, souvenir shopping, tourist activities, and other things so that you do not overburden your budget.
The whole purpose of a vacation is to enjoy yourself, refresh your body and mind, and just relax.
Sometimes it's not easy to do it, but with a little bit of effort, you'll be able to accomplish it and these tips will surely come in handy whenever you're struggling with it.