Easter and Mother's Day are coming up. Then, Father's Day is soon to follow. All these special occasions fall in such a short span of time. Many people dress up for these events and many men will wear a tie to look extra snazzy for these big days.
If you need a tie or just want to treat yourself to a new tie, you should check out Ties.com. I received 2 Easter ties in the mail from Ties.com. Before I tell you about the ties, I want to tell you about my experience with this company's packaging. I bet you're saying, "They're packaging?!" Yes, let me explain.
Opening up their package, which was a box, the first thing I noticed was the crisp tissue paper carefully and very neatly wrapped around the ties. I can't emphasize enough how neat it was. I thought to myself, whoever packed this, really cares about their job and how they do it. Their packaging alone is impressive.
And What About The Ties?
After I admired the packaging, I opened it up to find my 2 Easter ties. I received the Easter Artist Tie ($55) and the Jelly Beans Silk Tie ($25). Here, again, the great quality was very obvious. The ties are beautiful and well made (and I love the little bunny on the blue one). The material is soft and 100% silk. There was not a single snag or wrinkle in either tie. They were (and are) impeccable.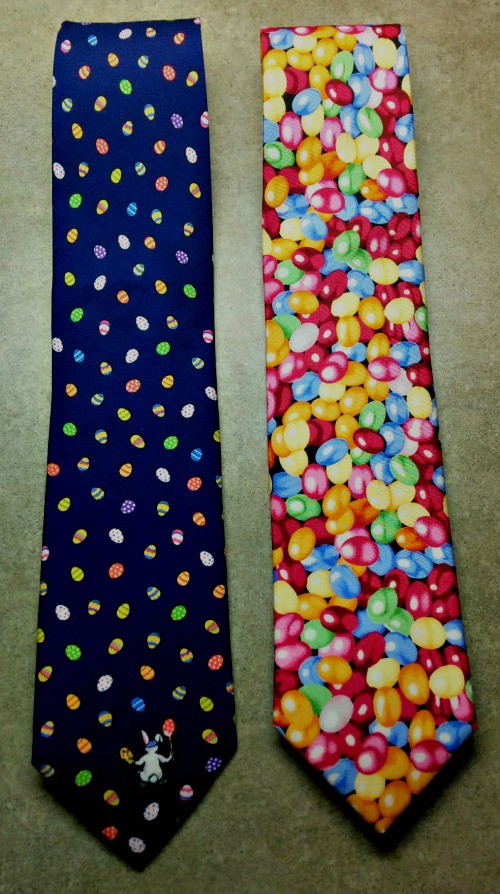 If you're looking to purchase a tie, Ties.com is worth checking out. They have ties for different holidays, different occasions, and different themes. They have ties in many different materials, colors, and patterns. If you don't need a tie, they also have other accessories, such as shoelaces, scarves, collar pins, cufflinks, and much more.
In addition to high-quality products, Ties.com has wonderful customer service. Whoever runs this company, they know what they're doing. They provide free shipping to anywhere within the United States for a $20 minimum purchase. They also have a 100-day return policy (I don't know too many companies that are that generous).
Easter is coming up and the Easter Artist Tie and the Jelly Beans Silk Tie (or something else from Ties.com) would make a nice gift for that special man (or boy) in your life! Maybe just give it to them a day early so they can wear it on Easter.
Connect with Ties.com
Facebook | Twitter | Pinterest | Instagram | YouTube | Google+