Loud noises will always be a part of the life of kids whether you're at a parade, cheering for the home team, in the city or watching fireworks. These joyous experiences, while fun, may be quite scary and/or dangerous for a child's delicate eardrums.
Damaging sounds are in surprising places, including city streets, concerts, parties, even crowded restaurants. Lucid Audio, is well known for its HearMuffs for infants and toddlers. The HearMuffs have been seen on many celebrity children. Now, Lucid Audio has introduced Kids HearMuffs Trio for elementary school-aged children between 5-10 years old.
Protect Your Kids While On Trend
The HearMuffs Trio is great for everyday use and children will be protected with advanced active sound and passive hearing reduction. Plus they just look really cool! Kids Hearmuffs Trio can be used as headphones at any time and in any mode as it features an external audio port. Simply connect an external device with the included 3.5 mm audio chord.
Children can enjoy their favorite movies and games by easily plugging into a media source. You can still have conversations with your child without removing the HearMuffs at the touch of a button. This is great because you won't need to take the HearMuffs Trio off and on. All you need to do is simply press a button for Conversation mode to communicate with them. They are so simple to use!
Kids HearMuffs Trio ($39.95)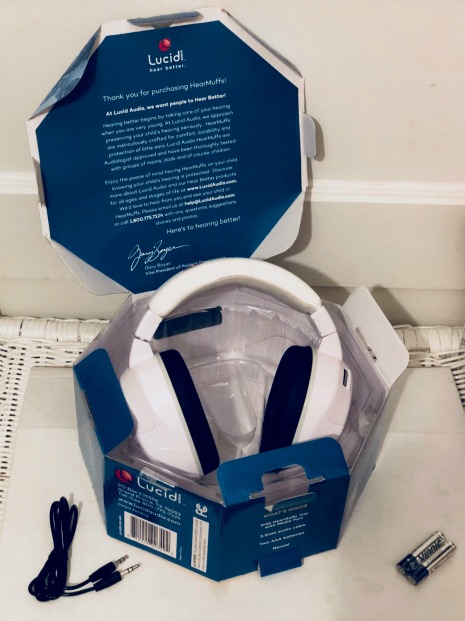 Comes in white
Fits children 5-10 years old
Advanced active sound and passive hearing protection with headphone capability
Audiologist-Approved Kids HearMuffs which come with an industry-leading 22 Noise Reduction Rating (NRR)
There are different modes which allow voices to be heard while compressing potentially harmful noises
Adjustable headband has smooth foam and fits a wide range of children's heads providing advanced protection from loud and harmful noises including traffic, concerts, construction and city noise
Designed in the USA and made with non-toxic and child-safe materials
CONNECT WITH LUCID AUDIO: Site | Instagram | Twitter | Pinterest | YouTube