This is a sponsored post written by me on behalf of FrogTape® for IZEA. All opinions are 100% mine.
The other day I was sitting in my living room wondering what I can do to make this room look different from the kitchen, which is attached and all open space. I want to change up the colors so that the kitchen is more of a neutral color and then a brighter color in the living room. They share a wall so how will I do this? How do I make this transition?
So my husband says let's paint the rooms different colors. Each room has specified functions, so I want the paint colors to reflect that as well. We decided to paint a CLEAR BOLD line that separates the two rooms. Then the question is how do we do that? My husband knew exactly what we needed and went to get the FrogTape®.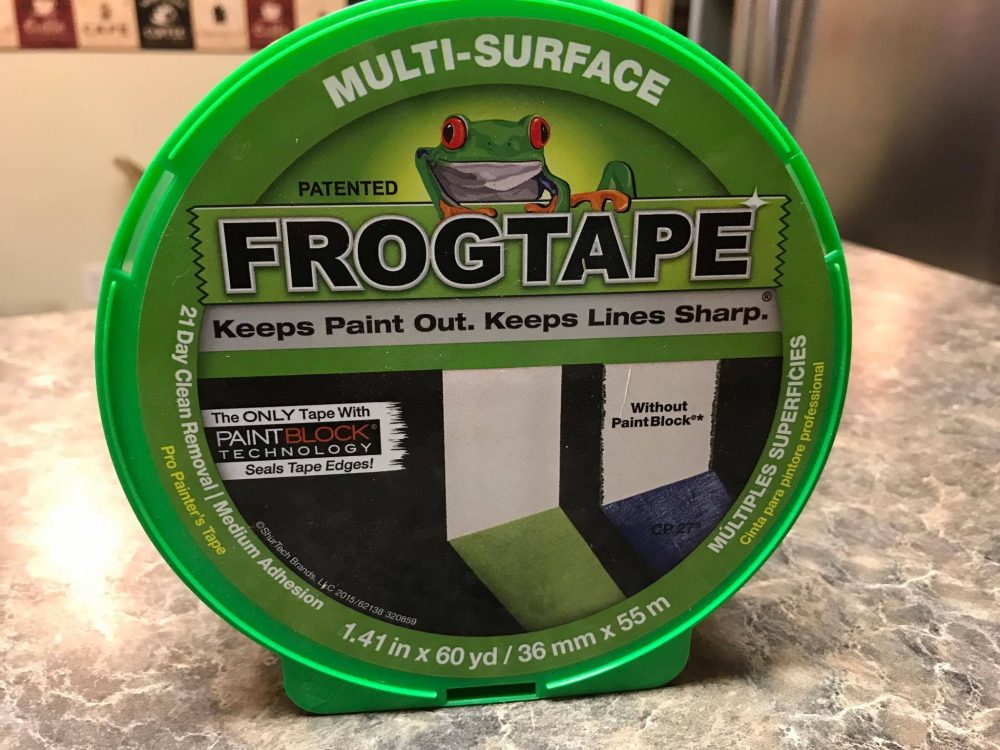 My husband uses FrogTape® brand painter's tapes for all our household painting jobs because it is treated with patented PaintBlock® Technology, a super-absorbent polymer that reacts with the water in latex paint and instantly gels to form a micro-barrier that seals the edges of the tape. He says he wants to do it only once and FrogTape prevents the color to bleed and no need for touch-ups. The results are always crisp; clean paint lines the first time you put it up. Saves a lot of time, no redo's necessary with this tape! The edges of the tape ensure that the tape is properly bonded to the surface resulting in sharp paint lines.
How we got our CLEAR BOLD LINE:
Clean the surface and let it dry.
Tear off sections of the tape that are needed for the line, but never longer than your arm. Easier to place on the wall that way.
Make sure the tape is straight and secure. Press firmly but don't stretch the tape.
Remove all air bubbles; we use a credit card or putty knife just to slide down to make sure all secure.
Paint and let dry.
When all dry then you can remove the tape with a little speed, pull the tape back and bam there is my STRAIGHT BOLD LINE!
Now I have two separate rooms with a clear bold line to distinguish between the rooms. We repainted the wall all in one day and let me tell you I love it but we couldn't have done it without FrogTape!
If you are looking to do some trim work or want to separate rooms as we did, then please pick up FrogTape, but first, you will need to check out 2017 FrogTape® Design Trends created by Taniya Nayak for FrogTape, for inspiration. There are so many cool ideas and designs I wanted to do, but for now, I just needed my BOLD STRAIGHT LINE!
Also, follow FrogTape for more paint inspirations and design trends- Instagram-Pinterest–Twitter–Facebook
Let us know what you want to do around your house that you would use FrogTape on?