Think about everything you buy for your family that fits in the edible category. There are tons of food groups, and we often end up getting items from all of them during a trip to the store. Everyone in the world enjoys different things, and we also share common interests as well. Even though we often shop for our favorite brands, there will always be something new out there.
Of all the food groups, we mostly focus on the key essentials. From milk to pasta, there are several items our fridge and pantry can't go without. My family loves to cook, and we often use one food that is popular with many, and that's rice. We use a brand of rice that some of you may have heard of. But in case you haven't take a look at what I have for you below.
No Better Natural Selection
Every family has a specific night they make a particular type of food. Well, one a week my family enjoys what we call Mexican evening. It's the night of the week where we have either tacos, fajitas, or chimichangas! The family favorite happens to be fajitas, and I do enjoy them so much. There is a common ingredient in our recipes, which is rice. It's not just any rice, though, we use Carolina® Brown Rice!
Carolina® Brown Rice has been our choice in rice for a few years now. Natural brown rice is a good source of whole grain dietary fiber. This rice is naturally sodium free, cholesterol free, and has no saturated fat! On top of that, it's both grown in the U.S.A and is Kosher approved.
Who Loves Fajitas
Carolina® Brown Rice is a choice that your family would love. Plus you may even enjoy this lovely recipe for Carolina® Brown Rice Fajitas!
Ingredients
1 1/2 cups thinly sliced red onion
1 pound skinless, boneless chicken breasts, cut crosswise into 1/4-in.-thick slice
1/2 teaspoon salt, divided
1/4 teaspoon black pepper
1 1/2 cups thinly sliced red and green bell pepper (about 1 small of each)
1 tablespoon olive oil
1 1/2 teaspoons chili powder
1 teaspoon ground cumin
8 (6-in.) corn tortillas
Directions
First, combine the chili powder, cumin, 1/4 teaspoon salt, and the black pepper into one bowl (mix well). Proceed by adding the chicken; toss to get a good coat. Heat pan on the stove over medium-high heat. Next, add the 1 1/2 tablespoon of olive oil; swirl. Then add chicken; let it cook for three minutes. Add bell peppers and onion; cook 5 minutes or until vegetables are softened, and chicken is done, stirring occasionally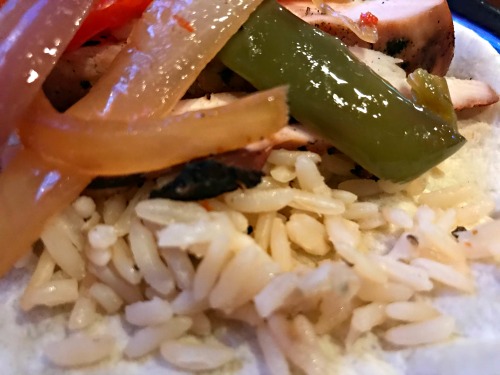 Prepare your fajitas with the toppings you prefer then dig in!
If you are looking to try out Carolina® Brown Rice, then you are in for a treat. Through Savings.com, you can save $0.50 on any ONE (1) Carolina® Brown Rice (1 lb. or larger) by clicking here! Plus, you should check your Valpak envelopes to get an additional Carolina Rice coupon (available in select areas).