Everyone has the eye for something special, the urge to do something they love. Think about everything that you've done during and after growing up. There are different matters that you've hung onto since you were a child. Me, well I have a strong passion for video games. Others may share the same liking, which leads them to start a unique collection they want to build on.
Starting a collection of some of your favorite things is a popular thing to do. People collect different sets, action figures, and so on. These are often put on display so that friends and family can see for themselves. Now, starting one is one thing, but what do you want it to be. Well, if you are looking for a great idea to work with, then I have just what you need.
The Hess Toy Truck Is Back
Many people both young and old will hold onto things they find interesting. In the past, we've talked about Hess and their mini trucks. Recently the Mini Collection has returned once again! Featuring a new set of three previously unreleased miniature toy truck replicas.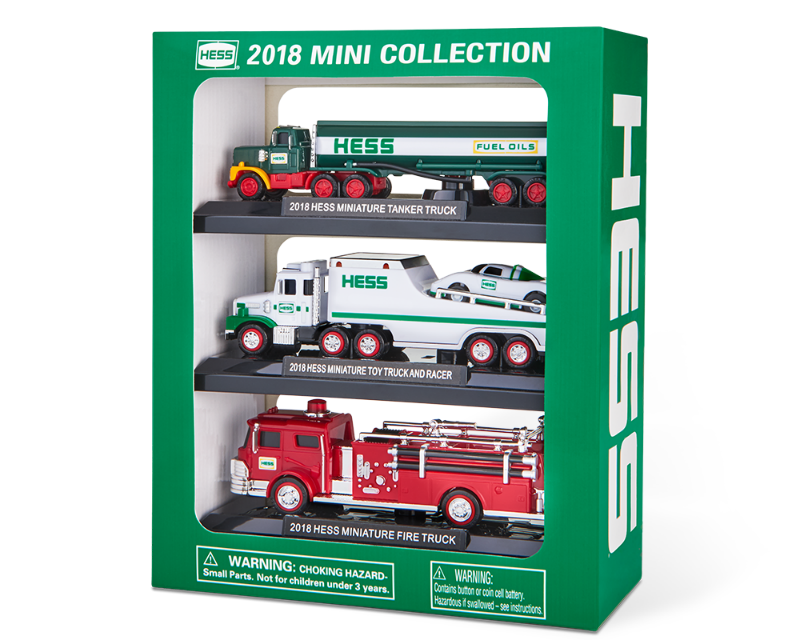 That's right; this colorful collection includes fully-detailed, small-scale replicas of popular holiday Hess Toy Trucks like the following:
1970 Hess Toy Fire Truck
1977 Hess Fuel Oil Tanker
1988 Hess Toy Truck and Racer
Each toy featured in this collection isn't just a toy, it's a piece for history! Along with working lights, each toy also has a finely detailed design. The chrome detailing of each toy will have your mind running in circles. To top matters off, they all come with their own detachable display base with nameplate!
Now, the Hess 2018 Mini Collection is sold exclusively at www.hesstoytruck.com for $26.99 plus tax and includes a total of 9 Energizer® batteries and free standard shipping. It's only a matter of time before a collection like this will have kids, adults, and collectors buzzing with excitement.
If you've had the opportunity to obtain the sets before this one, then it's time you grabbed this one too. Make it even bigger and continue to help it grow. So check out the info I have for you above.