Do you have some mega foodies on your holiday gift list this year? Need tasty treats for a holiday party? Consider absolutely spoiling friends and loved ones with delicious snacks and treats from Setton Farms. If they're fans of pistachios, then they'll adore these products.
Get Pistachio'd Away for the Holidays with Setton Farms
I was so happy to try out these delicious pistachio snacks and treats. They're also an affordable way to get your pistachio fix.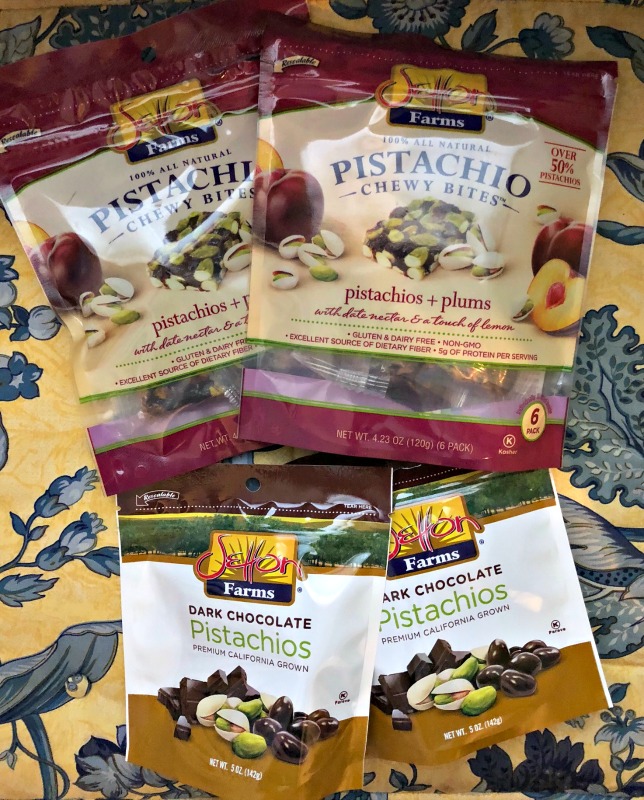 Premium Dark Chocolate Covered Pistachios, $5.99
These Setton Farms sweet treats have an added boost of nutrition in comparison to other holiday treats. The perfect gift for foodies, hostesses or to have out at holiday parties. Available in 5 oz bags, this snack will provide the heart healthy benefits of pistachios along with the amazing qualities of antioxidant-rich dark chocolate. Pistachios are also full of potassium, protein and fiber, making these an indulgence you can feel good about. Delicious, power-packed and portable, this sweet treat is a must-have item for your pantry, lunch box or office drawer. Everyone will love them!
Pistachio + Plum Chewy Bites, 6-Pack at $5.99
This new Setton Farms snack just launched in June and is a delicious combination of nutrient-rich pistachios and fiber-packed plums. The all natural, bite sized bars are an easy and healthy way to get your daily dose of pistachios on the go. Packed with over 50% California grown pistachios, plums, date nectar and a touch of lemon. Loaded with protein, fiber, iron, potassium and antioxidants. Perfect for kids and adults, this heart healthy snack will please anyone when they open their stocking! Vegan, gluten and dairy free, and Non GMO.
About Setton Farms
Setton Farms is a family owned business based in California's Central Valley and are the 2nd largest grower and processor of pistachios in the United States. The business started as a small bakery in Brooklyn in 1959 and expanded to growing pistachios in 1987. They are a vertically integrated company and are able to focus on every step of the pistachio process from harvesting, to processing, to shipping. The processing plant has a 1.7MW solar power system and their post-harvest operations is 100% solar powered. Their products range from plain pistachios to flavored pistachios to their iconic Pistachio Chewy Bites.
CONNECT WITH SETTON FARMS: Site | Instagram