Nutra is a company that provides products that are vegan and natural, so you can feel good about using their products. And, they make products for the whole family, including the pets! The following gives you a view of some of their products you may enjoy and benefit from.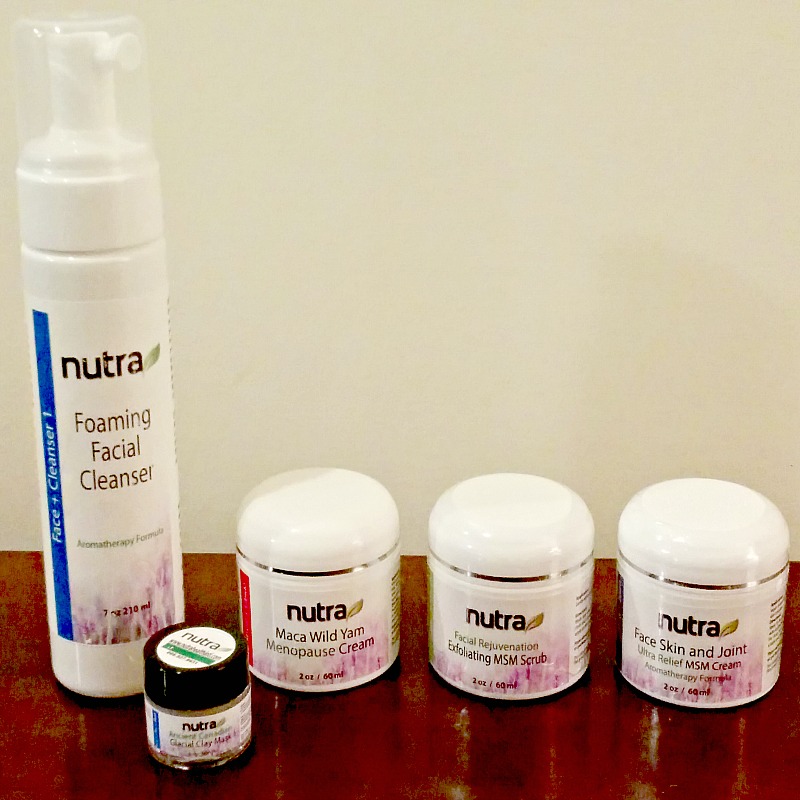 Glacial Clay Mask
Their Ancient Canadian Glacial Clay Mask is the first product I'll talk about. According to Nutra, this mask can help:
improve the skin's tone and texture,
nourish the skin with beneficial minerals,
rid the skin of dead and dry skin,
reduce those fine lines and wrinkles many of us dread, and
decrease the appearance of eczema and rosacea.
This mask can also produce a warming sensation, which Nutra says can assist with increased circulation. And, you don't have to worry about it stripping your skin of its natural oils. I love its lavender scent, too. It comes in different sizes and the price varies from $18.99 to $136.99.
Foaming Facial Cleanser
Another Nutra product is their Foaming Facial Cleanser. This cleanser is hypoallergenic, contains no artificial fragrances nor perfumes. The Nutra Foaming Facial Cleanser can help clean the face of oil and bacteria. It can be used for those with acne. And, the cleanser contains calendula, which is known to be an anti-inflammatory. It contains all-natural ingredients and nothing harsh, so it's less likely to irritate the skin. This product also does not contain alcohol in it. It has the pleasant scent of lavender. And, what I really like is that it's foaming. I have found that foaming products tend to last longer, which is always nice. According to the bottle, it's pet friendly, too. This product can be ordered in various sizes and prices vary between $8.99-$19.99.
Maca Wild Yam Menopause Cream
This next product is for those who would like some relief from symptoms of menopause or PMS. It's called Maca Wild Yam Menopause Cream. According to the Nutra website, "Wild yam is a natural progesterone type molecule that may ease symptoms of PMS, Pre-Menopause, and Menopause, together while balancing estrogen and libido in women. With the addition of MSM (plant sulfur), due to its small molecular size, it helps to promote fast absorption of the cream. Wild Yam recommended all over the world as a natural resolve to menopause when Progesterone is not an option . . . Wild yams contain a chemical called Diosgenin that is remarkably similar to progesterone. Progesterone is thought to balance the effects of estrogen in a woman's body – a key factor in the severity of PMS and menopausal symptoms." I know that's a lot of info, but I thought it was very helpful in explaining this product and how it can help!
The Maca Wild Yam Menopause Cream also has the pleasant lavender scent. It's a very nice cream that absorbs easily and doesn't leave skin feeling greasy. It's available in 1 oz. or 2 oz. containers and the price ranges from $23.99 to $41.99, depending on which container you order.
Exfoliating MSM Scrub
The Nutra Exfoliating MSM Scrub helps to remove dead skin cells and "grime," but without harsh chemicals. It can also be utilized on areas of the face that have acne. It's hypoallergenic and made without artificial fragrances or perfumes.
This scrub will leave your face feeling fresh and clean. While cleaning with it, you can also enjoy the pleasant fragrance from the proprietary blend of essential oils included in this Exfoliating MSM Scrub. With this product, the scrub will get the job done while being gentle on your skin. The product comes in a 2 oz. container which retails for $35.99.
Ultra Relief MSM Cream Aromatherapy Formula
The final Nutra product I'd like to share is Face Skin and Joint Ultra Relief MSM Cream Aromatherapy Formula. This product can be utilized for "headache relief, pain relief, and scar issues. This is an excellent everyday topical cream as a general-purpose solution to muscle pain, body injuries, and headaches" (from product description on the website).
The cream absorbs very easily and is non-greasy. It contains therapeutic-grade lavender oil as its first active ingredient, so it smells good, too. This product is available here. It comes in a variety of sizes and prices vary from $11.99 to $320. All prices in this post are subject to change.
A Few Final Notes
You may have noticed that many of these products contain MSM. According to Nutra, MSM is "an organic sulfur compound commonly referred to as the miracle supplement. We have taken great care to source the only quadruple filtered (99.99% pure) MSM available. There are many healing qualities to MSM, among them is its unique ability to help deliver nutrients through the skin barrier. This makes each ingredient, each product more efficient and effective."
Nutra would make a nice Christmas gift or stocking stuffer for many! It's a very functional gift that many can use and will appreciate! So, if you know anyone that you'd like to pamper at Christmas time (or anytime), give Nutra a try!
I am not a medical expert. The information in this post is not meant to substitute for professional medical advice, diagnosis, or treatment. The information in this post is for general informational purposes only.
Connect with Nutra: Website & Facebook