If you know any tea lovers who would enjoy it as a gift/stocking stuffer this holiday, consider checking out Sun God Medicinals. This brand has the perfect cup for every moment! Experience Sun God Medicinals' handcrafted, gourmet signature loose-leaf tea blends. The handpicked and organic leaf teas support traditional harvesting methods and offer premium flavor. Whether you need a kick to get you going in the morning, a small escape or a little stress relief during the holiday season, there's a special tea available for you to sip on every day.
Formulated with the health of the end user in mind, their tea has many health benefits to offer. I received three of their hearty and flavorful teas from the Sun God Medicinals Organic Heka line formulated to help reduce worry and stress. The teas are delicious, and the organic ingredients are a great addition to my lifestyle. There's nothing more relaxing than a cup of tea. It's, by far, my favorite hot beverage and a ritual that I always look forward to.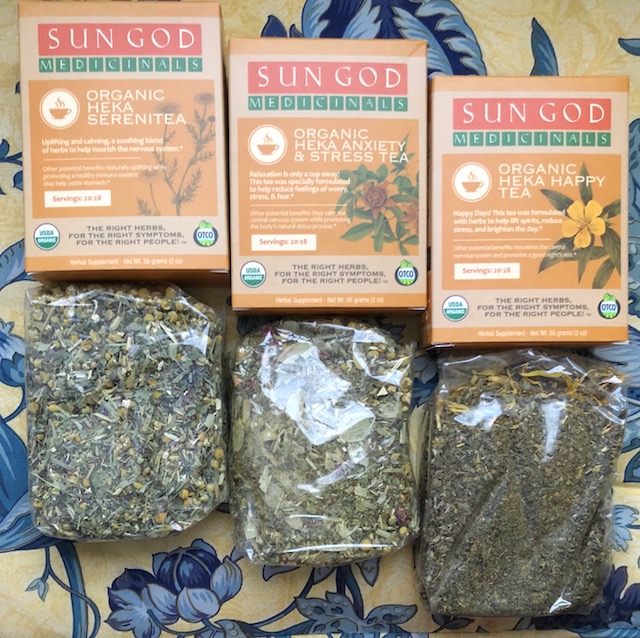 The Organic Heka product line is made in small batches and is gluten-free, vegetarian and non-GMO. Using organic sun grown herbs from artisan farmers in Southern Oregon, the Heka teas are available in 2 oz. packages with 20-28 servings to enjoy hot or cold. They are specifically formulated to aid with agitation, stress, depression and may promote a healthy immune system.
Sun God Medicinals – Organic Heka Tea
Organic Heka Anxiety & Stress Tea
One of the best sellers, stress release is only a cup away with this specially formulated loose-leaf, root, & flower organic herbal tea blend of all organic ingredients including German chamomile, passionflower herb, oatstraw herb, skullcap herb, St. John's wort herb, nettle leaf, hop strobile, rose petals, and valerian root. to help reduce stress and fear. This relaxing tea may help calm the nervous system, while also helping to restore its strength. Herbs like oatstraw and skullcap may ease feelings of worry or fear and allow you to focus on relieving stress! Have a cup of this tea whenever you need a bit of courage. All Organic Ingredients: Nettle leaf, Oatstraw, Chamomile, Rose Petals, St. John's Wort, Passionflower, Valerian root, Skullcap, and Hops.
Organic Heka Happy Tea
This delightfully uplifting tea helps promote emotional well-being throughout the day. Herbs like peppermint, calendula, and lemon balm help give a stimulating boost to mind and body. Have a cup of this tea whenever you need to see the bright side of things. All organic ingredients include peppermint leaf, damiana herb, lemon balm herb, skullcap herb, and calendula flower. All Organic Ingredients: Peppermint, Damiana, Lemon Balm, Skullcap, and Calendula.
Organic Heka Serenitea Tea
This tea blend is sure to help improve your mood and clear your mind. These gentle herbs, like chamomile, were chosen to help ease feelings of discomfort or tension and instead invite relaxation. Enjoy this tea anytime of the day, whenever it is needed most. All organic ingredients include German chamomile herb, oatstraw herb, lemon balm herb, and lavender herb.
CONNECT WITH SUN GOD MEDICINALS: Site | Facebook | Twitter