Sunshine makes me so happy! It brightens my day, and I love the feel of it on my face. Though it's good for us (it produces serotonin in our brains which makes us happy,) it's also not great for our skin or our hair. Today I want to talk to you about some summer beauty products for your skin.
Summer Beauty Must Haves Your Skin and Hair Will Thank You For
As I said, the sun is fantastic, but it wreaks havoc on our skin and mane. We need to protect it and ourselves, and give it some nourishment as well. The following products are things that I personally use, and I think you'll love them like I do.
Korres Nourishing Sunscreen
If you're looking to protect your face from the sun's harmful rays, and give it skin repairing proteins too, then you need Korres Yoghurt Nourishing Fluid Veil Face Sunscreen. This miracle-working sheer lotion gives you a broad spectrum UV protection of 30 SPF. It's light enough to be worn right under your makeup too. It nourishes your skin with Greek yogurt, and contains no parabens, sulfates, or phthalates. I love it! Get yours HERE.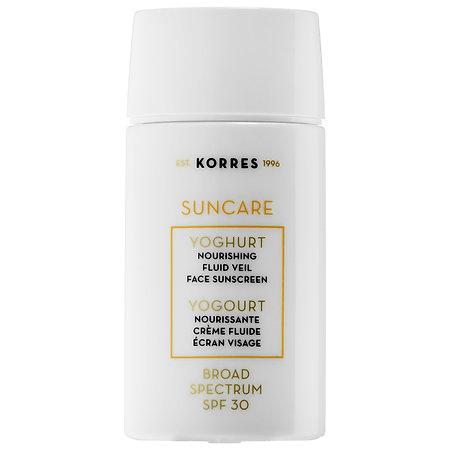 The Healthy Body Butter
I adore the smell of Lavanila's Pure Vanilla Healthy Body Butter. I also love how it makes my skin feel. It softens and gives it instant hydration without making it feel greasy. This velvety smooth body butter absorbs into my skin virtually on contact, and leaves behind a light, yet beautiful scent. It's a blend of 100% pure Shea and Cocoa Butter, with essential oils, and powerful antioxidants. Trust me, your skin will love it! Get some HERE.
Let's Talk About Those Locks
The sun's UV rays can also harm our hair, so we should be protecting that as well. I like to use Cuvee Beauty's Protective Treatment. This serum spray offers your hair invisible sun and pollution protection while working to tame fly aways (which I personally loathe,) frizz, and detangle your locks. Cuvee Beauty's Protective Treatment is sulfate, paraben, and phthalate free, as well as being cruelty free. Don't just take my word for it, get yours HERE.
Temporary Ponytail
Are you looking for a quick and easy way to add some length to your summer ponytail? If so, check out this 18 inch Simply Straight Ponytail by Hairdo. It wraps around your existing ponytail to add some temporary length to your look. I have one, and I always get compliments on it. You can get one at Ulta.