Every morning we wake with a goal of making today a great day. We have so much to do with so little time. Christmas is just thirteen days away. Everyone is busy running around trying to buy the perfect gifts for family and friends. To help start the day off on the right foot, we want to dress comfortably. One thing we may overlook while dressing in the morning is our socks. We just pick up a pair of socks and go. Since we are on our feet a lot, it is important to not only have comfortable shoes, but also comfortable socks. BLACKSOCKS has just what you are looking for in socks.
BLACKSOCKS
The largest luxury sock eTailer and creator of the sockscription is BLACKSOCKS. They are debuting cashmere silk socks in three new hues: orange, mustard, and royal blue. Fine sock lovers can buy a single pair ($32), 3-pack ($92) or a 10-pack ($298). The classic calf pairs will also sport new colors including the return of red and green striped, priced at $14 and up.
I received a pair of blue half striped business light socks. They are made of 74% Pima cotton, 24% polyamide, and 2% elastane/spandex. I like the blue color because it can easily be paired with a navy or black slacks. The strips add a bit of character to the socks so that are not plain for those that like to wear the non-traditional pair of socks. The socks are very soft and smooth when you touch them. My husband thoroughly enjoyed wearing them to work and walking around in them. They are extremely comfortable and fun to wear.
Their socks are made in Italy. All of their socks meet the Oeko-Tex Standard 100 which means they are non-hazardous for your health. Each of their socks is 100% skin-friendly and allergy tested.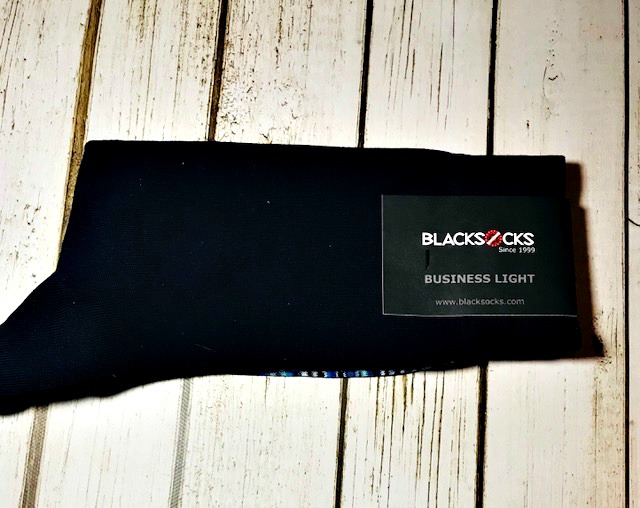 BLACKSOCKS is the perfect gift for men who want luxury on their feet and no more sock worries. The popular sockscription sends 3 pairs/3 times a year, or customers can choose the quantity and style. Put your best foot forward and gift the man in your life BLACKSOCKS.
You can use the code: ME10YL to get 10% off of your order.
Connect with BLACKSOCKS: Site | Facebook | Twitter | Instagram | Pinterest