Spoil is the easiest way to send same-day gifts anywhere in the US. Within a few clicks, you can order a wide variety of gifts including candles, cupcakes, flowers, stuffed animals, and FOOD and have them delivered that day. This app is perfect for Valentine's Day (you can also schedule your delivery) so make sure you download it for FREE HERE.

Beautiful gifts, delivered same-day, anywhere in the US! Or you can schedule for the people who THINK AHEAD!
Flowers
Candy
Macaroons
Ballons
Champagne
Stuffed Animals
Crystal
Cookies
Suprise
Much More
People can send same day surprises all across the U.S. This app's power users (by far) are couples who use our app 2-3 times a week. The gifts aren't your typical boring gifts either- FUN STUFF and range in price. The items are super affordable ranging from $8 to $35. The satisfaction is immediate, and the items are fun.
I love how convenient this app is and how EASY it is to use. My co-blogger ordered me a gift (Flowers) that morning, and within HOURS I hear a knock, and it was a delivery guy with beautiful flowers. The flowers lasted a good week- so not cheap flowers either.
I can my family using this for birthdays, other holidays, giving a thank you gift to teachers, or sending to my friend when she is having a rough day. I can probably think of 100 more reasons to use the Spoil app- the name fits it too!
You can send to anyone in your contacts- that simple! I know I have a lot of people I want to SPOIL!
You can even write a personal note- that is always fun to do!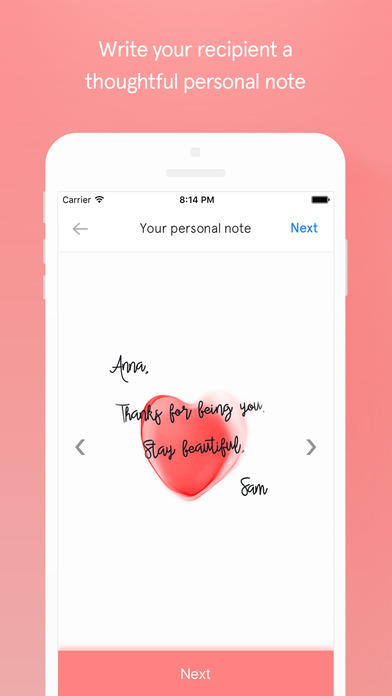 Make sure to follow on Twitter- Instagram and download the app HERE because if you are anything like me I always wait for the last minute and this APP will save me- same day delivery.
Share the NEWS- you know someone who needs this app-share, please!
[Tweet "Forgot to get a birthday or anniversary gift- Spoil app got your back! @spoil #sameday #giftgiving"]
What do you want for Valentine's Day this year? Leave a comment and let us know!