This Sparkling Jack Frost Cocktail is best to serve during the holidays. The color speaks festivity and so as its taste, and the best part, you can make this in little as under 5 minutes.
Fun, easy, and yummy – definitely a drink you can ask for.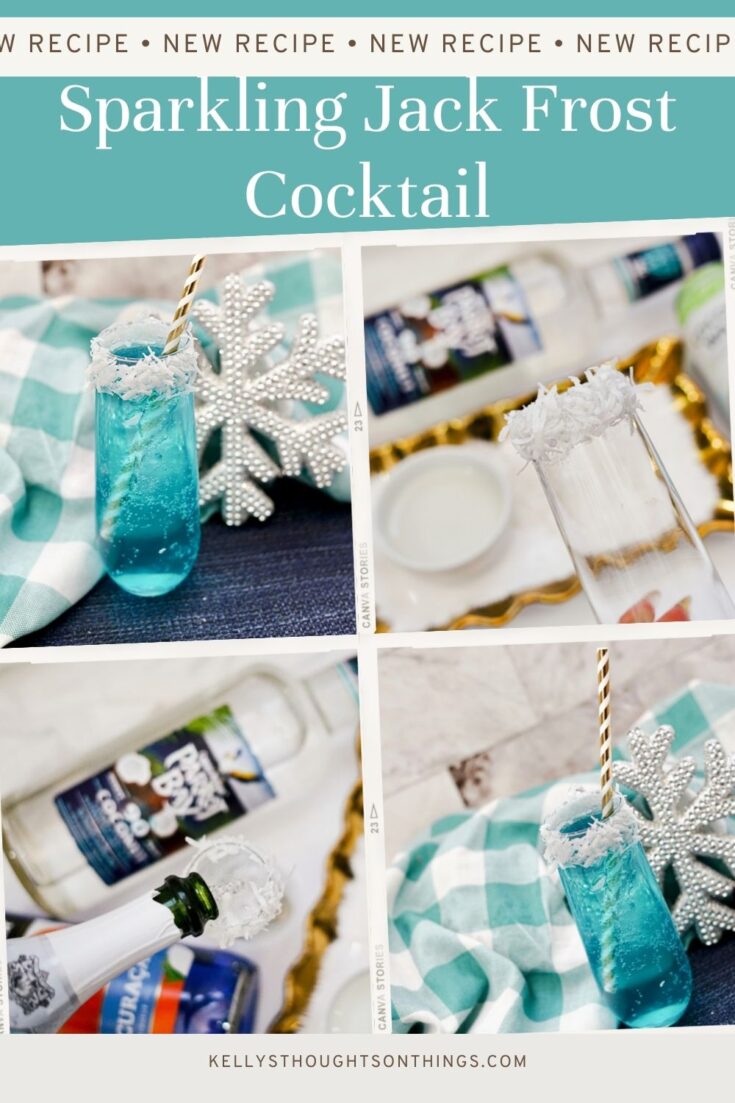 Why You'll Love This Jack Frost Cocktail
Quick, fun, and easy to make.
A cocktail that screams color and flavor.
Reminds you of summer and tropical weather.
Jack Frost is a fun holiday character to celebrate with.
He leaves sparkling snowflakes and frosty surprises in his wake and often brings the first snow of winter.
This Sparkling Jack Frost Cocktail recipe is perfect for celebrating this festive holiday!
This cocktail combines refreshing flavors. It's super easy to make – just mix all the ingredients together until they're well combined!
The best part about this drink? It can sparkle like it's made from ice crystals!
It will keep everyone feeling festive all day long while still being able to enjoy their food without getting too tipsy off one drink!
Disclosure: This blog post contains affiliate links for products or services we think you'll like. This means if you make a purchase from one of these links, Kelly's Thoughts On Things may make a small commission at no additional cost to you. We only recommend items we use and love.
You'll find the specific ingredient amounts and detailed instructions in the printable recipe at the bottom of this post.
Equipment Needed to Make Jack Frost Cocktail
Ingredients For Your Jack Frost Cocktail
Sparkling Wine
Coconut Rum
Blue Curacao
Coconut Water
Fresh Coconut or Coconut Flakes
Corn Syrup
How To Make A Jack Frost Cocktail
Step 1: Coat the Rim
This recipe is easy as counting 1-2-3. First off, coat the rim of a champagne flute with corn syrup and smother it in fresh coconut or coconut flakes that are either sweetened or unsweetened, depending on your preference, for that aesthetic presentation.
Step 2: Mix and Pour
Once the rim is coated, it is now time for mixing and pouring. First off, pour 1/4 of sparkling wine, then add another 1/4 of coconut rum and 1/4 of blue curaçao.
Once all the mixture is added, finish it off by topping it with coconut water.
Step 3: Serve and Enjoy
See how easy it is? Now you have your mixture, it's time to serve and enjoy.
Let your guests enjoy this refreshing cocktail.
What to Serve with Your Jack Frost Cocktail
Sides
This Jack Frost Cocktail is perfect for any savory dish. The sweetness it gives will definitely balance out any salty or savory flavored dish. It is perfect with finger foods like chips or fries as well. This can be perfectly paired up with burgers, pizza, or even chicken wings. This drink will definitely balance out it all.
Desserts
This cocktail's sweetness can be adjusted depending on your preference. This can be also added with ice for that extra texture and refreshing flavor. The glass rim can also be added with sprinkles for that extra flair of presentation.
Drinks
This cocktail can be turned into a boozier drink if you wish. This is a refreshing and fun drink to have on any occasion. You may want to add more of the alcohol content to make it boozier.
Popular Substitutions & Additions
The Jack Frost Cocktail recipe can be tweaked into a boozier cocktail by replacing the rum with vodka.
You can also adjust the alcohol content by adding more alcohol to the mixture.
You may also have the option to add pineapple juice to the mixture for that sweet and sour taste.
Also, if you want more texture to this cocktail, you can add the mixture with ice and blend it over for a more refreshing experience and just top it off with mint leaves for extra flair upon presentation.
How to Store Jack Frost Cocktail
Best Way To Store Jack Frost Cocktail Leftovers
Any leftover of this Sparkling Jack Frost Cocktail can be stored in the refrigerator by placing any excess cocktail in a pitcher or bottle.
Before transferring the leftover to any container, make sure to have it sterilized first.
Then, make sure to stir it first before serving again.
How Long Will Jack Frost Cocktail Last In the Fridge?
The Jack Frost cocktail can be kept in the fridge for two weeks or longer.
Since the base for this is wine, to store it properly it must be refrigerated. In storing the cocktail make sure that either pitcher or bottles are sterilized.
Can I Freeze Jack Frost Cocktail
Jack Frost Cocktail, just like other cocktails can simply be frozen.
In the case of leftovers, these can be poured into popsicles molds for an easy summer-like treat. To freeze it make sure that the freezer setting is high.
FAQs
Can I add pineapple juice to the mixture?
Yes, pineapple juice can be a great addition to the mixture as it gives a hint of sweet and sour flavor that will perfectly go well with the cocktail.
Can vodka be used in the mixture?
Yes, however, if you opt to use vodka, make sure to not include the rum, and use vodka instead.
The alcohol content for this cocktail can also be adjusted by adding more of the preferred alcohol.
Just stick to either rum or vodka upon mixing before adding other ingredients.
Can I use other glasses instead of a champagne flute?
Yes! You are free to use any type of glass depending on your preference and how you want it to be presented when serve.
For a more extra flair of presentation, I prefer elegant-looking glasses to use, but whatever is available would be okay.
At the end of the day, the taste is much more important, right?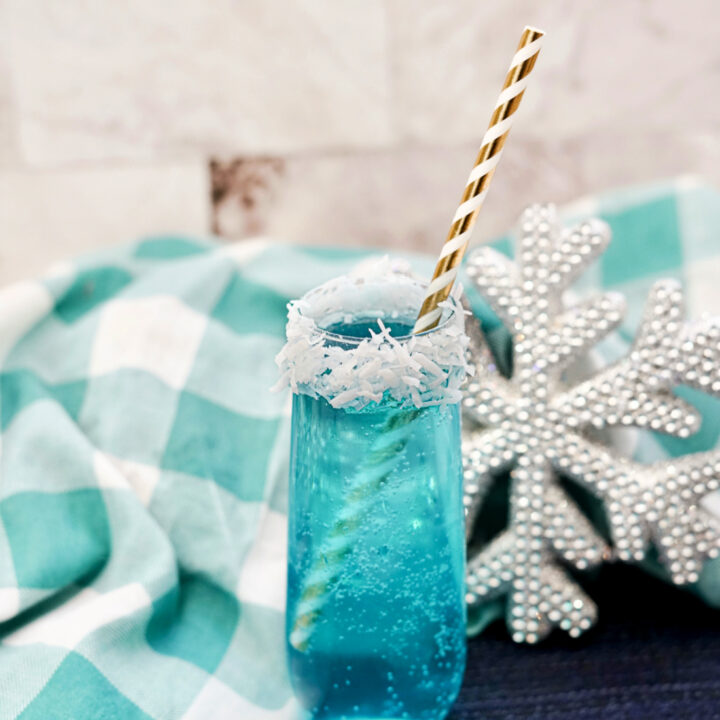 Can Jack Frost Cocktail be blended with ice?
Yes, this cocktail recipe can be added with ice and blended and the taste will be just the same.
Adding ice will add more texture to the drink and will always be as refreshing as always and a cool way to remind us of summer.
Can I make an alcohol-free one?
Yes, however, the blue color might not be possible since Blue Curacao will not be added, but you may include in the mixture a Sprite or Sierra Mist, mix it with white grape and pineapple juice, and top it off with mint leaves.
Other Recipes You'll Love
Aside from this sparkling Jack Frost Cocktail, you may try these exciting recipes below:
Have you ever wanted to get into the holiday spirit, but don't have time? This Sparkling Jack Frost Cocktail is just the drink for you.
It's festive and delicious with little preparation needed to make it happen.
The best part – this cocktail can be made in less than 5 minutes!
So if you're looking for a quick way to kick off your holiday festivities or find yourself without any other ideas, try out this yummy recipe today!
Sparkling Jack Frost Cocktail Recipe
Yield: 1 Cocktail
Sparkling Jack Frost Cocktail Recipe
This Sparkling Jack Frost Cocktail is best to serve during the holidays. The color speaks festivity and so as its taste, and the best part, you can make this in little as under 5 minutes.
Ingredients
Sparkling Wine
Coconut Rum
Blue Curaçao
Coconut Water
Fresh Coconut
Corn Syrup
Instructions
Coat the rim of a champagne flute with corn syrup and smother it in fresh coconut.
Pour 1/4 sparkling wine.
1/4 coconut rum.
1/4 blue curaçao.
Top off with coconut water.
Cheers!
Nutrition Information:
Yield:
1
Serving Size:
1
Amount Per Serving:
Calories:

587
Total Fat:

27g
Saturated Fat:

24g
Trans Fat:

0g
Unsaturated Fat:

1g
Cholesterol:

0mg
Sodium:

290mg
Carbohydrates:

50g
Fiber:

10g
Sugar:

37g
Protein:

4g
Nutritional information is automatically calculated with ingredients and serving size and may not be accurate. Please always double check with your own nutritional apps as well.
WHAT'S NEXT?
This recipe is so fun and easy to make, do not forget to come back and let me know how your jack frost cocktail turned out! I love to hear your thoughts and experience on trying this one.
If you get a chance to use this recipe, let me know! Leave me a comment below, or share it with a picture on Instagram or Facebook! Don't forget to tag me @kelly_reci_ and use the hashtag #kellysthoughtsonthings so I can see how you are using it!