Small appliances in the home kitchen are needed to help with the day to day cooking. So why not have some cool products to help with your weekly cooking. Now I wouldn't call myself a CHEF, but I do cook six days out of the week. I need one day off!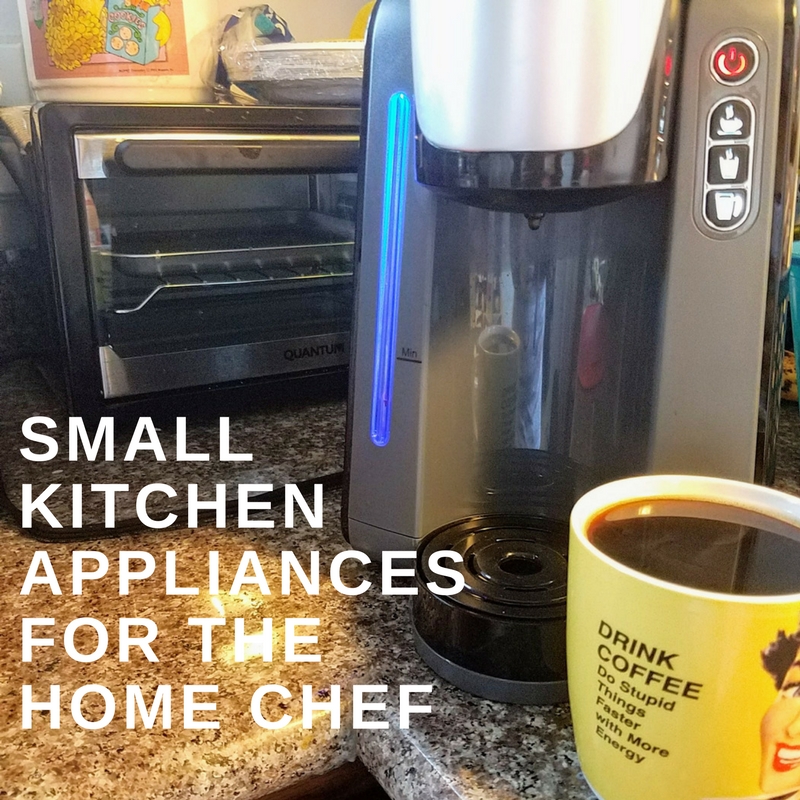 Recommended Kitchen Appliances for the Home Chef:
This medium-sized Quantum countertop compact toaster oven is ideal for cooking whole meals like pizzas and meats. With the assistance of a 60-minute timer and a stay-on feature, you can toast, bake, roast, and broil your dish as needed. This toaster oven includes a food tray, grill rack, and a removable crumb tray, and with temperatures ranging from 200 to 450 degrees Fahrenheit, you can make any meal quickly and efficiently without the need of pre-heating your oven beforehand.
We love making pizza, chicken tenders, nachos, cookies and it makes it easier for my teens to help me cook in the kitchen.
Brew cups of coffee in no time with this deluxe countertop K-cup compatible coffee brewer! With three size settings for your cups, you can start your day off with a 6, 8, or 12-ounce cup of your favorite brew. This brewer is comparable to a Keurig,™ it heats up in minutes and auto shuts-off once your cup is done. For larger mugs or travel mugs, the drip tray can be removed so you can drink your coffee on-the-go. Just press the button, and you'll be on your way to loving your morning.
I love a cup of coffee in the middle of the day and a K-cup just what I need. This brewer is easy to use and clean. Perfect for my kitchen. Plus the kids make hot cocoa and tea so it for the whole family.
Every chef of any skill level can't go without their collected assortment of cutlery. From the boning knife to the classic chef's knife, this 15 piece high carbon stainless steel rubberwood knife block set is the perfect gift set for any aspiring cook. This knife block set comes with 13 knives, and 1 pair of shears, all displayed in a beautifully designed rubber wood exterior and pinewood interior knife block.
The knives feature a hollow handle to allow a weighted hold on the blade for a seamless cut. The high carbon stainless steel full tang blades provide strength and durability throughout years of use, while the ergonomic handle allows for a comfortable grip while cutting. Start your knife collection with a classy and elegant gift set containing top quality, satin, and stainless steel blades.
Ok, now I feel like a chef when I use these knives. They cut so smooth and how did I ever live without a knife set that is easy to grab since they are on the counter.
Cut your prep time in half with this all-in-one chopper and mandoline slicer. This plastic chopper/slicer includes everything you need to grate, slice, chop, dice, or cut your vegetables and cheeses effortlessly into the clear 1.2-liter storage box that accompanies it to hold veggies and keep them fresh. With seven interchangeable blade inserts for various cutting options, this slicer makes it convenient to julienne carrots, chop potatoes, and more.
The stainless steel blades chop veggies in one easy push. Featuring a soft-grip handle for non-slip protection, a non-skid rubber base to ensure secure food preparation, and a tool for efficient cleaning, use this all-in-one tool to quickly chop and slice like a pro and clean up with ease afterward.
This is my favorite Small Kitchen Appliance! I use this almost every day. It helps me chop up my veggies for my lunch salad and whatever I need for dinner. Every kitchen needs this appliance.