Winter is creeping up on us. Many of my friends in the South even got an inch of snow yesterday! How about gifting some sleepwear for cozy winter nights? I have some great ideas for the women on your holiday list.
Sleepwear for Cozy Winter Nights
My dad has always bought my mama new jammies for Christmas. Now my husband does the same thing. If you too are looking for some pretty and comfy jammy set, nightgowns, robes, and more, then look no further than Shadowline.
Snuggle Up This Winter
Since it's getting pretty cold outside, snuggling on the couch is a great way to spend the evening. Grab her this gorgeous Printed Pajama set, pop in a holiday movie, and enjoy each other's company.
Hot Flashes
We're not getting any younger, and if you have a middle-aged woman or older on your list, then I'd like to suggest this Short Nightgown. It's very tasteful, and super comfy. It's also only knee-length so if hot flashes are heating her up, she won't sweat to death. I love that it has long sleeves, because my arms are always cold while the rest of me feels sweltering. Menopause is no joke folks!
Grab a Bath Robe
If you're getting her a nightgown, maybe grab her a nice bath robe too. That way she can add a layer when she's cold, but always take it off when those dreaded hot flashes strike. Shadowline has a nice selection of full length or knee-length robes to choose from. If you are getting her the short nightgown from above, then how about this matching bath robe?
Huge Selection
Shadowline has a huge selection of items for all women. From PJ sets, nightgowns, robes, slips, camisoles, panties and more. They have something for everyone in a wide range of sizes to fit all body types.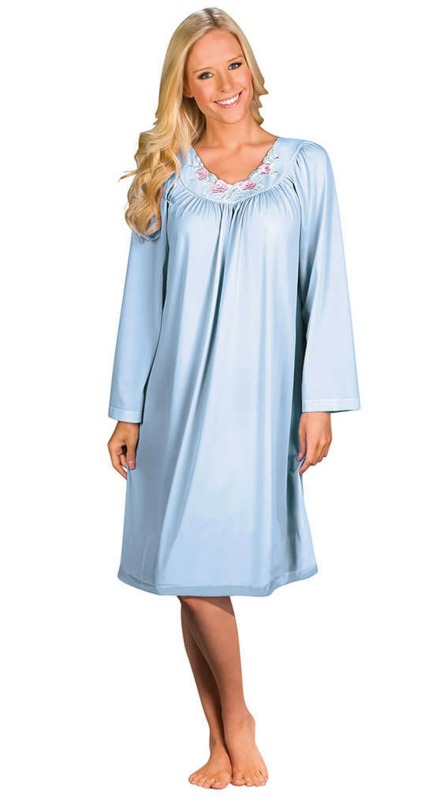 BOGO
Right now when you buy a robe from Shadowline, you get a nightgown, sleepshirt, or PJ set 50% off! You can't beat that deal! To start shopping and take advantage of this deal, head to their website.