One of the nice things about autumn is being able to enjoy a warm cup of coffee with a yummy baked treat on a day with cooler weather and changing colors of the leaves. However, if you're trying to improve your diet, finding yummy baked treats that are made with simple ingredients (and not unknown chemicals) can sometimes be a little more difficult. Well, let me tell you about Simple Mills, a company that provides delicious foods that are made from simple ingredients.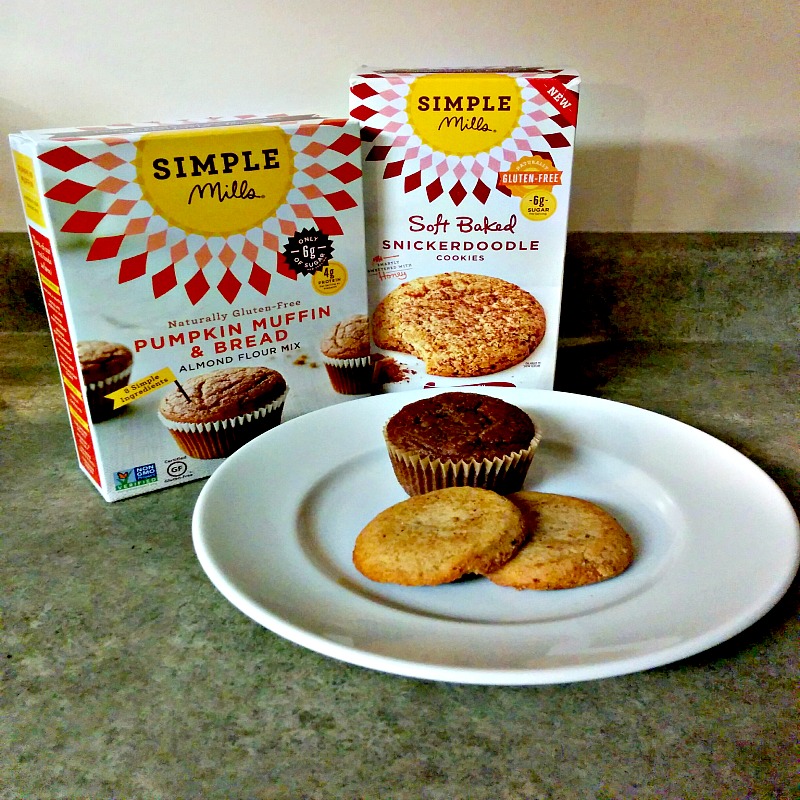 According to the Simple Mills website, "Simple Mills enriches lives and bodies through simple, delicious, real foods. We strive to make healthful choices easy by offering food that tastes great in the moment and nourishes your body for the long-term."
Snickerdoodle Cookies + Pumpkin Muffins = Delicious Treats
I had the opportunity to try their Soft Baked Snickerdoodle Cookies and their Pumpkin Muffin and Bread Mix. The Soft Baked Snickerdoodle Cookies come already made and are a delicious, soft, and sweet treat! These cookies are free of gluten, grains, soy, dairy and corn. They're also paleo-friendly and non-GMO. Each serving contains 6g of sugar and 110 calories (50 calories from fat). These are a delicious cookie made with almond flour, honey, and other ingredients—all of which I recognize. If I don't recognize an ingredient, then I don't know what I'm eating. That's why I love when foods are made from simple, recognizable foods.
The Pumpkin Muffin & Bread Mix is an almond flour mix. It's free of gum, dairy, and soy. And, it's non-GMO and paleo-friendly. I was able to prepare the muffins from this mix within about 7 minutes (not including baking time)—super simple! The mix, itself, is even simple in ingredients: almond flour, organic coconut sugar, pumpkin, arrowroot, organic coconut flour, organic spices, baking soda and sea salt. And, per serving, this mix contains only 6 g of sugar per serving. Furthermore, one muffin or one slice of bread contains only 90 calories (30 calories from fat).
Plus, who doesn't love pumpkin muffins? Or, you can make it into bread, but I chose muffins since I wanted a quick and easy breakfast for my family. And how do they taste? Absolutely delicious! They were nice and moist, which always makes for a great muffin! I could definitely eat these every week.
Where You Can Buy Simple Mills Products
You can purchase Simple Mills foods on their website or on Amazon. You can also use their store locator to find a store near you that sells their products. Check them out for yourself. They even sell a Vanilla Frosting, which is what I want to try next. That would be absolutely delicious on the pumpkin muffins!
Connect with Simple Mills: Website | Facebook | Twitter | Pinterest | Instagram