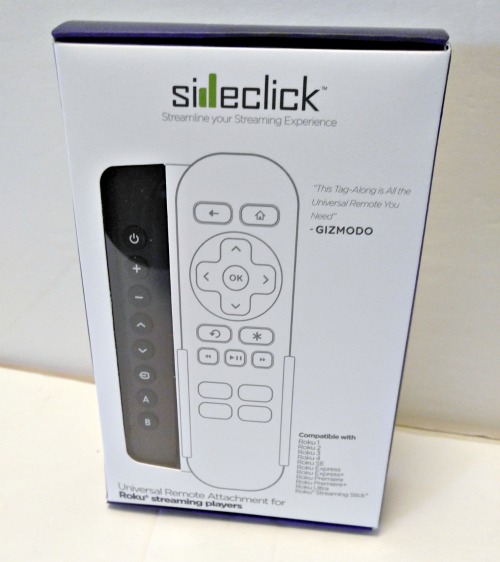 "Sideclick is a universal remote that attaches to the streaming device remote so that you can control the TV, soundbar, and streaming device all-in-one. This remote is a simple add-on and allows users to navigate their streaming shows quicker and easier, no longer need to juggle multiple remotes. Available for Apple TV, Roku, Amazon Fire TV and many other streaming devices."
Sideclick Remote
Seems like everybody has some type of streaming service. Which means you have LOTS of different remotes. Because you have one for your tv, game system, soundbar, blu-ray player, amp, DVD, and any streaming device you may have. We love our Roku but we don't like trying to keep up with all of the different remotes.
But now with this amazing creation, we can combine ALL of our devices into ONE remote! How totally amazing is that? While controlling our Roku player and other devices with this all-in-one starter kit. Because this starter kit includes the slim universal remote and 4 adapter clips that will fit a huge variety of Roku models and Roku-enabled TVs.
If you use headphone the adapter clips will cover up the headphone jack. But, if you want to use your headphones the adapter snaps off easily and goes back on just as easily.
Features
Easy to Program
Uses IR learning technology to program 8 buttons over multiple devices.
Don't Lose Your Voice
Sideclick's clip-on design attaches in a snap and allows you to utilize your Roku's voice-search feature.
Ultimate Accessory for Cord Cutters
Perfect solution for channel changing with an HD antenna
So go ahead and get ready to grab your remote, pick a movie and sit back and enjoy! No more stressing over keeping up with all of the remotes so you can adjust the sound or change channels. This is all you need!
Follow Sideclick for brand news and updates on their social media sites:
Website
Facebook
Twitter
Instagram
Youtube