Making this Santa's sleigh pencil sharpener gift idea will be the perfect gift idea for a classroom holiday party or a family gathering. You can place these on the children's table at the next holiday meal or place them out on Christmas Eve for a surprise Christmas morning gift to your kids. There are so many ways you can use this Santa's sleigh project, I am sure you'll find a creative way to include these in your holiday creation time. This is a fun craft idea for a Christmas treat that can be done with or without your kids. I personally feel you would have the most fun creating Santa's sleighs with your younger children. A fun gift idea for any little one on that holiday gift giving list this year.
Santa's Sleigh Pencil Sharpener Gift
What's Needed
All of these items were purchased from The Dollar Tree, so they are an inexpensive list of items to make your very own Santa's Sleigh Pencil Sharpener Gift.
8 Medium size Candy Canes
4 Sticker Boxes
4 Santa Pencil Sharpeners
4 Hershey's Gold Miniature candy bars
4 Chocolate covered Marshmallow Treats with Rudolph on it
Directions
Gather up your necessary items listed above and start making your very own Santa's Sleigh Pencil Sharpener gift by following the step by step instructions below.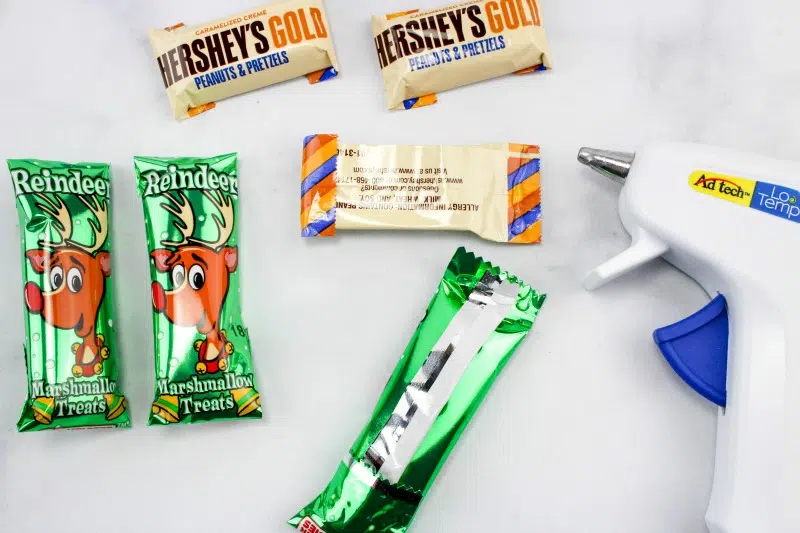 1. With a hot glue gun, fold and glue the extra wrapping on the candy ends to the back of itself. Let dry for a few minutes.
2. Next, take one sticker box and glue onto 2 candy canes that are standing upright in a sleigh position.
3. Glue a Hershey's gold bar in the middle of the sticker box, then glue a Santa pencil sharpener on top of the Hershey's.
4. Lastly, glue a reindeer marshmallow treat to the front of the candy cane sleigh.
5. These super cute Sleigh's make for a great Christmas treat to pass out at school, church, or a Christmas party.
6. Have Fun!! Makes 4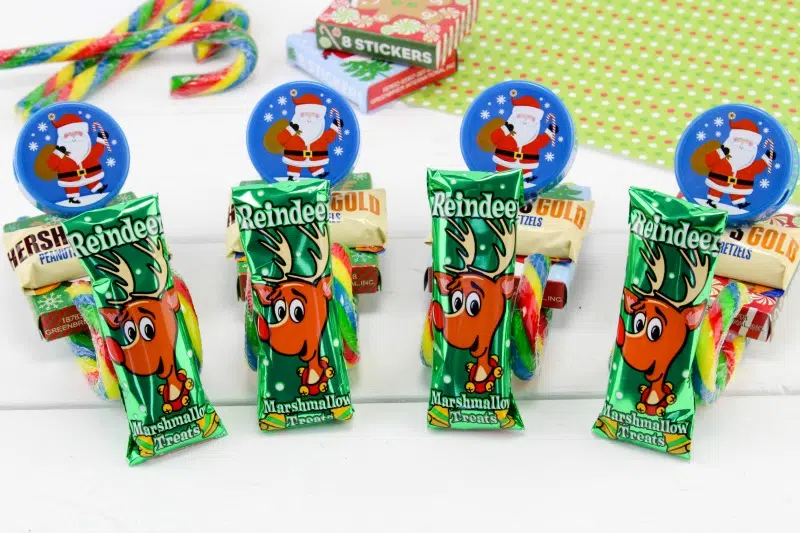 ***Anything can be substituted. Other ideas are a chocolate Santa, Rudolph eraser, a larger chocolate bar on the bottom instead of stickers, or anything else you might find that works!