I don't know about you, but I love, love, love subscription boxes (I think I've said that before)! Everytime I receive one in the mail, I feel like I'm receiving a present! The key with subscription boxes, however, is finding the one tailored to your likes, hobbies, and/or tastes. Do you have a runner in your life? If so, I have the subscription box for them and it'll make the perfect gift for Christmas! The RunnerBox!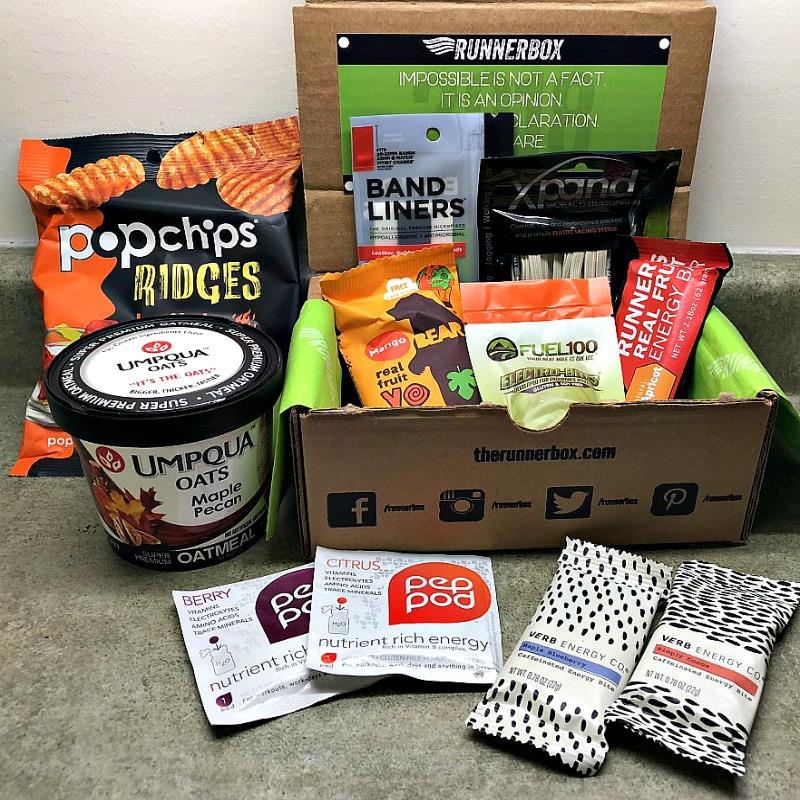 The Runnerbox is a subscription box company that provides bi-monthly subscription boxes (and other boxes as well). They have boxes that provide products that are tailored to the lifestyle of runners, cyclists, and triathletes. But, FYI, I'm not a runner. I am a semi-jogger. But, I still love the stuff in the box!
I received the RunnerBox (for runners). I have to say that this company goes out of its way to find useful products that runners will truly benefit from. And, the best part of the box is that it shows up right at your doorstep!
What Came In My RunnerBox
The following is what came in my box:
Umpqua Oats – Maple Pecan Flavor,
Popchips Ridges Popped Potato Snack,
Mango Bear Real Fruit Yo Yo's (fruit rolls),
Fuel 100 Electro-Bites,
2 Pep Pod Packets,
2 packs of Verb Energy Co. Caffeinated Energy Bites,
Runner's Real Fruit Energy Bar from Run Fit Nutrition,
3 sets of Band Liners (to protect your watch bands),
Xpand Shoelaces Redesigned, and
additional product info and discount info for future purchases.
That's a lot of stuff in one box! But, it's all functional and perfect for a runner!
According to the website, boxes tend to include about 11-14 items, which are hand-picked and tested. When you order, subscriptions come in "standard" (which means delivery continues until you say stop), 6 months, or 1 year. With all of the subscription choices, boxes are delivered every 2nd month (unless you order a custom-type or special order). According to the info I received from the company, the price per box ranges from approximately $20 to $30, depending on which subscription length you choose (or if you decide on ordering one specialty box instead of the subscription).
Check out the RunnerBox website. It's fun, unique and catered to athletes! The athletes in your life will love this as a Christmas gift! And, a subscription to the RunnerBox is a gift that will show up throughout the year—like a gift that keeps on giving!
Connect with RunnerBox:
Website | Facebook | Twitter | Instagram | Pinterest