There's no need to make a huge commitment or totally change your hair this season. If you're in love with the timeless ponytail, you can try this classic spring hair trend with Hairdo. No matter your current length, you can achieve the luxurious, simple pony with these pieces. With the same ease as a regular pony, just slide in the comb, wrap or clip — and go!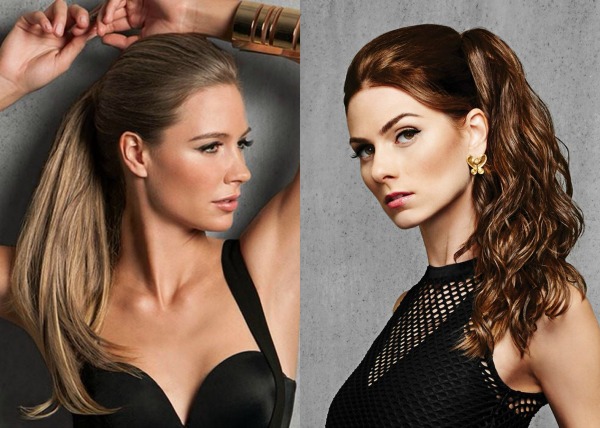 I have mid-length hair and sometimes I like to jazz up the length, texture and volume of my ponytails. I have been using Hairdo clip-in extensions in the past and was recently introduced to their 18" Simply Straight Wrap Around Pony and the 18" Simply Curly Claw Clip Pony.
Presto! Chango! Ponytail!
It makes me feel like I can change my hair style without too much commitment. I really like using these ponytail extensions because it helps me replicate that look I love. It gives me the added style and drama of length and volume that I like to have sometimes with my hair. These ponytail extensions are very simple to use. It wraps around your natural ponytail easily and can be secured high, low or to the side.
Hairdo extensions can be easily added in to recreate the long, straight or curly, voluminous ponytail look of your favorite celebrities and fashion icons. I think they're great and easy to use, adding variety to my hairstyles. The Hairdo extensions come in a shade that matches my current hair color (R6/30H Chocolate Copper/Med Red Brown/Dark Chocolate), but there are so many other colors to choose from.
At $49 and $59, the ponytails also come in the colors: R4 Midnight Brown/Dark Brown; R6 Dark Chocolate; R10 Chestnut/Light Brown; R1416T Buttered Toast/Dark Blonde; R14/88H Golden Wheat/Light Golden Blonde; R22 Swedish Blonde/Platinum; R28S Glazed Fire/Bright Red and have added length and volume to my hair. The best part is that they're temporary, so when I'm done with them, I simply just unwrap the hair piece.
Hairdo 18" Simply Straight Wrap Around Pony ($49, www.hairextensions.com) & Hairdo 18" Simply Curly Claw Clip Pony ($59, www.hairextensions.com)
Transform your hairstyle in minutes with Tru2Life synthetic fiber hair. Moves and feels just like human hair
Heat-friendly synthetic hair, 100% polyester fiber with styling tools up to 350˚F/ 180˚C
Easy 1-2-3 instructions in the box and on Hairdo-HowTo.com
Styling and Maintenance Advice
Washing:
Add 1 tablespoon of shampoo to cold water. Soak for 5 minute
Rinse thoroughly (incomplete rinsing dulls the fiber)
Gently blot with a towel. Do not squeeze, twist, brush or comb while wet
Hang to air dry or use a blow dryer on a low setting.
There are many great things about the Hairdo extensions. For me, it's important to achieve a natural look while wearing extensions. Hairdo offers many hair shades (13 to be exact), so that you can match your natural hair color. You can also experiment with different colors to achieve a highlighting or lowlighting effect. The hair pieces are not heavy, so there isn't any unnecessary pulling on your natural hair. This could cause damage further down the line, breaking off your natural hair, but Hairdo extensions are so lightweight.
CONNECT WITH HAIRDO: Site | Facebook | Instagram | Twitter | YouTube