The best part of writing product reviews is receiving and getting to try all the amazing beauty products. Nubian Heritage is a brand I have wanted to try for a while and I was not disappointed. An award-winning beauty and wellness brand, it is the brainchild of two Harlem street vendors, Richelieu Dennis and Nyema Tubman. Nubian Heritage can be found in mass-market retail stores such as Target and Walmart as well as at the Vitamin Shoppe and www.vitaminshoppe.com.
As I said, I was very excited to try the Nubian Heritage Shea Butter & Aloe Collection and Lavender & Wildflowers Collection. The body lotion is like dessert for your skin, the body wash smells divine and everything is natural. Best of all, their products are certified organic, fair-trade, sustainably sourced, cruelty-free and do not contain: Sulfates or synthetic detergents (SLS/SLES); Paraffin; Silicones; Parabens or synthetic preservatives; Synthetic Fragrances; DEA/TEA; mineral oil; propylene glycol; and PVP/Acrylates.
The Beauty of Nubian Heritage
Shea Butter & Aloe Collection
Specially formulated with skin softening fatty acids, Fair Trade Shea Butter and blended with Cocoa Butter and Aloe Vera. The fragrance free products are perfect for those with sensitive skin.
The collection includes: Body Wash and Body Lotion
Lavender & Wildflowers Collection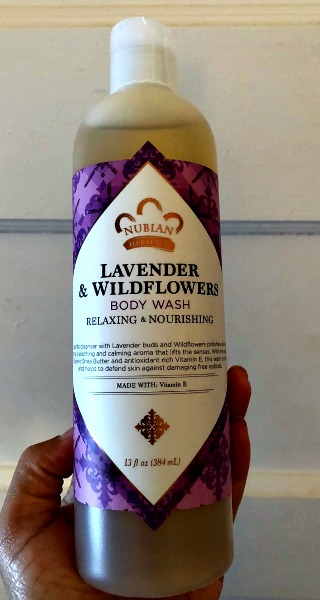 Specially formulated with Vitamin E and lavender. Vitamin E relaxes and nourishes the skin. Lavender is most treasured for its fragrance and rejuvenating and soothing properties.
The collection includes: Body wash; Body Lotion; Bar Soap; Hand Cream; and Infused Shea Butter
About
In 1991, fresh out of college and without jobs, Richelieu Dennis and Nyema Tubman set out to bring the healing traditions of African Black Soap and Shea Butter to the Harlem community they loved. Guided by the legacy of ancient Nubia, the world's first melting pot, Nubian Heritage brings together traditional healing practices, cultural wisdom and indigenous ingredients — remixed and created into modern wellness solutions for skin and hair. Nubian Heritage's mission is to make cultural exchange the model for transforming the global community.
CONNECT WITH NUBIAN HERITAGE: Site | Facebook | Instagram | Twitter