Mother's Day is fast approaching. Do you need a gift idea for mom? What is better than a box of chocolates? And, it's not just any ordinary box of chocolates. It's Robin Chocolates from an award-winning chocolatier based in Longmont, Colorado.
The owner, Robin Autorino, has created delectable treats with unique flavors based on what her late mother, Ethel Autorino, liked. In fact, her mother's garden and places that Ethel enjoyed (such as Hawaii and its tropical fruits) are what have inspired Robin in creating very different, but mouth-watering, flavor combinations.
Robin Chocolates for Mother's Day
For Mother's Day, Robin Chocolates has created something extra special. It's their 2018 Mother's Day selection called "My Mother's Garden." I think you'll be more than impressed. I know I am.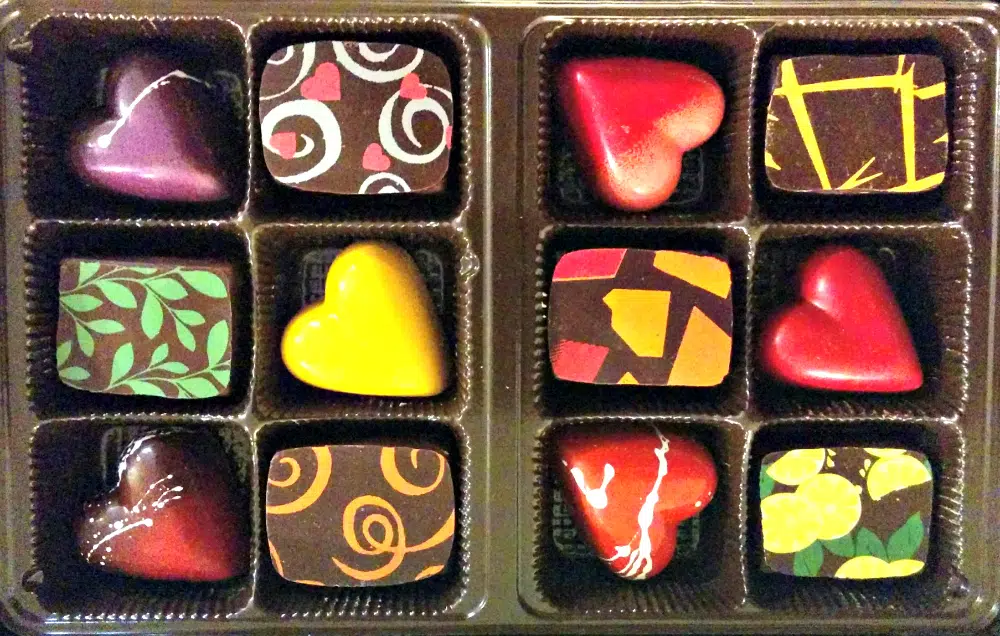 The following are the various choices from the Robin Chocolates Mother's Day selection:
Mother's Garden 6 Hearts Box: A box with 6 pieces of chocolate in the following flavors – Lavender, Raspberry, Lemon Souffle, Strawberries & Cream, Mimosa and Rose Caramel. $15
Mother's Day 12: Added to the 6-piece selection are more delicious flavors that include Passionfruit Honey, Lemon Basil, Vanilla Pineapple, Mango Coconut, Red Wine Peach and Blackberry Sage. $28.75
Chocolate-Dunked Brownies: "Four decadent brownies – 2 layered with chocolate caramel ganache and 2 layered with creamy vanilla bean ganache. Then each brownie is enrobed with a 63% dark chocolate shell" (taken from website). $10.75
I was in absolute awe when I opened my box of Robin Chocolates. Each chocolate is a work of art—you just want to keep admiring each one. How do the chocolates taste? They're absolutely delicious! My very favorite is the Lavender, which, according to the website, contains, "dark chocolate, milk chocolate and white chocolate blended ganache infused with lavender in a dark chocolate shell." It was amazing. And, it's just one among many of their award-winning chocolates!
How You Can Obtain Robin Chocolates
Go to www.robinchocolates.com for online ordering and shipping details. If you're planning on ordering for Mother's Day, please check out their shipping information because it's very specific in terms of when they ship (in order to protect the quality of their products during transport). If you're lucky enough to live in Colorado, they do sell their chocolates at select retailers. I highly recommend you check them out. They are some of the best chocolates I've ever tasted!