It won't be long and we'll be getting ready for our kids to head back to school. (Does that make you happy or sad?) However, it's never too early to start getting the things they'll need for the upcoming school year.
Be Ready To Go Back To School
One item that will be on many back to school lists will be a calculator. However, not just any one will do. If you want to be ready for any math, then Texas Instruments has what you need. Their TI-84 Plus CE is thirty percent thinner and lighter than previous models. It also has six times the memory so your child will be able to store data, images, and graphs.
It features a vibrant, back-lit color screen for color graphing. The battery is rechargeable too, (it comes with a charger and a USB cable.) The TI-84 Plus CE also comes preloaded with apps. It's just what they'll need for Pre-Algebra, Algebra 1 and 2, Geometry, Statistics, Biology, Pre-Calculus, Calculus, Chemistry, Physics, and Business Finance. Basically, one calculator will meet all of their learning needs.
Different colors to choose from
The TI-84 Plus CE comes in different colors so you child will stand out with their cool calculator. You can choose from Bionic Blue, Measure Mint, and Count on Coral. This calculator is perfect for kids in high school and those on college. If your child is in high school, then they can carry it on when they pursue further education.
Permitted on Testing
This calculator is also permitted on testing. For kids getting ready to take their PSAT's, SAT's, ACT's, and AP tests, this will be permitted for use. Having the right tools for their testing will help relieve some of the stress associated with it. So if your child is going to be doing any of these tests, then one of these calculators is a must.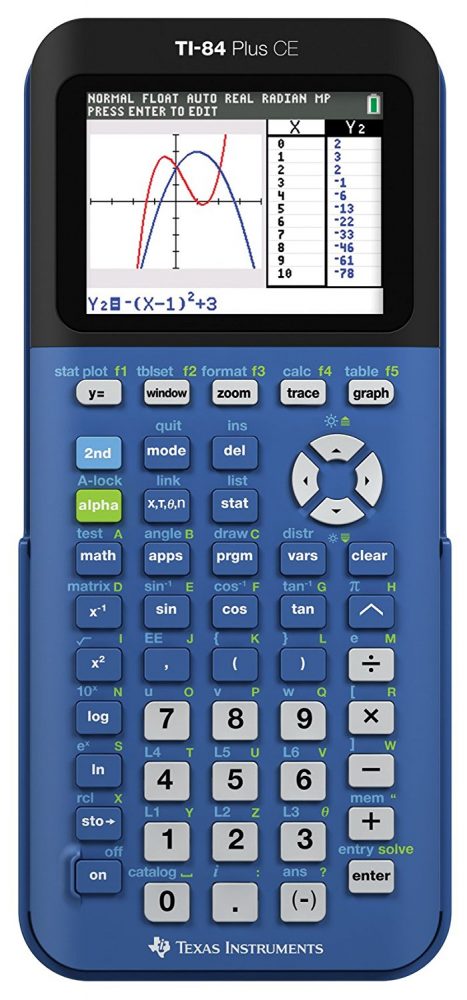 Where to buy
You can get your Texas Instruments TI-84 Plus CE calculator from Walmart, Target, Amazon, Best Buy, and more. To find a store near you, or to order from one online, click here.