Most people have cell phones these days. And, along with cell phones comes the charging cord. The good thing about charge cords is that they're more interchangeable these days. Remember when they weren't? The bad thing about charge cords is that they seem to wear out over time (especially near the connectors). But, what if I told you that you can help prevent charge cords from getting damaged and in bad shape? And, you can do it with the ChargeGuardZ Cord Protector.
ChargeGuardZ To The Rescue – It'll Help Save Your Cords
The ChargeGuardZ Cord Protector is a cool gadget that can help protect your devices' charge chords from damage by helping the cord stay stabilized. The way it works is you thread your charge cord through the side of the ChargeGuardZ Cord Protector and push it through the center opening. Then pull your cord halfway out the top, plug it into your device, and slide the ChargeGuardZ up to the device. The Cord Protector will then help prevent pulling strain on the connector part of your charging cord.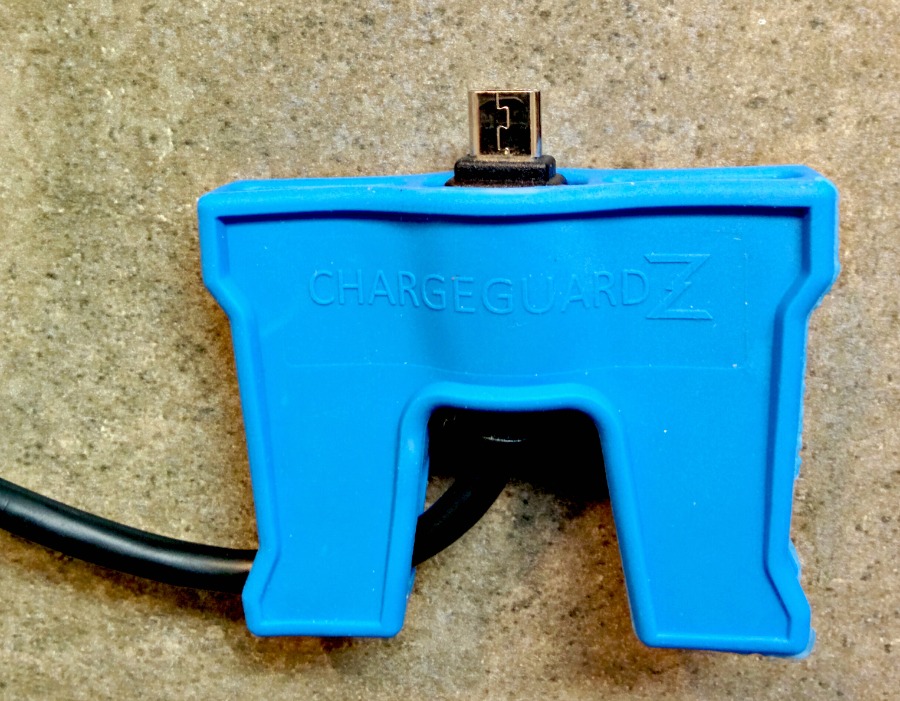 You can also use the ChargeGuardZ to help store your cords when they're not in use by wrapping your charge cord around the Cord Protector and tuck the cord through the base slot. The Cord Protector will then help prevent cords from tangling.
According to the company's website, the ChargeGuardZ Cord Protector fits most Apple and Android devices – it works with the iPhone, Android Phones, iPad, Android Tablets, and handheld gaming devices.
The ChargeGuardZ Cord Protector comes in multiple colors, so family members can have their own color. It comes in purple, black, red, green, blue & fuschia. They sell for $9.99 each. Pay $9.99 once to protect your charger cord, instead of having to buy multiple cords in the future. You can purchase the ChargeGuardZ on their website or Amazon.
Do you ever lay in bed and look at your phone while it's connected to the charge cord? You can do that more comfortably using the Cord Protector because it holds the charge cord in place and acts as a holder for your phone and cord, allowing you to rest your phone on you without the cord connector digging into you. Check out their website and video to see more of what I'm talking about. They demonstrate how it works in the video, which is very helpful. It really is a cool gadget!
Connect with ChargeGuardZ: