This is a paid partnership on behalf of Pigeon Forge Tourism
Looking for a great place to plan a Smokey Mountains vacation? Pigeon Forge, TN is a beautiful location that allows you and your family to enjoy the scenic views in the Smokey Mountains. I'm excited to share some of the reasons why Pigeon Forge is the must plan location for a family vacation this spring or summer season.
What's great about Pigeon Forge?
If you're looking for a place to relax, you're in for a treat. Pigeon Forge has so many ways for you to sit back and relax to enjoy some scenic views during your family vacation. I can't even begin to explain everything that makes Pigeon Forge a fantastic family vacation destination, but I'll try to share some events, attractions and other options that make this Smokey Mountains location hit the top of my list whenever I'm looking for the best spring break destination for my family:
Dollywood
Titanic Museum Attraction
Science fun at Wonderworks
Alpine Mountain Coasters
I mean, seriously there truly is something for everyone when you plan a family vacation in Pigeon Forge. Whether you love adventure, relaxing or a little of both worlds, you'll get it at this destination. Pigeon Forge is only 4 hours away from us and we love going there to just relax and enjoy the mountains. There is so much to do! If you are looking to shop and keep it low key, you will love the outlets nearby. Or head to Dollywood, my family loves going to Dollywood, so much to do there, even during the winter. My son loves going on the Great Smokey Mountain Wheel, he loves going around and around, it is located on The Island, where there are so many other things you can do. If you love to visit nature, then you should head up to Cades Cove. We love driving up and learning about the history, plus you will also see some wildlife.
My husband and daughter love to go on the Alpine Coaster, and they will go on it over and over! Me, I enjoy going to the shows, like the one in the picture, Hatfield & McCoy Dinner Show is my favorite, but I have also enjoyed, the Comedy Barn, the Lumberjack Feud, and the Smoky Mountain Opry to name a few.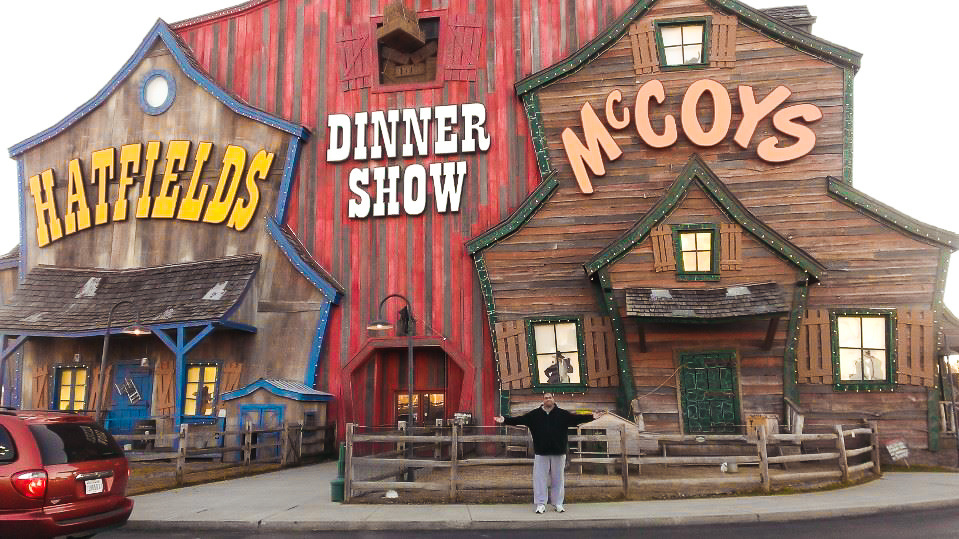 There are so many wonderful places to visit and so much to do, you should make Pigeon Forge your next vacation destination. Any time of the year is a perfect time to visit, and no matter when you decide to go, there is so much for you to do and enjoy!
If you love museums, then you need to head on over to the Alcatraz East Crime Museum. The museum is 25,000 square feet and has over 100 interactives spread out on over 2 floors. With five unique galleries that burrow deep into criminal profiles, the penal system, victim's stories, crime prevention, forensic science, law enforcement, and our justice system. There is so much to learn and see. This is definitely something you want to see this summer!
If you are like us and love bumper cars, and thrill rides, then you need to check out The Track in Pigeon Forge. They have go-carts, bumper cars, Miniature Golf, and the SkyFlyer. There is so much to do and your whole family will be having the time of their life!
All about Pigeon Forge
Pigeon Forge is located in the foothills of the Smokey Mountains. You can wander around the Great Smokey Mountains National Park to enjoy some spring hiking and all of the beautiful wildflowers located in this National Park. In addition, there are plenty of places to stay such as a rustic cabin, a hotel room or even a condo so that you feel at home even so far away from home during your family vacation.
You'll want to pack for warm and cooler weather as the spring season in Pigeon Forge is beautiful but may get a little chilly at night. So, it's best that you plan to pack some light t-shirts as well as long sleeve shirts for the whole family to fully enjoy a family vacation in Pigeon Forge. From theaters to hiking and all of the amazing attractions, Pigeon Forge really knows how to entertain families while helping them decompress from their busy life at home.
If you're ready to check out what Pigeon Forge can offer you for a family vacation this summer, then check out more information about this place to relax today!