I'm one of the semi-crunchy people that likes to use more natural products for my skin and body care. So, I think I'm going to love this company that I was recently introduced to: Bel Essence. This is a skin care company that believes in creating quality products with natural ingredients. Their products help nourish the skin and improve the skin's appearance so that you can feel better in your own skin.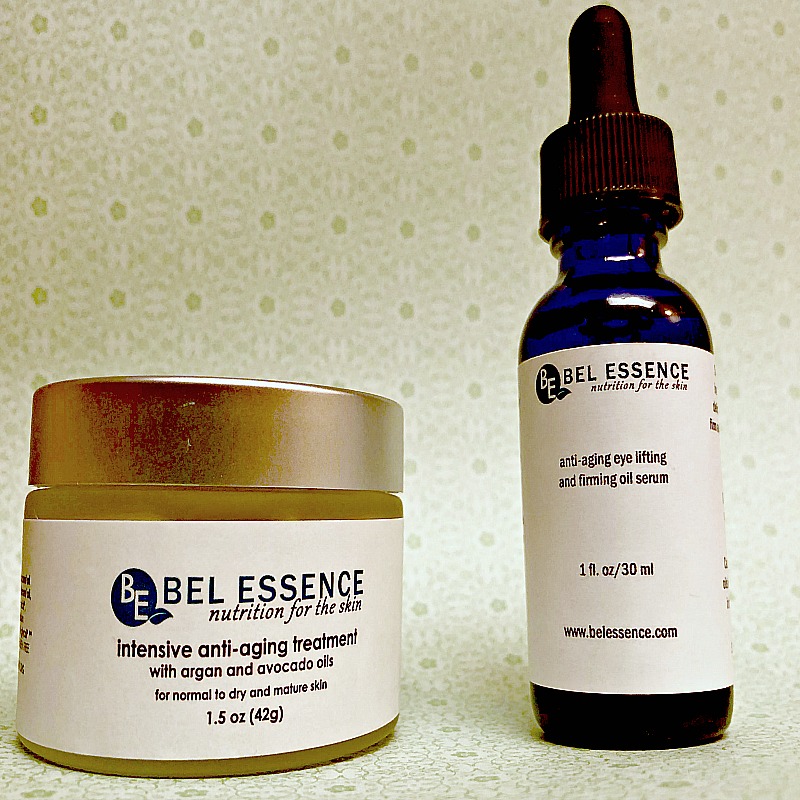 The following is quoted from their website: "Bel Essence gives you what nature intended and selects and combines oils with the highest nutritional benefits to maximize your results without harmful chemicals and colorings."
I had the chance to try two of their products: their Intensive Anti-aging Treatment with Argan and Avocado Oils and the Bel Essence Anti-aging Eye Lifting And Firming Oil Serum.
Bel Essence Intensive Anti-aging Treatment
This is a skin treatment that helps to moisturize your skin. And, according to the product website, this skin treatment can help the skin ". . . repair, rejuvenate and retain its youth and glow. The Bel Essence Anti-Aging, Anti-Wrinkle Cream is an easily absorbed cream to help your skin maintain its health, and over time, smooth lines and wrinkles." This product is for normal to dry and mature skin. It's also free of parabens.
This treatment has a subtle and pleasant scent. It absorbs easily and doesn't leave the skin feeling greasy. The Bel Essence Anti-Aging, Anti-Wrinkle Cream is available here. The 1.5 oz. jar retails for $31 (all prices are subject to change). At the time I'm writing this post, this product has 4 reviews and they all give this product 5 stars! That's impressive.
Bel Essence Anti-aging Eye Lifting And Firming Oil Serum
For this product, the only ingredients are castor oil, almond oil, grapeseed oil, rosehip oil, rosemary oil, and lavender oil. That's it! When using this product, one applies it to the delicate skin around the eyes to "firm and lift skin and reduce wrinkles" (taken from the bottle). According to the website, this serum also helps with hydration, puffiness, and dark circles.
Each of the oils has important properties that can help the skin. The following list is summarized from the website's product description:
Castor oil is anti-inflammatory and has properties that are antibacterial. It's also an anti-oxidant. "The oil promotes the production of elastin and collagen, which delay the appearance of fine lines and wrinkles and give the skin a more youthful appearance."
Almond oil helps moisturize the skin. It can also help the dark circles below the eyes appear lighter.
Grapeseed oil is an antioxidant, which helps protect against environmental damage.
Rosehip oil is an anti-inflammatory and antioxidant. It's included to help repair damage to the skin. And, it can reduce the appearance of those crow's feet.
Rosemary oil is anti-inflammatory and can help reduce swelling.
And, lavender oil is soothing to the skin.
So, by looking at that list, I'd say this bottle of serum is a powerhouse! That's a lot of help from 6 oils! And, needless to say, the scent of this serum is delightful. A 30 ml. bottle retails for $15. Go here to purchase the Bel Essence Anti-aging Eye Lifting and Firming Oil Serum.
How About Bel Essence For Christmas?
Both of these products would make wonderful stocking stuffers or gifts for Christmas! I know I love receiving products like these because they are simple to use and I feel pampered when treating my skin with products that make it feel better!
Connect with Bel Essence: Website | Facebook | Twitter | Instagram