I have a love-hate relationship with caffeine. I appreciate the boost of it, but too much of the stimulant causes negative effects and affects my well-being. I drink caffeinated coffee and tea after a night of minimal sleep. Unfortunately, if I drink too much, I get anxious, start feeling nauseous, stay up too late…You get my drift.
Too Much Caffeine Is a No-No
Fortunately, even on a day of zero sleep, I've always been able to control the amount, never drinking more than 2 cups of caffeinated coffee or tea per day. So, while I'm not addicted to caffeine, I know how it feels to wish I hadn't had that extra serving.
I love the taste of coffee and black and green teas, but normally resort to decaf or herbal teas as my first choice for hot beverages. Even more so, I love the hot mug ritual and the way a nice, warm cuppa makes me feel. Something in those sips, first thing in the morning, just touches your soul.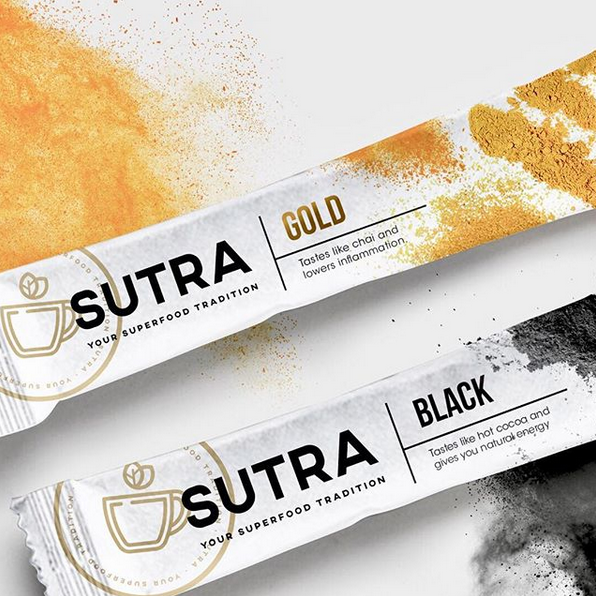 I'm always open to trying other alternatives to coffee and tea, preferably caffeine-free, to continue those cozy feelings. SUTRA, a much healthier coffee alternative, comes in two flavors:
Black
Made with cacao, red reishi, activated charcoal, cayenne, coconut milk, sea salt, cinnamon, vanilla, and stevia
Detox's the body
Described as tasting like hot cocoa
Gold
Made with turmeric, ginger, maca powder, cayenne, coconut milk, sea salt, cinnamon, black pepper, vanilla, and stevia
Boosts the immune system
Described as tasting like a spicy chai latte
The Benefits of SUTRA Black and Gold
Created by a couple that both suffer from chronic health conditions, including Lyme Disease, heavy metal poisoning and Max Colitis, SUTRA was made to provide a natural energy boost without the negative effects of caffeine. Does it really taste like hot cocoa or chai? Slightly. The Black and Gold are delightful flavors on their own terms with hot cocoa and chai lattes aside.
Due to the cayenne, both flavors are on the spicy side, but I like spicy (medium style). I drank these after a night of basically 4 hours of sleep, so I noticed their effects immediately. I definitely felt a caffeine-like buzz of energy, except it's an amazing all-natural jolt. My mental clarity was off the chain as well. Good stuff. I definitely need to get some more.
There ARE some incredible health benefits to these drinks as well. Both flavors are vegan and gluten/dairy/sugar/stimulant free. They're also made from antioxidant-rich superfoods as well as whole-food nutrients which strengthen the immune system, provide greater brain clarity, improve digestion and support energy and healthy skin.

Your SUperfood TRAdition – SUTRA
SUTRA blends have the added convenience of coming in little portable packets. Depending on what you like, this healthier alternative to caffeine can be added to water, coffee, smoothies, or any nut milk. Take them to work, school, on a trip, or simply enjoy in your living room.
Try SUTRA and let us know what you think! Use discount code TAKE10 and receive 10% off a 10 or 30 pack of SUTRA Black or Gold.
CONNECT WITH SUTRA: Site | Facebook | Instagram | Pinterest