If there is one thing I know for sure, the holidays bring out the joy in everyone. Christmas is the one celebration that kids, teens, and adults love with a passion. Both family and friends get to come together once again before the new year arrives. I love my family, and I love being able to surprise them with gifts I woke hard to find. We all know how hectic and cluttered Christmas shopping can be.
One of the most difficult things about holiday shopping is figuring out what to buy. There is a little bit of something out there for everyone. I like to switch things up each year as much as I can, and this year I might consider sweet treats. Not just any treats, though, I'm talking about that mouth-watering goodness! If you are thinking what I'm thinking, you should take a look at the information below.
The Perfect Go-To Gift
I'm sure you all are aware that there are TONS of different candy and sweets options available. Going with the average choices can get a bit boring. That's why people look for something new, something that will take them on a loop. Well, I'm happy to tell you that you search has just ended. This year, you should consider shopping with the one and only River Street Sweets • Savannah's Candy Kitchen.
This is a wonderful company that has over 100 years of candy making experience! Many people search and search for a new look at sweet treats. Now you won't have to look any further, and just in time for the holidays. They offer tons of options and creations that you may not have heard for before. This year, you can surprise someone with the Holiday Box of Pralines and Loggerheads!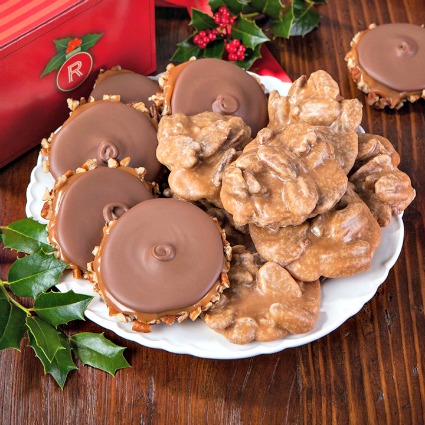 The Holiday Box of Pralines and Loggerheads features two popular treats that are delightful. You can pick from two different options that include:
10 piece: 5 Original Pralines & 5 Milk Chocolate Bear Claws
18 piece: 9 Original Pralines & 9 Milk Chocolate Bear Claws
You can never go wrong with getting someone a gift that is truly indulging. So go ahead and check out all of the information I have for you above.
Connect with River Street Sweets • Savannah's Candy Kitchen: Site | Facebook | Twitter | Instagram | Pinterest