E-CLIPSE DRY HERB VAPORIZER
Have you smoked in a Dry Herb Vaporizer before? If not, you are missing out on so many cool features and guess what it even tastes better in a vaporizer. Are you looking for something you can use while you are out and about- maybe at the beach relaxing, friends house, or even just home on the couch- this goes everywhere. Convenience is the top reason why a lot of people use a dry herb vaporizer.
NY VapeShop.com has every tool and fun gadget you want for the cannabis lover. If you are looking for a gift to get someone we highly recommend the E-CLIPSE Dry Herb Vaporizer. It is a new, super fast heating technology starts vaping dry herbs in seconds. This herbal vaporizer is equipped with a large ceramic heating chamber for a generous herb packing plus an OLED screen for temperature display, battery meter plus more.
Dry Herb Vaporizer Kit Includes
E-CLIPSE Vaporizer
Flat Mouthpiece
Glass Mouthpiece
4 Silicone Rings
USB Charger
Cleaning Brush
Scraping Tool
User Manual
Protective Box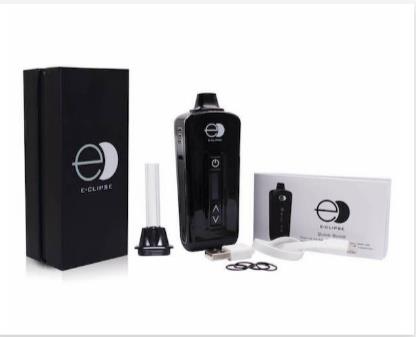 Dry Herb Vaporizer Details
For use with dry herbs and flowers
Vape Pen Dimensions 90 x 40 x 20 mm
Ceramic Heating Chamber Dimensions cylindrical in shape, 5/8 inch Deep, 3/8 inch Diameter
Lithium polymer battery capacity 2200mah
Customizable temperature settings adjust your heat setting by a single degree from 300F – 435F
Heat time within 20 seconds
Lock/Unlock safety feature press the power button five times quickly in a row
REASONS WHY YOU NEED A DRY HERB VAPORIZER
Vaporizer creates very little odor. Now yes there is still an odor, so you still need to be aware you are when you smoke. But the odor is light and goes away quickly- just saying.
Vaporizer high starts slow and lasts longer. Use a vaporizer when you don't need to be stoned out of your mind and still want to get things done.
Fewer toxins! Which makes for a cleaner and safer vaping experience.
I can go on why but to be honest for my husband it is the TASTE. He enjoys how the dry herb vaporizer makes the marijuana taste.
Guess what…Weed is not the only herb you can vape on. Think about it it does say DRY HERB, so any herbs like thyme, passion flower, damiana, lemon balm, chamomile, lavender, sage, peppermint, and more. My mom wants one for her herbs that she gets at the health store that makes her sleep. So remember that when looking for gifts- think out of the box this year.
NYVapeShop.com has everything you want, and their customer service is the BOMB!
---
CONNECT ON FACEBOOK–INSTAGRAM–TWITTER
---