Christmas is twelve days away. The festivities have begun. It is time to look our best for those holiday cards that we send to our loved ones near and far. Nicolet Beauty offers the perfect lip products to help you look beautiful this holiday season.
Lip Products by Nicolet Beauty
Nicolet Beauty offers fragrance-free, paraben free, and cruelty-free lip products. Her products are handmade in Los Angeles, California. Anna Nicole started Nicolet Beauty because she wanted ladies of all skin tones to be able to send a message to the world about who they are without speaking a word. It is a black-operated and owned company. The products are made with rice bran wax, castor oil, vitamin E, camellia seed butter, and beeswax. Her new liquid catnip highly pigmented lip glosses and her liquid lipsticks are vegan.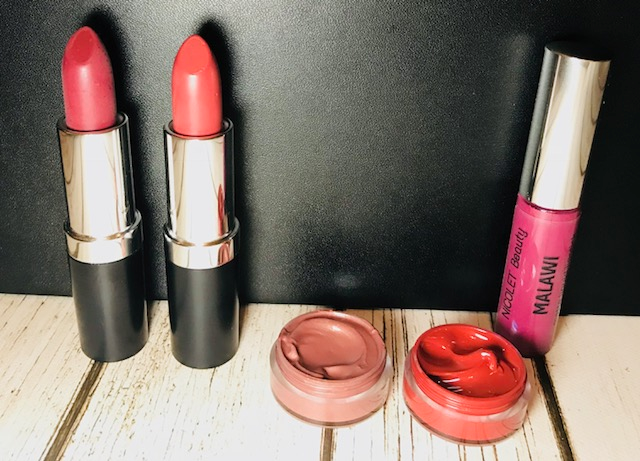 I received the Shenandoah and Martel lip catnip gloss, the Genesee and Arcadia lipsticks, along with the Malawi matte liquid lipstick. As you can see from the swatches below, the colors are beautiful. Genesee and Arcadia apply like butter on your lips. Genesee is a warm mauve pink, whereas Arcadia is a berry magenta color. While I loved all the products, the Malawi matte liquid lipstick and the catnip lip gloss were my favorites. The matte liquid lipstick is very different from other matte lipsticks as it did not leave my lips feeling dry. With Malawi, I only needed one coat and it applied evenly. The catnip lip glosses are rich in color and the texture is smooth. If you want a lip gloss that can deliver on shine, these are great products to consider.
From Left to Right: Martel, Shenandoah, Malawi, Arcadia, Genesee
When wearing Nicolet Beauty products, you almost forget that you are wearing her lip products. They are lightweight (not tacky, not sticky), easy to apply, and long-lasting. The shades are pretty and vary from nude to a dramatic look. Her products are also very moisturizing on your lips. No more dry lips this winter.
Help your friends and family look their best this holiday season as you gift them with products from Nicolet Beauty.
Connect with Nicolet Beauty: Site | Facebook | Twitter | Instagram | Pinterest