I just love flowers, don't you? They're always great for adding a touch of elegance and style to any interior. Flowers will brighten any mood and bring lovely scents into your life. My favorites include peonies, lilacs, tulips and the classic rose. With the weather changing, get ready to be overloaded with many special blooms this spring and summer!
There are many occasions coming up in our lives where flowers are completely necessary – wedding season and Mother's Day. Recently, I came across Saaya Rose, a company that offers beautiful roses — real roses that actually last for 1-3 years. Yes, you heard me right — years! They're 100% Ecuadorian Roses, some of the best roses in the world which are handpicked and preserved. Saaya Roses are beautiful and look like normal roses, even though they last for years. You're probably thinking, "So, what's the catch?" There isn't one. They're actually real roses that get preserved.
The Preservation Process
The Ecuadorian Roses are cut fresh at their most radiant stage and the best are handpicked to be preserved for Saaya Rose's beautiful arrangements. The roses undergo a rehydration process. Afterwards, they're placed in a secret natural and eco-friendly mixture which is absorbed by the roses until it substitutes the sap. Once the process is over, we are left with roses that look and feel natural. Well-cared for Saaya Roses can last up to 3 years.
Caring For Your Saaya Roses
Caring for Saaya Roses is a bit different from your ordinary flowers. They don't need to be watered, as water will damage them. Direct sunlight needs to be avoided. The ideal temperature to store the Saaya Rose is 15-20 degrees Celsius (60-70 degrees Fahrenheit). They can't be touched a lot due to their delicate nature and they need to be kept dust-free.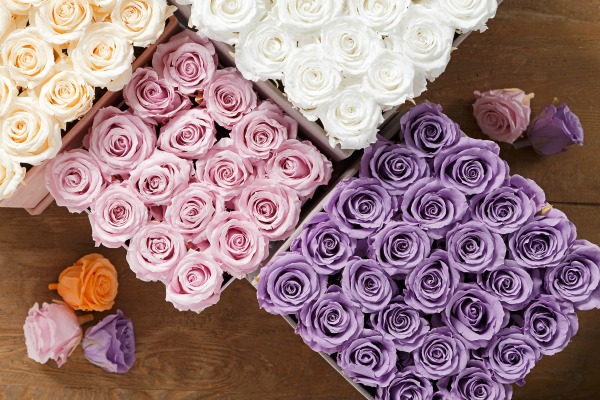 The Saaya Roses come in two different sizes: Classic size (5cm-6cm in width) and Baby size (3cm-4cm in width). They come in two different style boxes: Classic box or the Suede box. The roses come in a gorgeous array of colors as well. You can order between a single rose box and a box of 49 roses. They are absolutely stunning and make the perfect gift of lasting love.
For Mother's Day, Saaya Rose is offering 20% off with discount codes: MOM or SR20