Need a Christmas gift idea that is fun for the whole family and that gets everyone moving? It may even help get everyone off the television and computer screens! What's the gift idea? It's a fun game called Movez!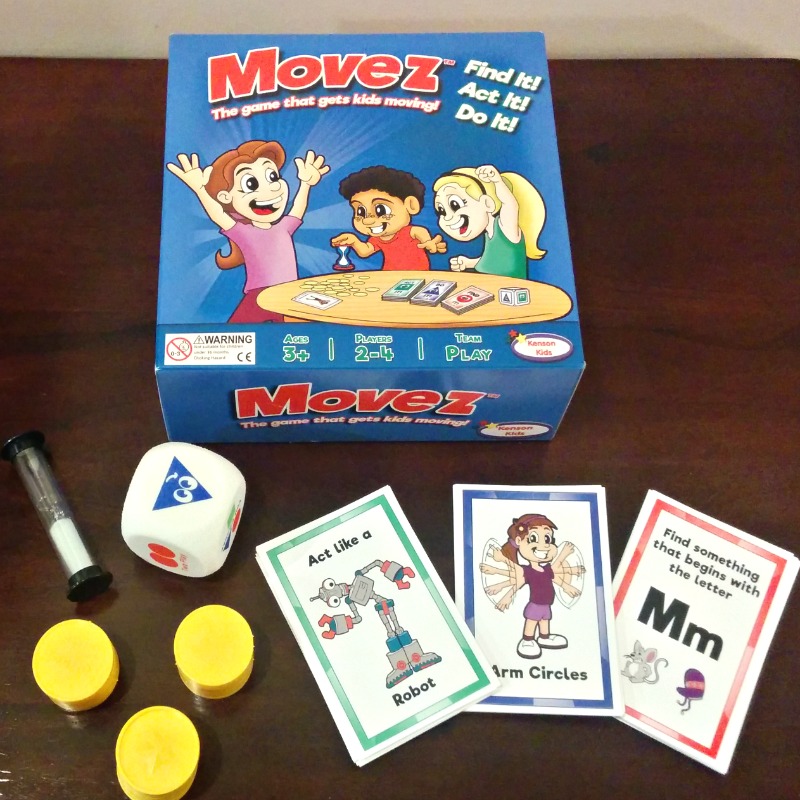 How To Play The Game
Movez is simple and easy to learn in less than a couple of minutes. You simply roll the die. The die will tell you to pick a "Find It!" or "Act It!" or "Do It!" card. Then you have to do whatever the card tells you to before the timer runs out. If you succeed, you win a token. The first person to get 5 tokens wins. Very simple, but very fun and exciting (and it'll probably produce a bunch of giggles)!
The "Find It!" cards have you go on a scavenger hunt. For example, they may have you find things that start with the letter "T" or something of a certain color. The "Act It!" cards have you play charades, such as act like a dog or a robot. And, if another player guesses what you're acting out before the timer runs out, both you and the other player win a token. The "Do It!" cards have you do certain tasks, such as "Walk Backwards" or "Spin Around." There is a bit more detail to the game, but that is the gist of it.
More About The Game And Where You Can Get Movez
Movez is a new game by Kenson Kids, which is a mom-owned company founded by Jen Edmundson and Jen Kent. Both mothers have had firsthand experience with ADHD and created Kenson Kids to help bring out the best in children. According to Ms. Edmundson, "Movez™ was designed to help establish good fitness habits in kids at an early age. Our goal is to give parents another tool to engage with their children in the form of a game that encourages physical activity and social interaction."
Movez is available on the Kenson Kids website for $19.95 (price subject to change). This would make a great gift for kids and for the whole family! The game is for players of the ages 3 to 93, so almost everyone can play!
Movez is an award winner of the Tillywig Best Family Fun Toy Awards and a 2018 award winner of The Toy Insider Top Summer Toys Award! So, pick up Movez for your family and see why it's an award winner and such a fun and active game!
Connect with Kenson Kids: Website | Facebook | Twitter | Instagram | Pinterest