While kids can have a blast through the holiday season, things are much better when the entire family is involved. Needless to say, you'll need gift options not just for the kids but choices that the entire family would enjoy. You may even come across some choices that the kids would love to get on Christmas! Check out the number of options below so that you can build a shopping list full of fun and entertainment for all ages.
Heads Talk Tails Walk™
Can you hop like a frog while clucking like a chicken? Have a blast trying with this delightfully silly game for ages 3+. Players try to match hidden head tiles to the correct body tiles. If the head and body don't match, the real fun begins! Players walk and talk like the mismatched tiles—with hilarious results! Playing promotes memory and matching skills, image recognition, and the ability to take turns and play together, and the element of sound and movement makes it just as much fun for the parents to play as for the kids!
Invasion of the Cow Snatchers™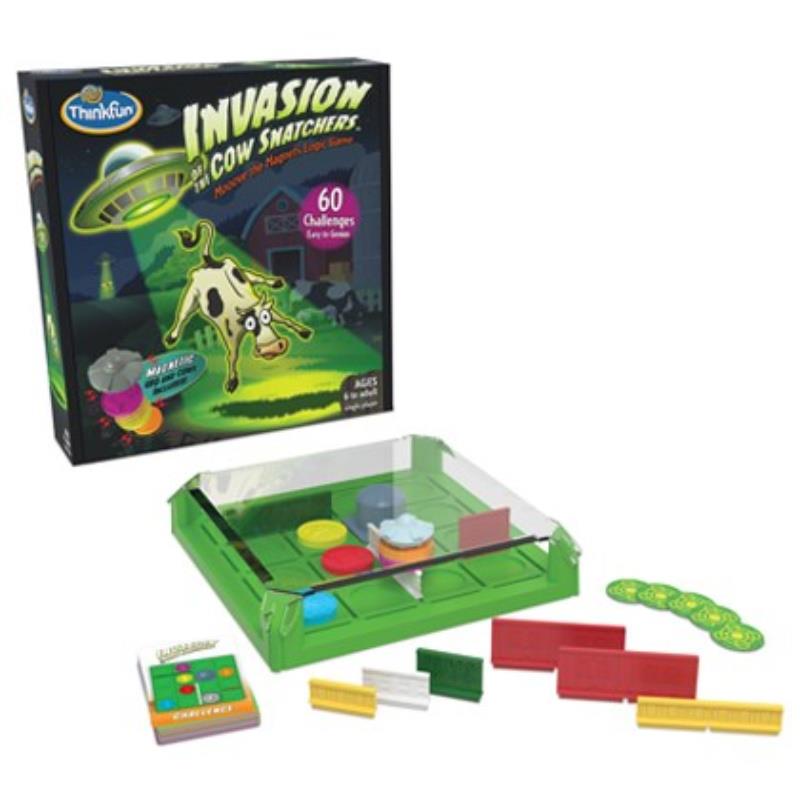 Take control of your very own UFO to solve 60 magnetic challenges! Maneuver your way over and around farm obstacles while beaming up cows. The five levels of difficulty and two modes of play are perfect for beginners and experienced puzzlers alike. Ignite your mind with 60 out of this world challenges! This fun logic maze uses magnets to create an innovative and interesting play pattern that will keep both kids and adults occupied for hours.
Domino Maze™
Set off a chain reaction of toppling dominoes with the power of your brain! Domino Maze creates all the thrills of a classic domino run with an added twist—it's also a brilliant logic puzzle. Put your reasoning skills to the test with 60 dynamic challenges. Your goal is to hit the 3 targets in the correct order, but navigating the grid through Pivots, Blockers, One-Way Dominoes, and a Platform will be tricky. Boost your critical thinking skills and take the domino effect to the next level with Domino Maze!
Thinking Putty Puzzle
This unique, sensory logic puzzle develops spatial reasoning and thinking skills using Crazy Aaron's Thinking Putty®! Stretch, pull and knead the Thinking Putty to solve 60 sticky challenges! Thinking Putty Puzzle takes the form of a classic flow puzzle, where you have to create lines that connect various starting and ending points without overlap. Now, the flow puzzle is made extra fun because you're connecting the dots with Crazy Aaron's Thinking Putty®!
NASCAR Adventure Force Crash Racers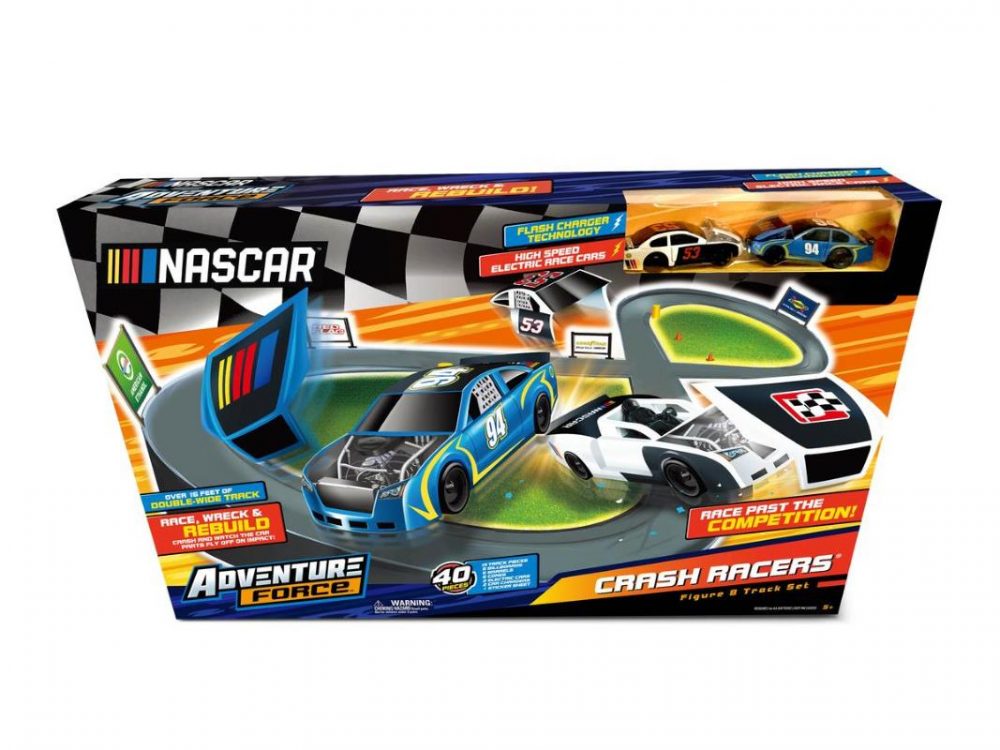 Race past the competition with NASCAR Adventure Force Crash Racers – the only track set where you can race, wreck and rebuild your cars on an officially branded NASCAR track! The set has over 16 linear feet of double-wide track in a figure 8 configuration (nearly 7 feet assembled), featuring the Crash Zone intersection. With official NASCAR branding and sponsored billboards, you can experience the excitement of a real NASCAR race.
Play & Learn Stacking Cubes
Learning to differentiate between size and space is critical for early learners and is an important stepping stone for basic learning. The Learning Journey's Play & Learn Stacking Cubes are a great tool to help children learn this important concept. The ten durable cubes vary slightly in size and can be stacked into a cube tower as tall as three feet or nested together in one cube. Every cube features a letter, number, shape or animal on each side.
Techno Gears: Crazy Train and Techno Gears: Marble Mania Slingshot
Kids love to construct, and the Techno Gears line from The Learning Journey is the perfect way to encourage them to build. With its colorful construction pieces, power motors, gears and more, these kits include everything a child needs to build their own motorized creations. The Techno Gears: Marble Mania Slingshot is an 80+ piece construction set that allows young engineers to create their own masterpieces that work and move while learning mechanics and engineering skills.
Crawl About Bee and Crawl About Butterfly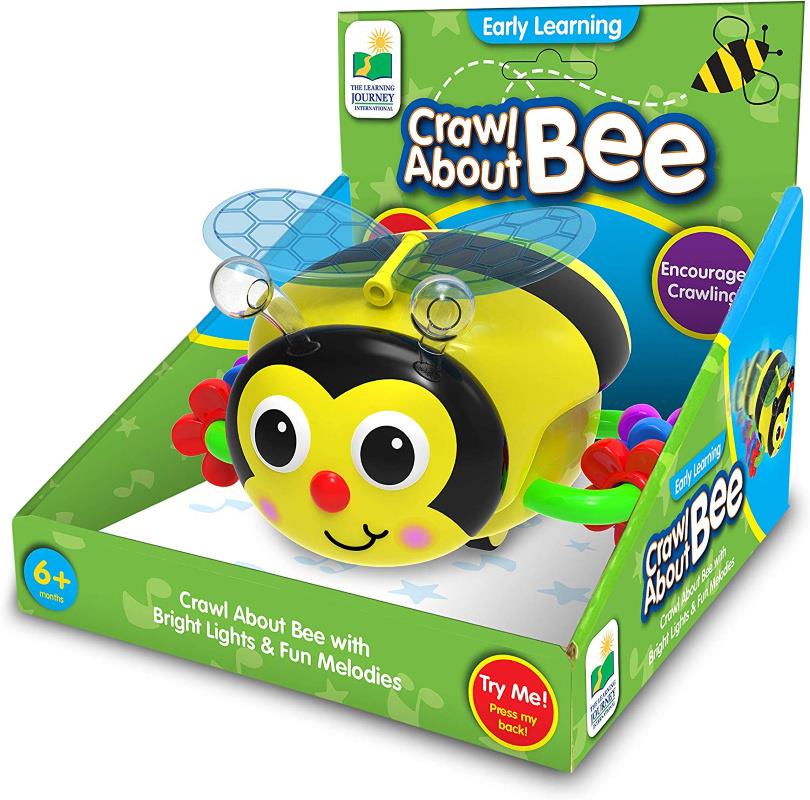 Kids will be off and buzzing with the Crawl About Bee. This early learning toy wobbles as it moves and has bright lights and fun melodies, enticing children to follow along as it moves across the floor. A simple press on the back and watch it go! The Crawl About Butterfly operates in the same manner and will quickly become your child's favorite toy.
Magformers Max's Playground Set
Your little one can build anything they can imagine when they use the Magformers Magnetic Rainbow shapes and Max character and accessories to create houses, towers, playgrounds and more. Build-in Rainbow colors with 4 Triangles, 12 Squares, 1 Sector and accessories including 4 bricks, 2 windows, 1 swing, 1 slide, 2 clocks, 1 bathroom, 1 fence, 1 seesaw, 1 Max Character, 1 balcony, and 1 bike. Build along with the step-by-step instructions and develop color and shape recognition, fine motor skills and problem-solving ability.
Air-Walker
A robot that defies gravity?! That's what you get with Air-Walker, a four-legged bot that uses an ingenious system of suction cups and pumps to crawl along smooth, vertical surfaces like windows. You can also build four other models with the same components and learn how suction and mechanical devices can be used in different real-world applications. A vacuum-suction machine sticks to and lifts flat panels, while a robot with just two suction cups rotates around a central pivot point. This hands-on construction kit brings engineering and physics to life as it demonstrates the power of air pressure at work.
King Me Strategy Board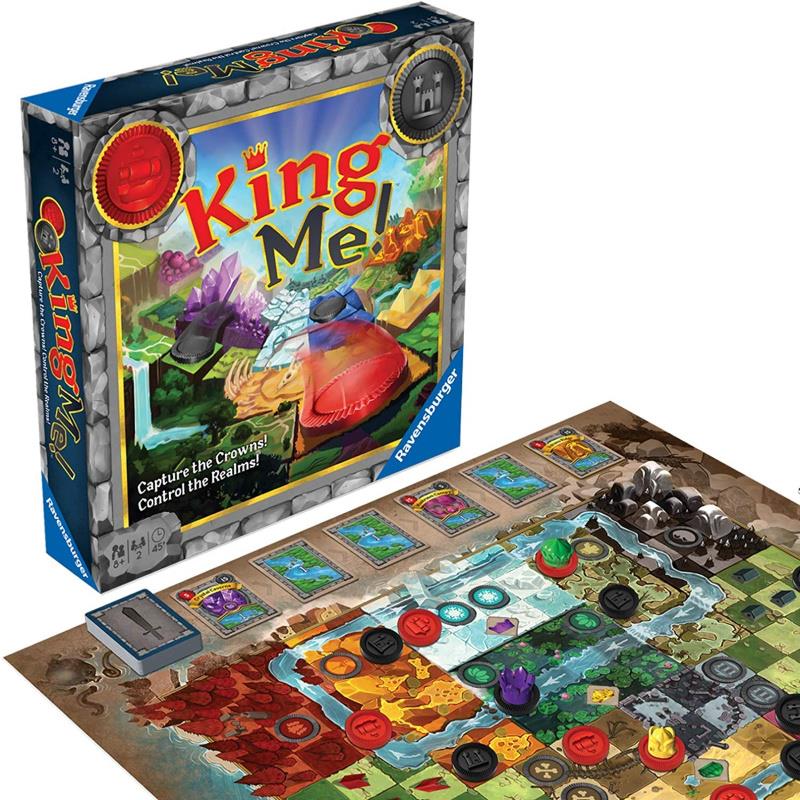 The crimson Kingdom and the Onyx empire face off in this head-to-head battle inspired by the ancient game of checkers! Hop your pieces across the game board to capture the powerful crowns of fantastical Realms. Beware, your fate can change as exciting event cards come into play! Use strategy to outmaneuver your opponent and seize victory!
Toy Story 4 35pc Puzzle
Ravensburger celebrates Toy Story 4 with puzzles featuring a range of images that capture audiences' favorite toys. Preschoolers can enjoy the classic 35-piece puzzle or the 24-piece giant floor puzzle. Rediscover the fun and excitement of Disney Toy Story 4 with this colorful 35-piece puzzle, featuring all your favorites you know and love!
Mickey Mouse Snuggle Time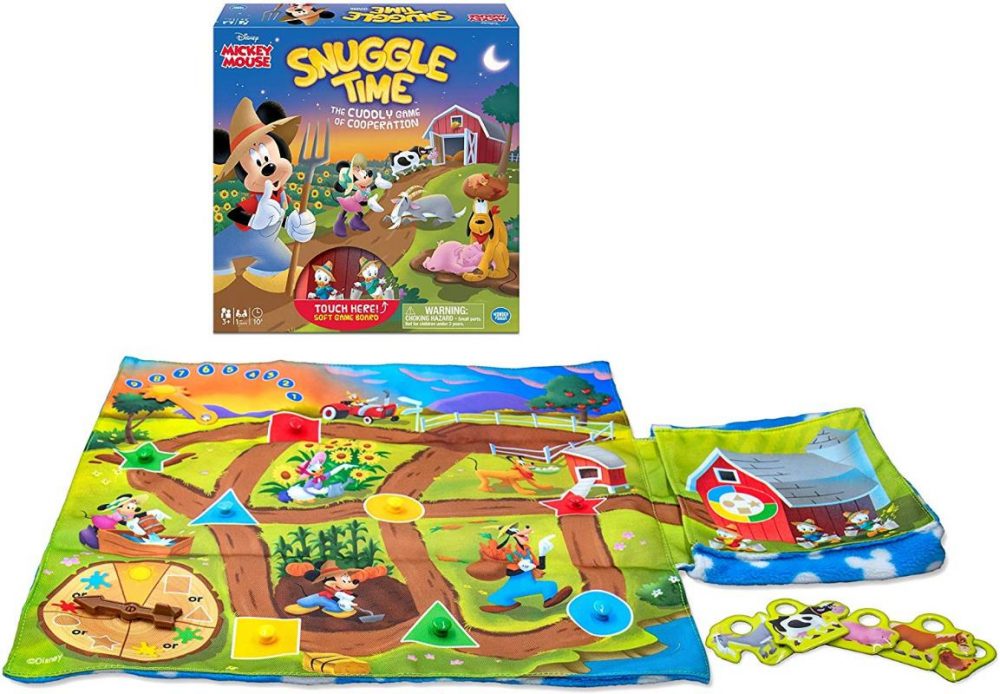 Snuggle up for a calming game that's perfect for bedtime, nap-time, or any quiet time. Help Mickey Mouse, Minnie Mouse, and friends get the farm animals across the soft game board into the barn before the sun goes down. The innovative, soft game board is perfect for cuddle time, and for traveling.
BRIO My First Farm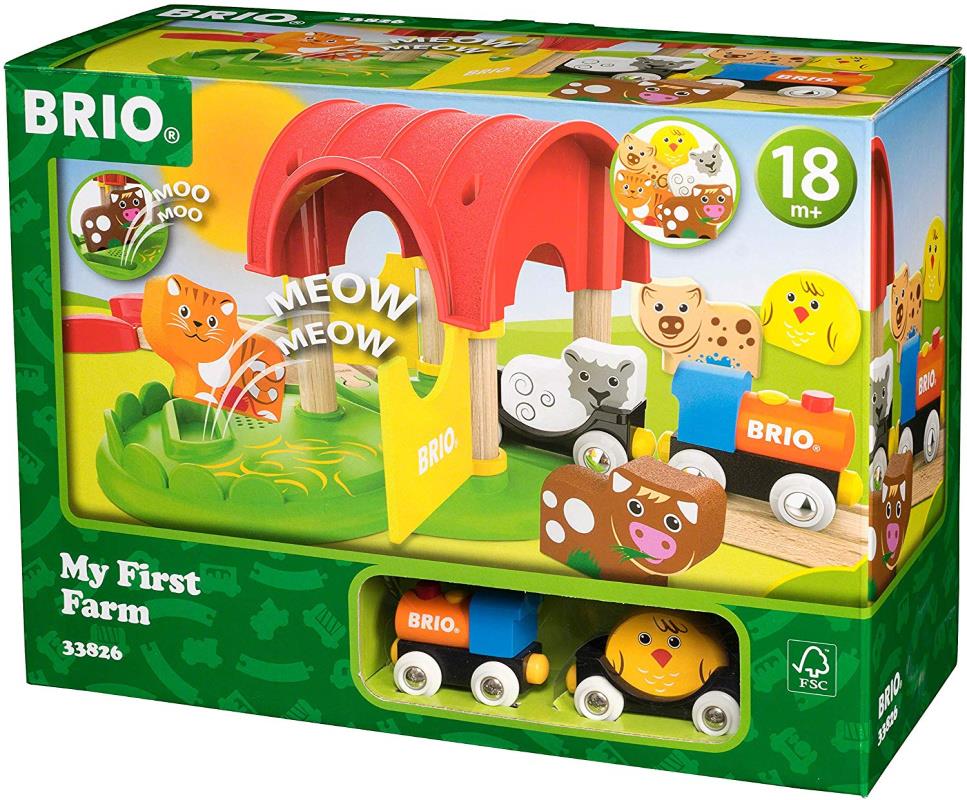 My First Farm is a farm set for toddlers that playfully introduces them into the BRIO wooden railway system. This frustration-free playset will give small children hours of fun and help teach them about farmyard animals. The five wooden animals fit into the animal wagon ready to be transported by train to the farm. Each animal also comes with three distinct sounds, which are activated automatically when placed in the farm meadow.
3D Porsche Puzzle
The Porsche 911R was rebuilt for racing in 2016 with only limited production. At a scale of 1: 18, This 3D puzzle is an exclusive model of elegant lines and classic White design appealing to all Porsche enthusiasts. The 108 sturdy plastic puzzle pieces are individually numbered on the backside and fit perfectly together with our easy-click technology – no need for glue! Rotating wheels add the final, authentic touch. Perfect for beginners or advanced puzzlers ages 10 and up.
Escape Puzzle
This first-of-its-kind Escape Puzzle series combines the fun of puzzling and thrill of an "escape the room"-style game. After solving a 759-piece puzzle, players find the hidden riddles, solve the mystery and plot their escape piece-by-piece. Similar to physical Escape Rooms, the Escape Puzzles are perfect for social gatherings where you can work together to puzzle your way out.
kNOW!
kNOW! is the first board game powered by Google Assistant. This always-up-to-date quiz game features over 1500 questions and answers that evolve based on your location, the day you're playing and who you're playing with. Compatible with virtually any Android/iOS mobile phone or smart home device, kNOW! offers a perfect blend of on-and-offline gaming fun for family and friends.
Harry Potter Labyrinth
Who can keep a clear watch over the Harry Potter labyrinth and find paths to the well-known residents of Hogwarts? Harry, Ron and Hermione, Professor Dumbledore, Hagrid, and Harry's owl Hedwig are all waiting for you to find them. If you move the labyrinth around cleverly, you'll surely discover new Paths that were once dead-ends. Keep making new Paths to find the characters you need to collect.
Rubber Ducks from Wild Republic
These are not your Mother's Rubber Ducks! These ducks are free of any opening; they are mold-free due to our unique hole-less design that does not allow moisture from collecting inside the duck. Rubber ducks are the perfect collectible for water or land. Wild Republic has over 30 different unique designs that can be used to educate children on animals of the world and even has holiday-themed ducks including a snowman, Santa and reindeer.
Parking Garage from Green Toys
Drive up, fill up, fix up, and take off! The Green Toys™ Parking Garage is a multi-level play space that encourages motor skill development, cause and effect reasoning, and imaginative, narrative play. Made in the USA from 100% recycled plastic, the set includes a Mini Helicopter and two Mini Vehicles and is scaled to work with the best-selling Green Toys Ferry Boat and Car Carrier.
smART Pixelator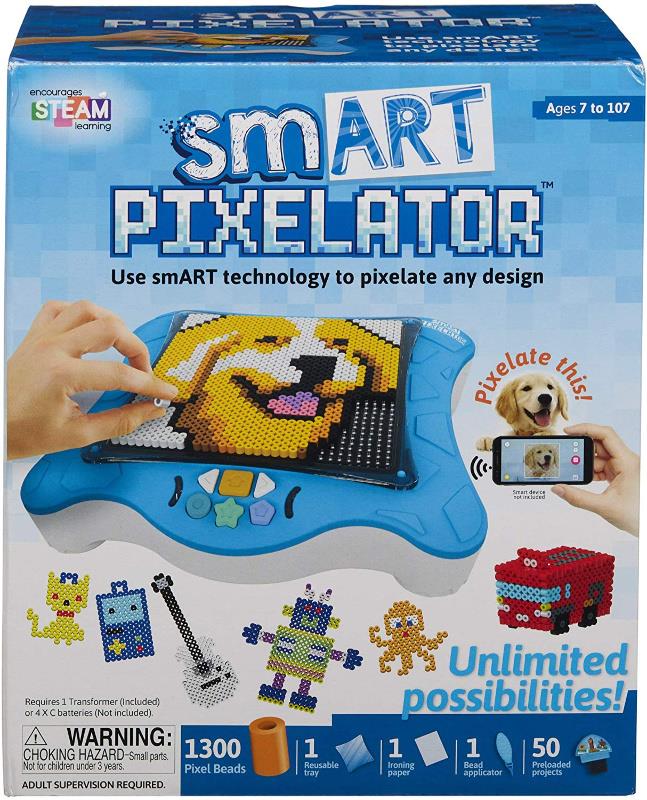 The smART Pixelator empowers kids to design and build 2D and 3D projects using Bluetooth connectivity, easy-to-follow lights, and smART Pixel Beads, Sequins or Pegs. Right out of the box, kids have a choice of creating 50 step-by-step designs using Pixel Beads. A smART Pixelator app and any mobile device also let them engineer their own projects, encouraging customization and experimentation.
James Corden Carpool Karaoke Board Game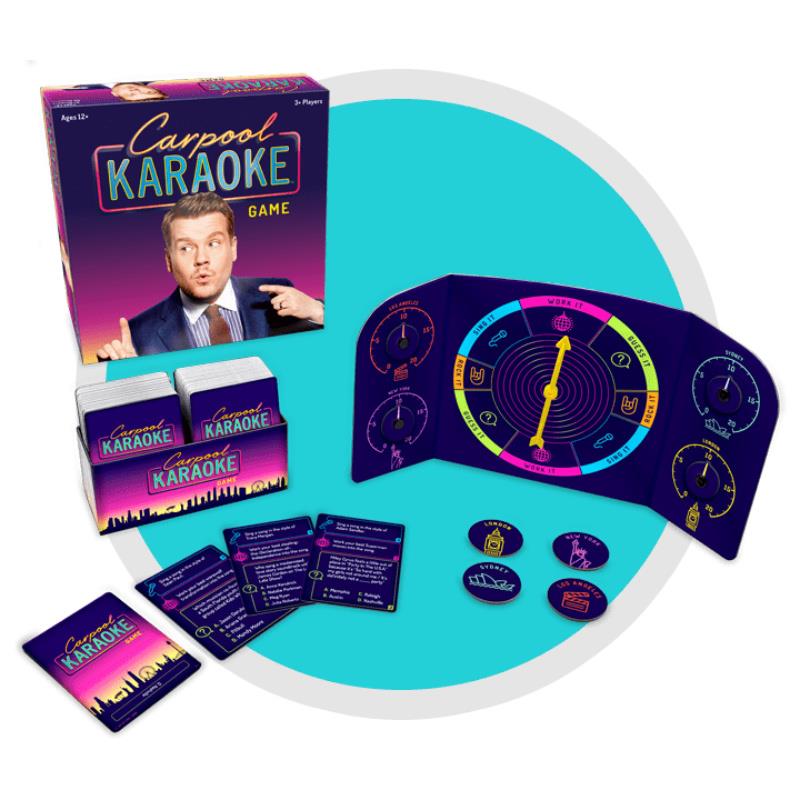 Are you a music buff? Do you like making impressions of your favorite artists? Do you keep up with everything that's happening in the music world? If you are yelling yes, then the James Corden Carpool Karaoke Board Game is just what you need. The game is simple, just pick a card and follow the instructions. All you need is a music app or streaming service to select a song and then go head-to-head with your competition.
Trapper Keeper Game
Do you rule the school? Find out when you play the Trapper Keeper Game! Players zoom back in time to the '80s and 90's and strategically stash cards in their Trapper Keeper folders. Collect Homework, Quizzes, Signatures, Report Cards, Notes from Classmates, and Field Trip Slips to see who can score the most points. You can also collect doodles to increase your score. The player with the most points at the end of the school day will be crowned the Coolest Kid in School!
L. O. L. Surprise Surprise Activity Bag
Design, color and create your very own personalized LOL Surprise Activity Bag! Become a designer and create awesome works of art for you and your friends! Use your sticker sheet to mix and match original fashion trends then display your styles. Store all of your surprises in your LOL Surprise Activity Bag. Surprises inside!
KidiBuzz™ G2
Kids can have a smart device of their very own with KidiBuzz™ G2. Send texts, voice messages, photos, drawings, and animated stickers over Wi-Fi to a parent-approved contact list using the KidiConnect™ app. Kids can explore silly stamps, frames, photo effects, and live photo filters and use them to capture fun pictures and selfies or make their own videos with the 180 degrees rotating camera.
Mix & Match-a-Saurus
Roar, dance and laugh with the innovative Mix & Match-a-Saurus™! This Dino comes with three emotion tiles (happy, angry, sleepy), three music tiles (hip-hop, marching, ballet) and three character tiles (dinosaur, robot, monster). Children can create 27 different combinations of emotions, music styles and characters such as happy hip-hop dino or angry marching monster. Placing the colorful tiles on Dino's back allows kids to customize how they want to play with him.
Prance & Rock Learning Unicorn™
Go on a magical ride with the Prance & Rock Learning Unicorn™! This grow-with-me unicorn transforms from a rocker to a ride-on in seconds. As toddlers rock and ride, the built-in motion sensors respond with playful music and magical unicorn sounds to encourage gross-motor development and imagination. Children can pretend to visit castles and fly over rainbows with their new unicorn friend!
Discovery Geology Sand Dig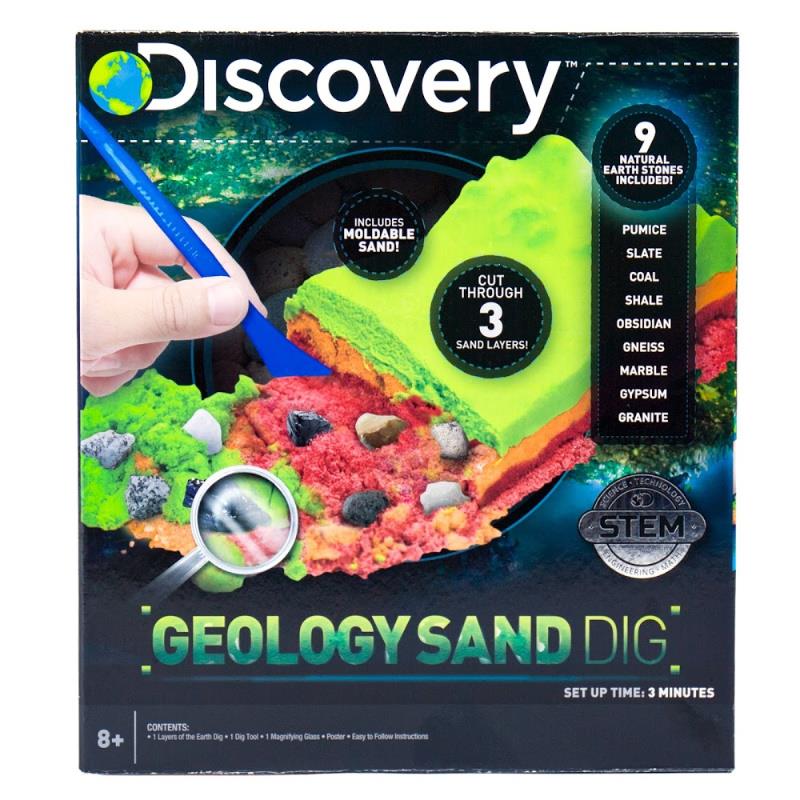 Dig through vibrant and remoldable sand and discover 9 natural earth stones with the Discovery™ Geology Sand Dig! With a digging tool, cut and dig your way through layers of colorful sand for fun natural discoveries. As you collect the earthy stones, discover what makes them unique as you observe their textures, patterns, and shapes. Squish and squeeze your remoldable sand for a fun sensory experience and watch new colors take place as the sand blends together. Great way to experience the creativity in natural science.
Backpack 4-in-a-Row
Backpack 4 In-a-Row is a 2-person connection game of strategy and fun! Be the first to place 4 pucks in a row horizontally, vertically or diagonally. Includes Game tray, 42 pucks (in two colors), game instructions.
Pop Pops Petz and Pop Pops Snotz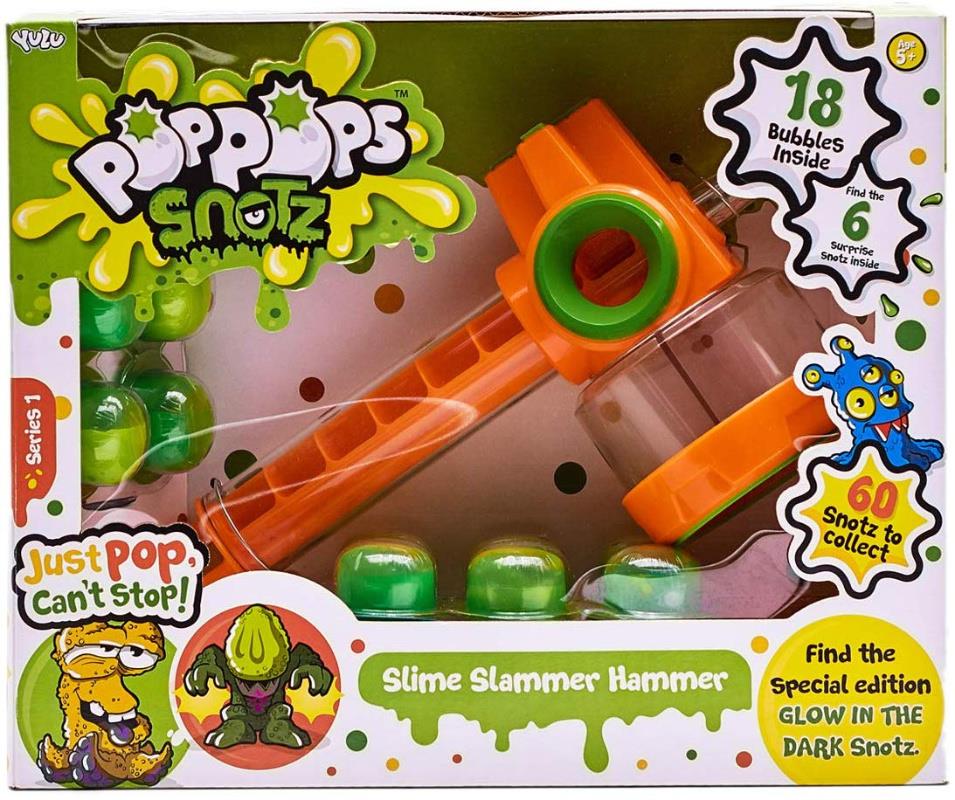 Pop Pops Pets and Pop Pops Snotz combines addictive bubble wrap popping, the satisfaction of oozy slime and collectible figures all in one! It's the newest collectible craze AND the ultimate unboxing experience! Give in to the irresistible urge to pop and find hidden characters, which come in over 120 designs and include rare, super rare and special editions! Pop to reveal and collect all the Snotz Monsters and cute Pets Animals!
King of the Ring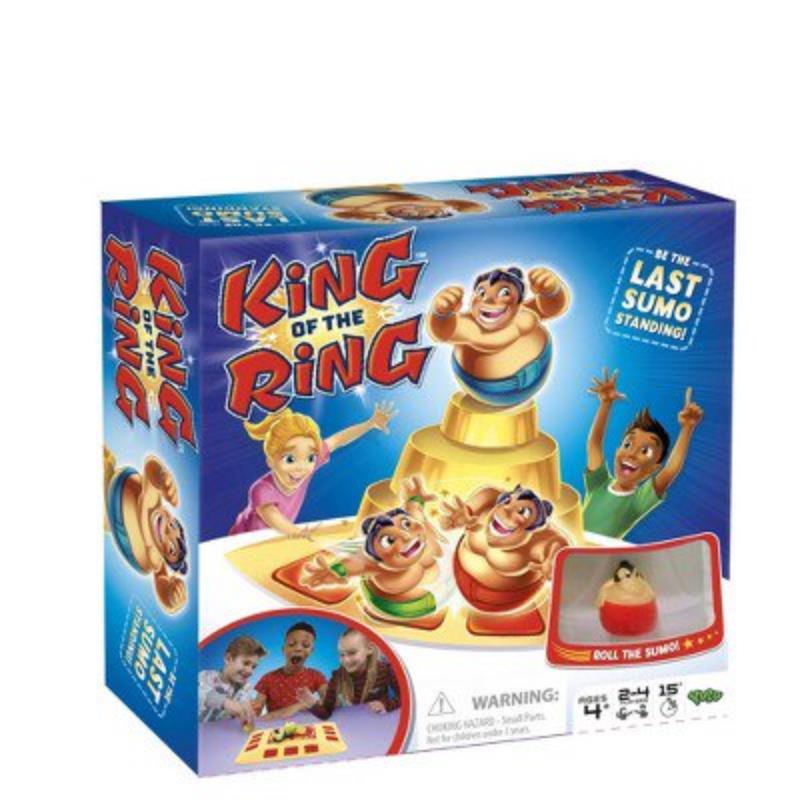 Knock your friends right out of the ring with the new King of the Ring game from YULU! Featuring sumo-wrestler themed rolling figures, this game challenges players to launch their characters up into the ring. The goal is to try to get a wrestler to rest in the middle of the ring, which activates a count down timer. Once one figure is resting in the middle of the ring, the other players rush to knock it out with their figures. The winning player is the one whose sumo figure is resting in the middle of the ring when time runs out.
Luvi Pups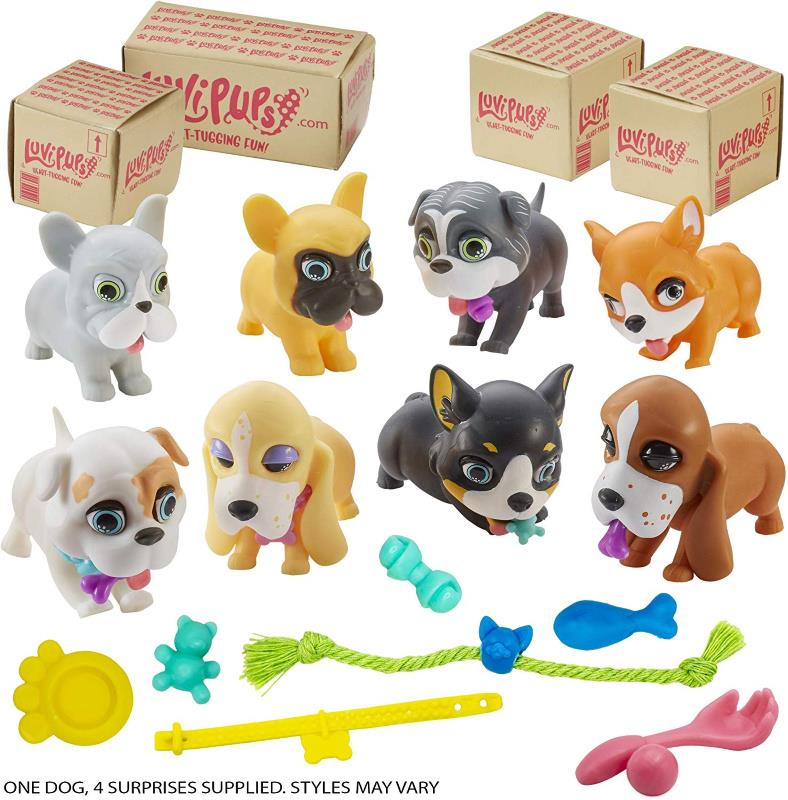 These adorable pups are full of heart-tugging fun. Luvi Pups are stretchy, pleasingly-tactile puppies that you can't put down! Tug, pull, squeeze, stretch and collect! Each mystery Luvi Pup pet comes with 6 surprise puppy toys. Keep collecting to find the ultra-rare Runt of the litter! A portion of the proceeds from every Luvi Pups purchase will be donated to Luvable Dog Rescue, dedicated to saving dogs from kill-shelters.
Klikbot
After discovering a precious metal, a team of treasure hunting KlikBots are confronted by the evil Modulus and his cronies. Thrust into a battle they never signed up, our former freewheeling adventurers must choose to become heroes and stop Modulus' plan to build an army capable of taking over the universe. With KlikBot, you can join the battle against evil and create action-packed stop- motion movies.
Zax
Taking a cue from the latest trend sweeping the country, the new Zax is the axe-ellant, new game from Zing! Bring this latest trend home in a fun and safe way, so you can compete with your friends to see who can stick the Zax onto any flat surface like walls or windows! The soft foam Zax is 12" tall and designed for indoor and outdoor fun.
HyperStrike
Take your backyard battles to a new level with HyperStrike, from Zing! This ultimate bow and arrow set is perfect for either one-on-one or team-based fun and fast-paced competition. Designed with low profile bungee cords, these bows can launch arrows up to 250 feet! Simply hook the soft foam Zonic Whistle Arrow into the fast-load bungie loops, pull back, aim, and release!
Foodie Surprise Food Carts
RedwoodVentures' Foodie Surprise brings to life a world of magical food creations that you can discover display and of course (yum!) eat! Each mystery food cart has multiple sweet reveals and all the supplies needed to make the cutest treats imaginable, plus dozens of adorable collectible characters made to "hide n sneak" your creations to school!
Pomsies Lumies
Pomsies Lumies are the next generation of Pomsies, the #1 selling special feature plush in 2018 but with a rainbow charged twist! The interactive unicorn-like pets can turn into any color: simply place Pomsies Lumies on an object and it will magically absorb that object's color and shine bright! Kids can also unlock special secret modes by scanning a series of colors in a specific order to hear fun sounds and messages.
Rainbow Butterfly Unicorn Kitty 9 Lives Surprise
Based on the comedic animated series, Rainbow Butterfly Unicorn Kitty, which premiered on Nickelodeon and stars a spirited kitty named Felicity who possesses magical powers and who's also part rainbow, part butterfly and part unicorn. Twist the lid to pop open and transform each Kitty Can into a multi-level mini-playset – tons of unboxing fun! Discover 9 pawsitively awesome surprises in each Kitty Can including two collectible mini-figures, 6 adorable collectible accessories, and a decorative sticker pack.
Fart Ninjas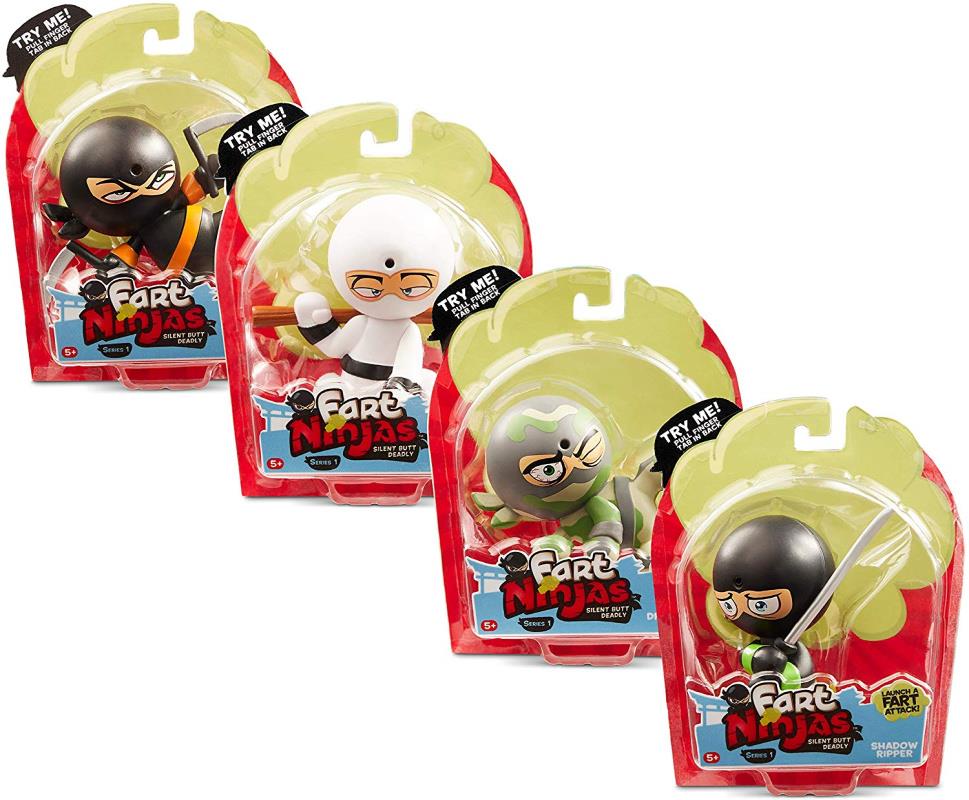 Fart Ninjas are "Silent, Butt Deadly" and trained in the art of espionage, gassassination, and skilled in martial farts! Hide your Fart Ninja figure to surprise and Disgust your unsuspecting target! The fart ninjas 4-pack is a collection of 4 different collectible figures, each with 10 realistic motion-activated fart sounds. Hide your Fart Ninja figure to surprise and Disgust your unsuspecting target! Fart ninjas, "silent, butt deadly".
CAT Construction 7″ Dump Truck, Loader & Excavator Combo Pack
Built small and tough, the cat mini crew 3 pack set of toy Construction vehicles is a great starter set to build up your construction fleet. These 7" push-powered cat construction vehicles allow you to be in control every step of the way. The caterpillar construction toy 3-pack features a toy dump truck, Wheel Loader, and excavator. Move and pose the articulated vehicle buckets and Booms just like the real caterpillar construction trucks. Real cat machines are known for their high quality and these caterpillar construction toys are no different, built to withstand the elements and perfect for indoor or outdoor play.
Baby Shark Playhut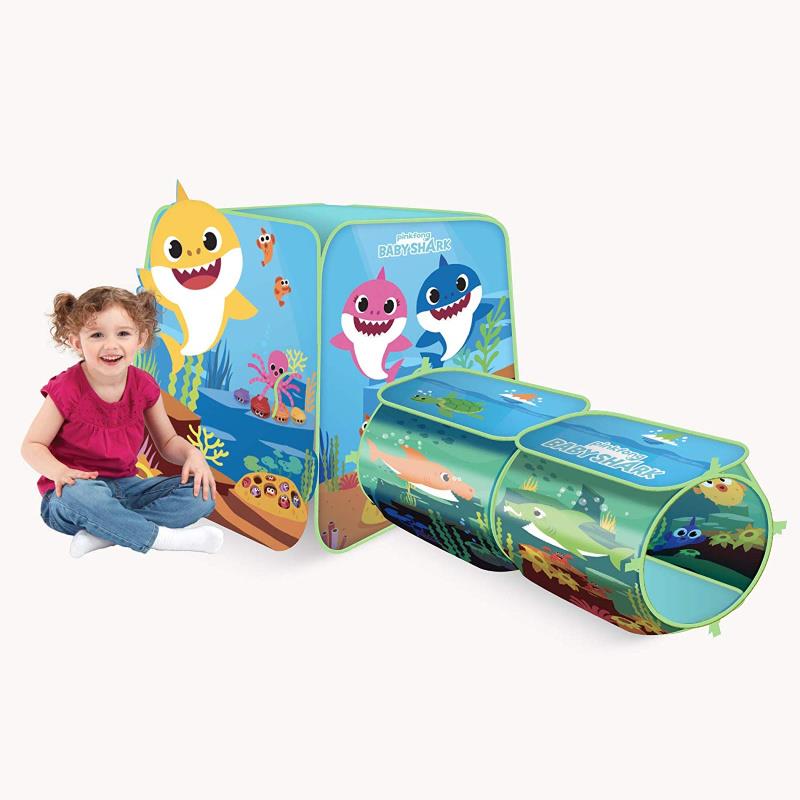 Featuring all of the most popular characters from the mega-hit including Baby Shark, Mommy Shark, Daddy Shark, and more. Your little one will love playing in the Playhut Pinkfong Baby Shark Explore 4 Fun – and you'll appreciate how easy it is to set-up, break down and store! Playhut's EZ Twist frame allows the play tent to pop up in seconds and fold down just as easily with patented Twist N' Fold technology.
Mickey Mouse Clubhouse Playset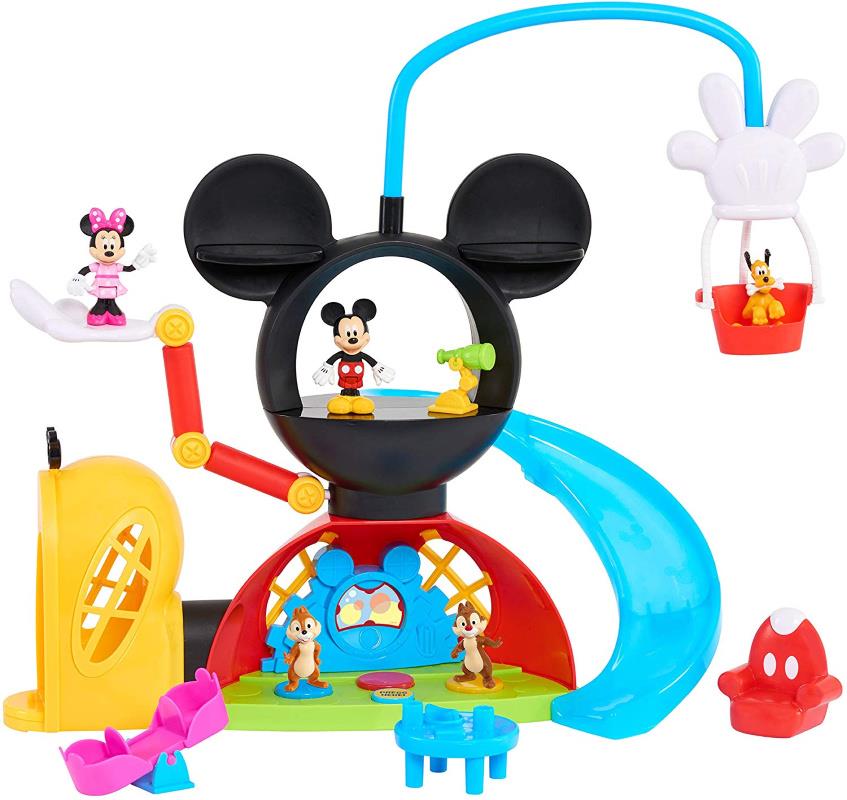 Create your own Hot Dog Hills adventures with the Mickey Mouse Clubhouse Adventures Playset from Disney Junior! These lights and sounds playset brings all the fun and wacky moments of Hot Dog Hills home and includes Mickey Mouse, Minnie Mouse, and Pluto 3" figures! Mickey and friends will love riding down the slide to greet their friends! Press the floor button to activate lights and sounds and sing along to the "Hot Dog Song"!