Happy New Year! Did you make some New Year's resolutions for 2018? I did — one of them is to drink more water. We all know that water is super healthy for us and I'd love to kick off the new year with an invigorating goal to improve my lifestyle. The benefits of water are endless:
Keeps you hydrated
Flushes your body of excess waste
Keeps you alert and energized
Helps you cut back on extra calories
Stay Hydrated With Fruition
It's recommended that we drink at least eight glasses of water per day. I find this very difficult to do as I get quickly bored with the plain taste. For me, water is always more fun to drink when it's flavored. I really like infusing water with fruit and it makes it way easier to manage drinking the daily requirement.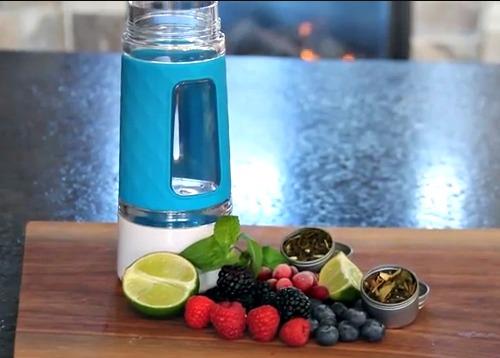 Amp up your water with Fruition, a new water bottle that makes fruit infused water and tea within seconds. Normally, infusing water with fruit can take hours, only afterwards to experience a weak flavored result. Instead of dropping fruit directly into water, Fruition has a unique juicing mechanism on the bottom that allows you to squeeze juice directly into your water for instant and strong flavor.
Like I said, no need to wait hours to flavor your water. With Fruition, just apply pressure to their patented instant infusion base and inject some flavor. Made with durable Tritan™, Fruition is safe to use with hot beverages as well. The water bottle comes in three colors: Blueberry, Kiwi-Lime, or Pink Grapefruit. It's also dishwasher-safe and BPA-free.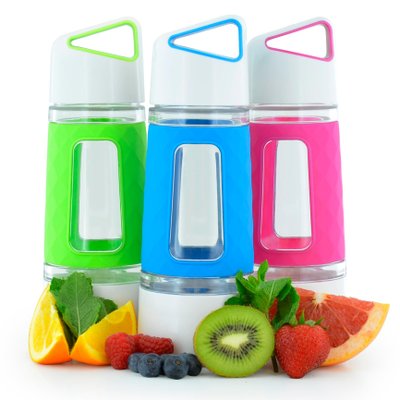 The Benefits of Infused Water
Cost-effective way of adding essential vitamins to your diet
Great way to avoid drinking beverages with preservatives, sugars, additives, food coloring, sodium, etc.
Can help you lose weight as it's low in calories
Helps you feel youthful and rejuvenated
Boosts your metabolism
Aids in you feeling fuller for longer
Helps to prevent and fight things like diabetes, colds and the flu
Fights the aging process with antioxidants
Drink up and get healthy with Fruition! Take a look at some recipes to get inspired.
CONNECT WITH FRUITION: Facebook | Twitter | YouTube