A few weeks back I wrote a post about me visiting Jacksonville, Florida, You can read it HERE. I will also give you a little information here about Jacksonville, Florida. Jacksonville, Florida is a fantastic place to visit with the family. There is just so much to do and see, let alone going to the beaches!
Just in case you didn't know, I will give you a little background on Jacksonville, Florida. Jacksonville is the largest city in Florida, it is positioned along the Atlantic Ocean. This is paradise for families, it is affordable and yet so beautiful! It has over 20 miles wide of beaches and about 40 miles of intracoastal waterway and let me not forget to mention the Beautiful St. John's River.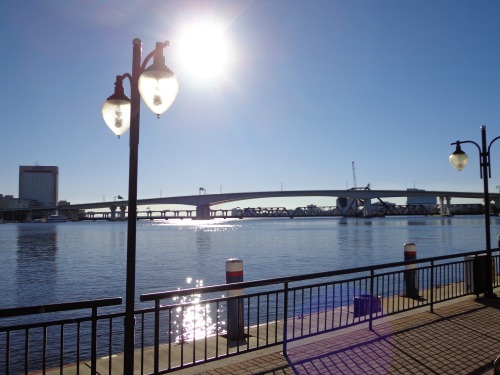 If you like water, you'll like Jacksonville. The heart of the city is located on the St. Johns River, where you'll find all sorts of recreational waterway traffic and activity. Jacksonville is the largest city in Florida and the largest city, by area, in the country. There are plenty of things to do in Jacksonville and I will tell you about a few of them.
With stretches of beautiful beaches and waterways, Jacksonville provides endless opportunities for couples, families and friends to explore the city's cultural offerings, unique cuisine, breathtaking sunrises and awesome experiences! Atlantic Beach has a little something for everyone looking to enjoy the outdoors in beautiful Jacksonville. The beach is usually not too crowded, so one can spend a day relaxing on the beach.
Located along the beach are beautiful shopping centers, restaurants and fun shops. An experience at Atlantic Beach is exactly what a day at the beach should be. The beaches also have many thriving nightlife venues and wonderful restaurants. If you or your loved ones love to fish then you can imagine, the surrounding waters makes Jacksonville a fantastic fishing destination. Inshore or offshore, there are plenty of spots where you can cast a line and just sit back and relax!
If your looking to shop then make sure you head downtown. Along the riverfront, the Jacksonville Landing is a hub of shops, restaurants and live entertainment, as well as a spot where you can board a water taxi for a relaxing ride on the St. Johns. Enjoy a plethora of dining and shopping Jacksonville's outdoor mall, St. John's Town Center. If you want to shop at an in door mall then head over to The Avenues Mall. There are just so many places to go shopping, it would take us a few days to visit each one..LOL..
Visit the Jacksonville Zoo and Gardens. Escape to the Jacksonville Zoo and Gardens for the only walking safari in Northeast Florida. Discover the earth's wildlife through interactive and educational experiences. A true family adventure, the Jacksonville Zoo and Gardens is growing and changing daily and is dedicated to consistently improving. Stop by the Cummer Museum of Art and Gardens you will love it. At The Cummer Museum of Art & Gardens, you can enjoy over 1,500 works of art and over 1.5 acres of historic gardens. A site that must be seen to believe, the beautiful artwork and gardens have been bringing in tourists from all around the world for years.
Make sure you visit the Riverside. you'll find elegant residential architecture, numerous parks and a distinct eclectic feel. A mix of bars, boutique shops and cafes makes up the streets of Riverside's historic Five Points district. Ready for a night of relaxing entertainment in Jacksonville? Then take on a show with the Jacksonville Symphony Orchestra. With various performances held year round, be sure to check out the calendar to find a show that is right for you.
If you love parks like we do then you should visit Talbot Island State Parks. Talbot Islands State Park consists of four islands located North of the St. Johns River. The parks offer over five miles of beautiful beaches, a campground, nature trails and picnic pavilions.
If you love history like me then a few places that are a must see are, Kingsley Plantation, Timucuan Ecological & Historical Preserve, The Jacksonville Fire Museum and Museum of Science and History.
There are just to many wonderful places to visit in Jacksonville, Florida to name, I know we loved our little visit and I highly recommend you make Jacksonville. Florida your next vacation destination!
Now for the wonderful giveaway. One of my wonderful readers will win a Gift Basket filled with goodies. Enter below and Good luck!
Disclosure: This post was written for Jacksonville, Florida in exchange for accommodations. All opinions provided are my own.Kelly's Thoughts On Things is not responsible or prize fulfillment.