This past Thanksgiving my family had a chance to go to Orlando Florida, instead of staying home. So while there we had a chance to go to Gatorland and I was asked to do a review. My son Devon loves anything that looks and acts like an alligator. So this was something I was excited to do with him!
We arrived as soon as the park opened we knew it would be a full day of seeing things. We enjoyed every minute of it , walking around looking at 3000 gators and 98 crocs, they range in size from small to large. You are up close enough to see them and take pictures of the enormous animals. Devon loved them as well as Amanda and Ronnie and I. They have everything there from snakes, to birds, turtles, and a brother and sister panther that are endangered. We got to see them feeding these beautiful crocs and how they actually jump up out of the water to get their food. And watching the handlers wrestling these tough guys like it's so easy, all of the handlers show nothing but respect for these animals. An adventure that is almost a day long to see all of the attractions there, from the crocs and gators to feeding the birds. What a day of fun for children and adults of all ages.
Gatorland has a boardwalk on which goes about a half mile throughout the swamp, all is natural nothing has been fixed so you have a few trees you might have to duck under.We checked out all the exhibits, walked through the swamp and climbed the observation tower. We saw lots of alligators, big and small. Devon had so much fun, the smile on his face was really priceless. He was actually pointing to all the exhibits and smiling! Most of the park is dedicated as a wildlife preserve, alligator breeding marsh and free-flight aviary. There is a petting zoo, a small water park and a train to take visitors on a sightseeing tours around the property.
Thrill seekers can take the Screamin' Gator Zip Line course over the alligator filled marsh. You can also ride the Zip Line after dark- how creepy is that? A big attraction is the Gator Wrestling show held several times each day in their 800-seat stadium. That was one show we all enjoyed! At the end of the show, audience members are invited to take photos with the gators, after the mouth has been securely taped up.
Here's some information on Gator Land
Spotting a real, live alligator is must among the things to do on a visit to Kissimmee! Gatorland is just the place to find a whole bunch of these native critters. After more than 50 years, Gatorland remains one of Central Florida's most popular theme parks, offering an action-packed day filled with alligators, man-eating crocodiles, colorful birds and slithery reptiles. A 2,000-foot boardwalk winds through a natural cypress swamp allowing an up close look at a wildlife preserve, breeding marshes, alligator nurseries and rearing ponds. A three-story observation tower provides a "bird's eye view" of Gatorland's 110-acre marshland.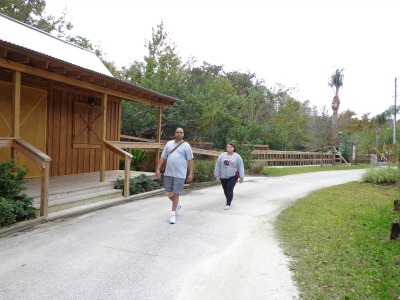 Catch the shows with humans interacting with these living dinosaurs, including the classic Gator Jumparoo, where huge American alligators leap from the water to chomp chickens dangling from lines. Alligator wrestling and creepy critter shows educate their audiences with reptile trivia while performing amazing stunts. Take a relaxing train ride through the swamp, make some cuddly friends at the petting zoo or cool off from the Florida sun in the Gator Gully Splash Park, where you're sure to get soaked.
For a heart-pounding thrill, embark on the Screamin' Gator zip-line, a journey along 1200 feet of high-flying adventure, at heights of 56 feet and nearly 30 miles per hour! You'll soar above Cuban and Nile crocodiles and across the breeding marsh before racing to the finish!
By the time you leave this place you will understand the difference between a croc and a gator. If your ever visiting Orlando you should stop by and visit Gatorland yourself, you will truly enjoy it .
At 110- acres, Gatorland provides affordable-priced family fun with thousands of alligators and crocodiles to see, an aviary, breeding marsh with observation tower, petting zoo, nature walk, award-winning gift shop and one-of-a-kind reptilian shows including the Gator Wrestlin' Show, Gator Jumparoo and the Up-close Encounters Show.Take a ride on the Gatorland Express train and then head on over to Gator Gully Splash Park where kids of all ages can enjoy a good ol' fashion squirtfest! Don't miss the new rare white alligators on display.
If you're an animal lover don't skip Gatorland. We had a great time visiting the park and look forward to returning.
Head on over and check out the Gatorland site HERE and check out their coupons! Connect with Gatorland on Facebook and Twitter!