Intex provided us with the pool, but opinions are my own.
My daughter waits all year for SUMMER to come around so she can swim. She reminds me so much of myself when I was her age. I wanted to swim every day all day when I was home in the summers. My mom would take us to the lake or the local pool. I've been taking my daughter to the local pool, but we have had a couple of bad days there with other kids being too aggressive. She doesn't want to go back now, so we need to look into other options.
My husband commented the other night…why can't we do a pool in the backyard! Now he might forget she isn't five, so the blow-up pool won't work, but his idea isn't half bad. When we go to the local pool, I usually sit on chairs and watch and wish I was in the pool. If we have an outdoor pool, then I can enjoy too!
Well, my wish came true, no more public pool for us, we will be enjoying an Intex Prism Frame™ 15ft X 33in pool this summer, and my family is super excited.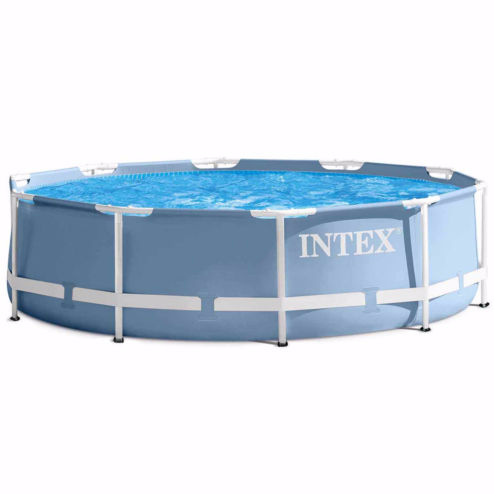 The Intex Prism Frame pool has plenty of room to swim and play. Now the pool set up takes about 30-60 minutes, so that is not even an issue. Pretty straightforward and quick process to set up and take down. There is also a new 2017 feature that is that the Hydro Aeration Technology is incorporated into the cartridge filter pump providing improved circulation and filtration, improved water clarity, and increased negative ions at the water surface. I like that feature a lot, seems to help with the daily maintenance of the pool.
Follow these 3 steps for easy assembly.

1) Lay out the liner for your pool on flat, level ground.

2) Assemble the frame for your pool.

3) Fill your pool with water and enjoy.

It also comes with a 530 gal cartridge filter pump. Water capacity: 2,992 gallons (80%). Ready for water in 45 minutes. Approximate set-up size: 15ft X 33in. Age grade 6+.
The pool walls consist of durable layers that are sturdy and metal frames that provide a stable base that keeps the pool upright at all times. Having a durable pool that my family can float, swim, and play in is very important.
Summer time fun in sun.
Before we get our pool all set up we need to go through some precautions
Supervision– there will always be at least 2 people outside by the pool. I know I will be lounging either on the air mattress or lounge chair.
Kids need to know how to swim. Now if we have family members over that don't know well then we will have floaties on hand!
Secure the pool. We will have the pool in where our yard is gated. We don't want random kids just coming over or animals.
We all have our CPR certificate (from last year class at the local pool) so we know what to do if anyone needs CPR.
No playing in front of the drain/suction outlet! Very dangerous and can get trapped under the water if playing with the drain.
As a mom, I'm all about rules, so it's essential1 to go through these with all family members and let them know our expectations when owning our own pool. There is also the maintenance, and my amazing husband has volunteered to be in charge of taking care of the pool, as long as everyone enjoys and be safe!
We are going to have an amazing summer with the Intex Prism pool and time to start getting pool toys too! Be on the look out for more posts about our SUMMER FUN IN THE POOL!
Please check out Intex and all of their amazing pools- which come in all sizes. There is one that will fit your needs and backyard. It's like having our own inflatable pool that you don't need to pump up!
Want more fun in the sun products please check out our SUMMER GUIDE.
Make sure to follow: Facebook | Instagram | YouTube