Food is one of many languages of love. It's no surprise that creating a home cooked meal from scratch is one amazing way to impress your date. But how can you show your loved one that your cooking skills are enough to prove you're worthy, long-term partner. Before your next dinner date, consider these moves.
Plan Your Menu
The number one thing to know when you're planning a meal to impress your date is to keep her tastes in mind. For example, if you know how to cook fish but your date doesn't like fish, don't cook it anyway to attempt to show off your skills. Plan ahead with something think she'll actually like.
Do all of your menu planning with them in mind. Ask her what she likes to eat and then develop a menu around that. She may love spaghetti, for example, but that doesn't mean you have to stick with boxed pasta and canned sauce. Figure out a great Italian recipe that will show off what you can do.
Go Shopping
With your menu plan in hand, go to the store. Don't be afraid to talk to the employees to help you put the finishing touches on your meal. For example, visit the meat counter and talk to the butcher about the best possible cuts to make your dish stand out.
In the wine aisle, talk to an employee knowledgeable about wines to give you tips on what goes best with your planned menu. The old rules about red and white don't apply anymore. Specific wines go with a lot of things, so consider the overall flavor profile.
Set the Table
They say you eat with your eyes, and that's certainly true when you're trying to impress someone with your cooking. If you throw your date's food on a paper plate in front of the TV, you're not likely to make an amazing impression that could lead to a diamond ring someday.
Create a tablescape worthy of your date. Use linens, your best dishes, and the right silverware and glasses for each course. Impress her with your attention to detail, because that's a valuable trait in a life partner. Make your table visually beautiful. Flowers, color, lighting: everything should be considered to set the right mood.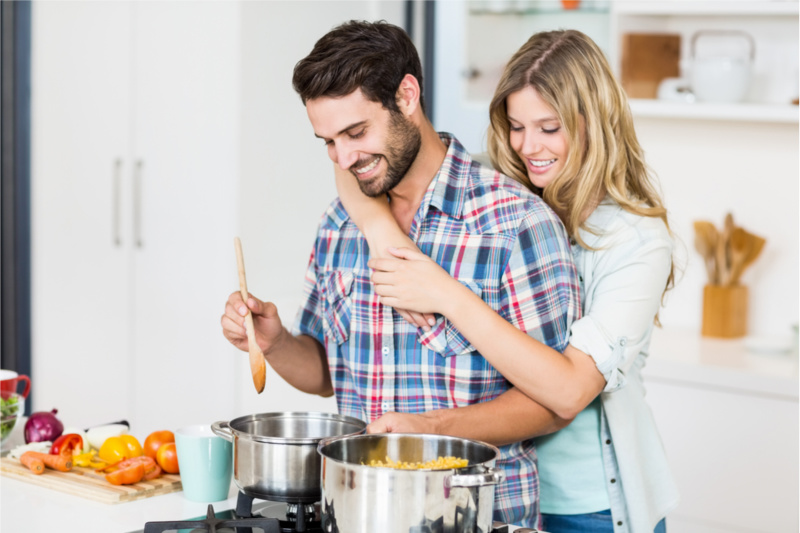 Get Her Involved
While the entire purpose of crafting an amazing meal to make for your date is to show off your prowess in the kitchen, there is nothing sexier than letting her get involved. Give them a job, no matter how small. For example, take a second to show her how to mince the garlic. Or ask her to check on the sauce with a quick taste.
Working well together in the kitchen can be a sign of things to come, so don't be afraid to let her help. Encourage it and you may see a future together.
Before you start your meal plan, consider the recipes that can really impress your date. But that isn't the only thing to worry about. With a few simple steps, you can create a meal she'll remember and land that next date, too.