What is one of the most important decisions when planning a wedding?
It is choosing the wedding venue — the place you'll hold the ceremony and your reception. It's where your guests will eat and socialize.
There are many factors to consider when picking a venue, so here are a few questions to ask yourself when choosing just the right place to hold your wedding ceremony and reception.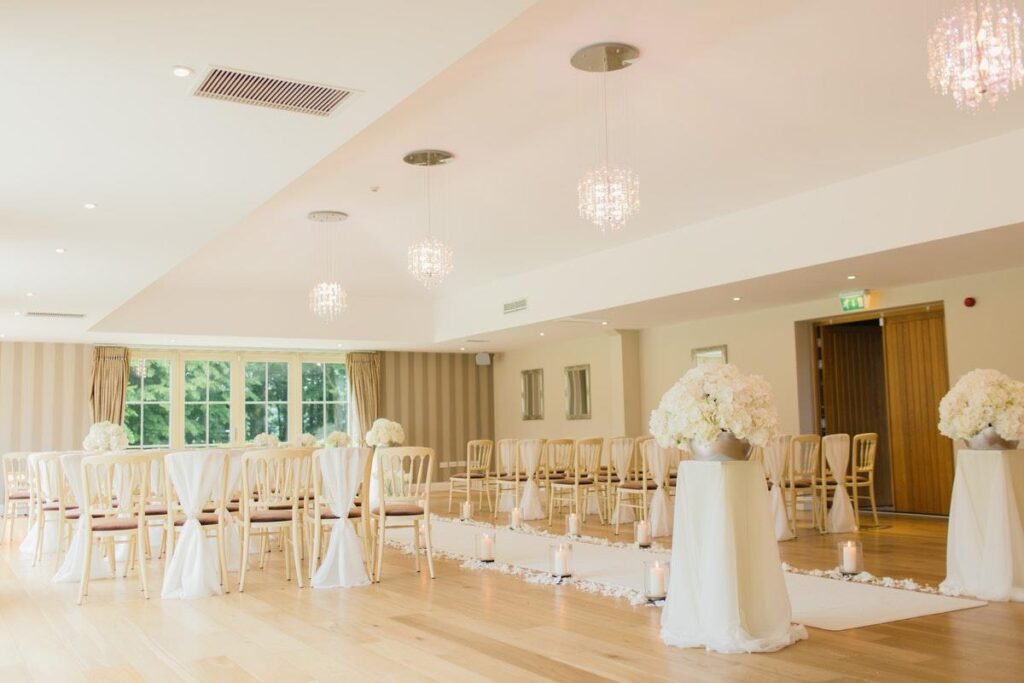 What Type of Location Do You Want?
You can choose from a wide variety of venues for your ceremony and reception.
With that said, three of the most popular choices are choosing a hotel, hosting it at home, or selecting a dedicated event space.
1. Hotel
Hotel wedding venues are popular because it's easy to coordinate with the staff and book everything you need.
They are also convenient if you have guests coming from out of town that may need accommodations.
Hotels often have a variety of catering and entertainment options to choose from.
They can also provide amenities, such as an on-site caterer as well as all the decor items you might need. They may even have a nice setting for photoshoots.
For instance, many lobbies have polished marble floors, which can be an elegant backdrop for photos.
This is often a more expensive option because all the bells and whistles are included.
2. Home
A wedding at your own home offers three big benefits:
First, it saves money. This is the best choice if you're budget is tight.
Second, your guests will be comfortable in a familiar, and relaxed setting.
Third, it's more intimate and personal than a banquet hall.
3. Dedicated event space
Special event venues are a popular choice for many.
They offer a variety of themes and can hold more people than a typical home wedding.
These spaces often have their own catering but some allow you to hire or bring your own food.
What Size Venue Do You Need?
You need to choose the right size space for your anticipated number of guests. You want to make sure it's not too small or too big.
Venues for weddings range from large ballrooms to small chapels.
Consider how many people can fit in the venue and how much room you need for things like a band, a dance floor, room for a photobooth, and anything else you may need.
Also, consider that new social distancing guidelines may drastically impact the capacity of a space.
How Will You Serve Food?
When it comes to weddings, everyone has an opinion on what food should be served.
Often, the meal is based on a family's heritage and culture. Usually, what to serve is easy to decide. What is a little more challenging is how to serve the food.
You have two primary choices when it comes to serving meals: buffet-style or plated.
Buffet-style is a popular choice because it provides guests with more options of what to eat compared to a plated meal.
Conversely, a plated meal is easier to serve and fewer people milling around.
There is also something special about sitting down to a beautifully presented meal. Surprisingly, depending on which food options you pick, plated meals can be cheaper.
What Will Your Wedding Ceremony Look Like?
You should also think about the style of your ceremony.
For instance, will it be indoor or outdoor? Of course, there is no wrong choice.
Both work well. But keep in mind when planning an outdoor event, to consider spaciousness and weather. Guests, decorations, and food stations need plenty of space for outdoor ceremonies.
And, a sudden rain shower would disrupt everything.
Your wedding ceremony should reflect your style and interests. It's all about finding the perfect way to celebrate your special day.
The Right Wedding Venue Makes All the Difference
The right wedding venue is crucial for a successful event. It must meet all your needs as well as those of your guests.
It should be easy to reach and provide enough space for all attendees.
And most importantly, the atmosphere and style should be in harmony with the theme and style of your wedding day.