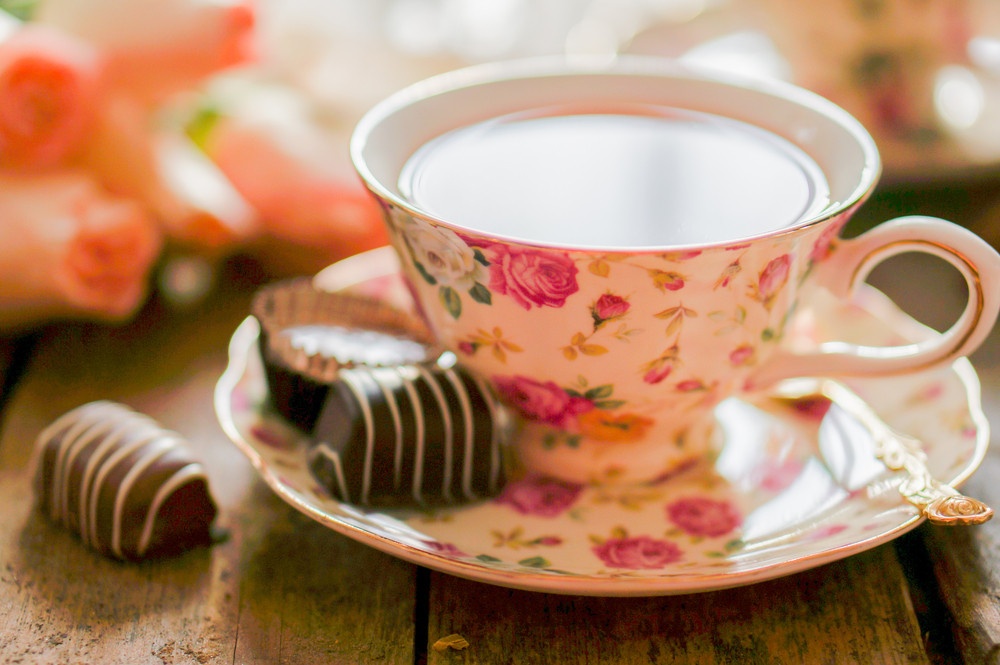 Valentine's Day is just a few days away — and for many of us, February 14, 2021 might be filled with a bit less love than we're used to. Whether you're quarantined away from your partner, you're single as a pringle due to the pandemic, or your spouse is getting on your last nerve, your stress levels might be through the roof. Not only are three out of four Americans highly anxious about their retirement outlook, but you might be worried about everything from pandemic weight gain to feelings of complete isolation.
Let's face it: COVID-19 has been tough on all of us. Spending yet another holiday at home might not sound very fulfilling, but it's the perfect excuse to practice some self-care. Here are just a few ways you can de-stress and show yourself love — whether you're coupled up or not — this Valentine's Day.
Fuel Your Body Right
It's easy to settle on an all-junk food diet for the day, especially if you're feeling a little blue. But you're probably going to end up feeling worse if you don't fuel your body the right way. By all means, indulge in some chocolate (especially if it's the dark variety!) or your favorite treats. But remember to include some nutritious elements that will keep you going throughout the day. Make yourself some cheesy eggs, some avocado toast, or a fancy smoothie bowl to start off your morning and make sure to stick to a regular eating schedule to avoid crashing or hunger pangs.
Whether you plan on ordering takeout or cooking a fancy meal in your kitchen, make sure your meals are colorful and include some veggies (along with those other comfort foods we all love)! Even if you're planning on eating a personal pizza, make a side salad or some carrot and celery sticks to go along with it. It's easy to go overboard on Valentine's Day, but you'll feel better if you maintain a bit of balance.
Stretch or Get Moving
One of the best ways to show yourself love is to be active. Make it a point to move your body this Valentine's Day! Since the 14th is a Sunday, you can stay in bed for a little longer and get rolling at your own pace. Do some light stretching as soon as you get up, dance around the living room while you enjoy your first cup of coffee, or partake in a virtual yoga class. Doing some household cleaning or walking the dog counts, too! Make sure it's something that you enjoy, rather than an activity you dread, and release those endorphins.
Write a Love Letter to Yourself
If the pandemic has been rough on your self-esteem, you're certainly not alone. During the last year, you may have lost a job, a family member, a relationship, your social life, or your semblance of routine. It's only natural that you may have experienced some changes in your physical or mental health. And if you've stopped exercising, eating healthy, or investing time in your self-care, that can take a toll. But that doesn't mean you have to beat yourself up over it. Remember that this situation is unprecedented and it's only natural that you might not feel as confident as you did before.
Still, you can get yourself out of that self-hating funk by writing yourself a love letter. Whether you remind yourself of all the things your body is capable of, describe yourself in five positive words, talk to yourself like you would your best friend, or look back over the last year and all you managed to accomplish, put pen to paper and write it down. Then, display that letter some place you can see it every day. Even if you don't have a conventional valentine, you can show yourself love and be your own valentine by remembering just how special and important you truly are.
Schedule in Some Pampering
You may not feel comfortable heading to the spa for the holiday, but you can fit in some pampering time at home. Whether you love sheet masks, want to give yourself a mani-pedi, enjoy soaking for an hour in the tub, or have been meaning to deep-condition your hair, devote at least part of the day to some much-deserved R and R. You might even consider using some CBD products for stress relief. While possessing less than 35 grams of marijuana is considered a misdemeanor in Missouri, commercially available CBD products contain little-to-no THC at all — meaning that you won't experience a high. Whether you take CBD gummies or use some CBD muscle rub, you might just feel a little bit calmer and less anxiety-ridden this Valentine's Day.
Limit Your Social Media Exposure
Doom-scrolling is an unfortunate part of life during the pandemic, but that doesn't mean you should stare at your phone screen for hours on Valentine's Day. Aside from scheduling a Zoom or FaceTime call with your best friend, try to unplug as much as possible on the 14th. That can keep you from falling prey to the comparison game or experiencing FOMO. Instead, you can focus on how you feel without any distractions. Don't feel like you need to keep your followers updated, either. Chances are, they're wrapped up in their own plans — so focus on the moment, rather than on documenting it.
Luxuriate in Your Nighttime Routine
Whether you want to take a nice afternoon nap or hit the hay on the early side, give yourself permission to establish an indulgent bedtime routine. While most mattress brands recommend you rotate or flip your bed every few months (or at least once a year), you should at least put some clean sheets on the bed. Wash your face and go through your skincare regimen, spritz on some sleep mist, use a cooling lavender sleep mask, and fill up your humidifier. Turn your phone off, put on your favorite pajamas, and read a comforting book. Going to bed early can take some pressure off and actually force you to take this time for yourself — and that's really what this day should be about.
Valentine's Day can be agonizing for singles, but it doesn't have to be. Whether you're in a happy relationship or you're all by your lonesome, these tips can allow you show yourself love and put yourself first — and to alleviate some major stress — this holiday.